Where Is the Best Place to Live in Alberta? Explore Alberta's 8 Best Cities
Posted by Justin Havre on Monday, January 30, 2023 at 9:48:01 AM
By Justin Havre / January 30, 2023
Comment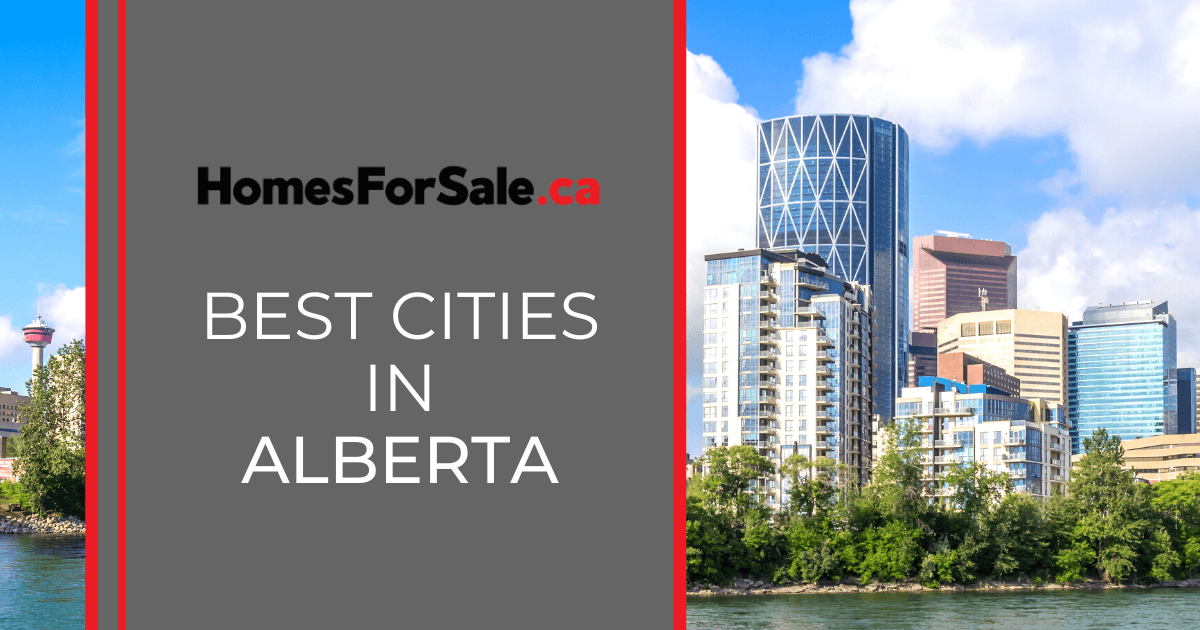 The province of Alberta is home to 19 different municipalities. If you're moving to Alberta soon, you're probably wondering where to find the best place to live. There's no one right answer when asking about the best cities in Alberta. Each municipality offers unique real estate options, stunning natural surroundings, cultural attractions, and much more. Whether you're looking for gorgeous Rocky Mountain scenery, a bustling city, or sprawling plains, you'll find them all here. So, where is the best place to live in Alberta? That's up to you!
Camrose
This central Alberta city combines small-town charm with rugged surroundings, including prairies, mountains, boreal forests, and lakes. Known as the Rose City for the wild roses found here, real estate in Camrose comprises mostly single-family houses. New construction homes can be found in a few areas, including the Southwest Meadows and Duggan Park neighbourhoods. Some townhomes are also around, mainly in the Valleyview and Valleyview West neighbourhoods. The average Camrose home has three bedrooms and one to two baths. Newer homes are typically larger, with four or more bedrooms.
Entertainment, shopping, and dining can be found downtown and along 48th Avenue. Some of these include FIKA Coffeehouse, Monte Carlo, Walmart Supercentre, and Jeanne and Peter Lougheed Performing Arts Centre. Outdoor amenities include parks, golfing, and skiing. Mirror Lake Park, near the Mount Pleasant and Rosedale neighbourhoods, provides a serene place to spend time outdoors watching swans glide on the water. Camrose is close to major roads, including Highway 21 and Highway 13. For those flying, the city is under an hour's drive away from Edmonton International Airport. Community buses provide convenient commuter service to different areas of the city.
Camrose Amenities
Camrose and District Centennial Museum
Camrose Ski Club
Camrose Golf Course
Heritage Railway Station and Park
Jubilee Park
Hart House Wine and Tapa
Smitty's Family Restaurant and Lounge
Calgary
Calgary is the biggest city in Alberta and one of the fastest-growing cities in Canada. The city is surrounded by uplands and valleys, where the Elbow and Bow Rivers connect. This location provides scenic sights and outdoor activities, while the downtown area offers diverse amenities.
Homes for sale in Calgary are typically more expensive than in other Alberta towns. It may be one of the province's most expensive towns, but its housing prices are still lower than other major cities in Canada, such as Vancouver or Toronto. The most luxurious homes are often found in neighbourhoods in Calgary's City Centre, such as Elbow Park, Bayview, Roxboro, and Parkdale. For more affordable neighbourhoods, buyers can look to Evanston, Deer Ridge, and Rocky Ridge. Many homes in Calgary are single-family houses with two or three bedrooms. As such a vibrant and populous city, townhouses and condos for sale are also especially prevalent.
Calgary's location provides residents easy access to Highway 2 and the Trans-Canada Highway. C-Train offers rail service throughout the city and beyond. Public buses are also available for getting around. Calgary International Airport provides domestic and international flights.
Calgary offers notable amenities and attractions. The Calgary Zoo, one of the top attractions in the city, has more than 1,000 animals to see. Shopping and dining options are available along 17th Avenue S.W. and other areas. NOtaBLE is a quirky restaurant that offers creative dishes. CORE Shopping Centre and Sunridge Mall have multiple retail stores.
Calgary Amenities
Heritage Park Historical Village
Fish Creek Provincial Park
Calgary Tower
Village Square Leisure Centre
Caesar's Steak House and Lounge
Ten Foot Henry
Prince's Island Park
Gasoline Alley Museum
Jasper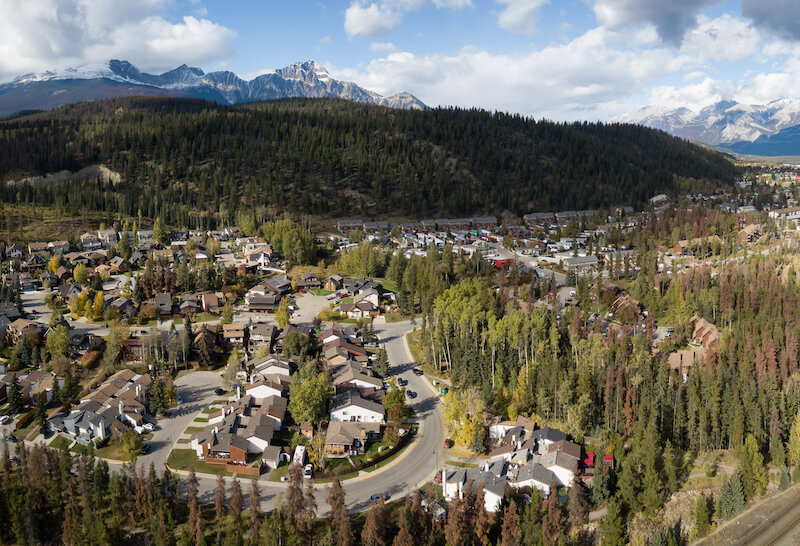 The town of Jasper, nestled within Jasper National Park of Canada, offers picturesque views of the Rocky Mountains and rivers. This western Alberta town is located roughly the same distance from Edmonton to the east and Calgary to the south. Just over half of the houses for sale in Jasper are single-family homes. The average home here has three bedrooms. Row houses, apartment complexes, and semi-detached houses make up the rest of the housing market. Home prices in Jasper are higher than in other cities in Alberta, with average prices ranging from $600,000 to upwards of $1 million.
Despite its remote location, Jasper offers plenty of amenities, including dining and entertainment. Many of these are found in the downtown neighbourhood. Alba Restaurant has an open kitchen and beautiful mountain views. Kumama Bistro and Canteen offers a cozy dining atmosphere. There's also Jasper General Store and several other stores in town. Jasper Planetarium provides a chance to explore the night skies over the Rockies. The surrounding national park offers hiking and other outdoor activities. Centennial Park, located within the town, provides a spot for picnics, walks, and sports. Jasper Yellowhead Museum and Archives offers artifacts and displays that explore the town's history.
Jasper Amenities
Harvest Food and Drink
Jasper Activity Centre
Nesters Market
Jasper SkyTram
Whistlers Campground
Patricia Lake
The Stand Easy
Whisky Jack Grill
Lacombe
Lacombe is a central Alberta city that offers a rural environment with a charming downtown area. Lakes and parklands surround Lacombe, providing scenic views. Real estate in Lacombe presents a large selection of single-family houses. A few condos and townhomes can also be found, mainly in the southern part of town along 50th Avenue. Home prices in Lacombe are average lower compared to other Alberta cities. Single-family houses, townhomes, and condos typically have two or three bedrooms. Houses on spacious lots are mainly found in the northern neighbourhoods, such as Terrace Heights, The Lakes, and Elizabeth Park. Homes in southern neighbourhoods, such as Fairway Heights and Heritage Estates, are closer to amenities.
Lacombe is a small city with several restaurants, outdoor activities, entertainment, and other amenities. Boston Pizza, Milly Oak Cafe, and other dining spots can be found on or near 50th Avenue in the downtown area. Michener House Museum and Gardens offers tours of this historic property. Lacombe Performing Arts Centre has a concert series and other live performances. Outdoor amenities in Lacombe include Vesta Fish and Fetch Park and North West Recreation Area.
Lacombe Amenities
Lacombe Blacksmith Shop Museum
Lacombe Arena
Brunch Glory
Lacombe Golf and Country Club
Michener Park
Leto's Steakhouse and Bar
Lacombe Kinsmen Aquatic Centre
Shoppers Drug Mart
Drumheller
Known as the Dinosaur Capital of the World, Drumheller offers affordable homes, notable attractions, and outdoor fun. This town in southeastern Alberta sits in the Red Deer River Valley, also known as Dinosaur Valley. Over 200 fossil specimens have been found in this area. Several attractions pay tribute to these dinosaur discoveries. As for housing, Drumheller mostly has single-family detached houses with an average of three bedrooms. A few condo communities can be found mainly near the center of town. Drumheller is one of the most affordable cities in Alberta, with prices ranging from the low 200s up to about $800,000. Most housing is close to Michichi Creek, which flows through the middle of town.
Drumheller is known for dinosaurs! As such, attractions include the World's Largest Dinosaur statue, Fossil World Dinosaur Discovery Centre, and a Dinosaur Walk at Barney's Adventure Park. Several restaurants are located in central town, including Sam's Kitchen and Vintage Tap House. Drumheller has multiple outdoor amenities, such as Midland Provincial Park, Dinosaur Trail Golf, and Country Club. The town is relatively remote, but AB-9 is close by. Residents can take this road to Calgary, roughly 135 km away.
Drumheller Amenities
Royal Tyrrell Museum
Star Mine Suspension Bridge
Dinosaur Downs Speedway
Walmart
McMullen Island
The Badlands Amphitheatre
Black Mountain Roasters
Riverside Park
Edmonton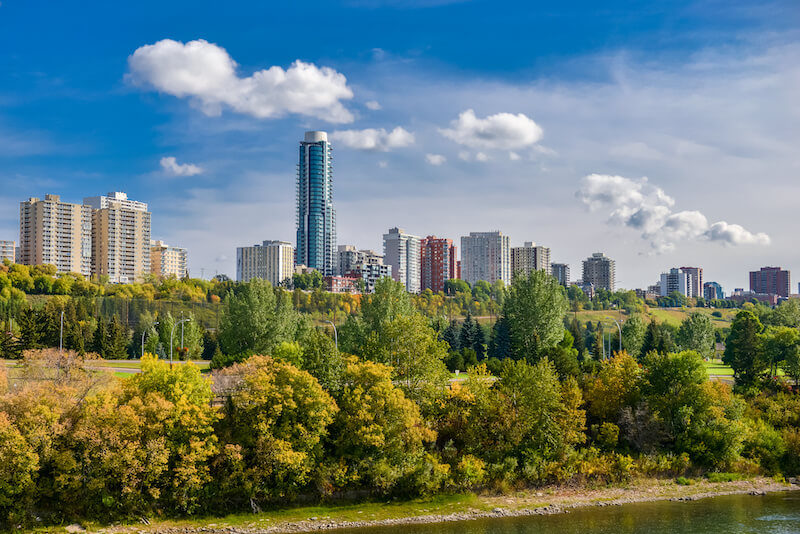 With the North Saskatchewan River flowing through the city's center, Edmonton offers beautiful waterfront views. Affordable housing, tons of local festivals, major attractions, and other amenities make the capital of Alberta a great place to live. Over half of Edmonton's homes are single-family detached houses. Condos and townhomes are also found in the city. The most commonly found home prices can range between $360,000 and $800,000. Average prices of condos and townhomes range from around $207,000 to $356,000.
Edmonton has public transportation, including the Edmonton Light Rail Transit (LRT) and local buses. Highway 216 circles around the city, making commuting or travel more convenient.
Edmonton has world-class amenities and attractions. Museums, stores, theatres, and more can be found in the Old Strathcona neighbourhood's arts and entertainment district and shopping hub. Notable attractions include the Art Gallery of Alberta and TELUS World of Science. Several festivals occur throughout the year, including the Edmonton International Fringe Festival. Restaurants and stores line the streets of the Oliver, Cloverdale, and Boyle Street neighbourhoods. Sofra Turkish Restaurant, Wine Cellar, and The Workshop Eatery are among the top restaurants. West Edmonton Mall in the western part of the city offers multiple shopping options.
Edmonton Amenities
Snow Valley Ski Club
Speeders Amusement Center
Muttart Conservatory
Fort Edmonton Park
Sabor Restaurant
Edmonton Country Club
Edmonton Valley Zoo
Normand's Restaurant
Medicine Hat
A low cost of living, natural beauty, and plenty of amenities make this Alberta city a wonderful place to call home. Located in southeastern Alberta, Medicine Hat real estate is comprised of mostly single-family detached houses. Row houses and semi-detached houses are also found here. Certain neighbourhoods, such as Ranchlands and Norwood, have condo communities. Average home prices range from $160,000 for condos to $342,000 for detached houses. The average house has around 2,000 square feet of space and three bedrooms.
The Trans-Canada Highway runs through Medicine Hat from northwest to southeast. The South Saskatchewan River flows through town from west to east. Most housing and amenities are located close to the river and highway. Medicine Hat Transit offers public bus service throughout the city.
Many amenities can be found in centrally located neighbourhoods, such as S.W. Hill, Marlborough, South Flats, and North Flats. Medicine Hat Mall in the eastern town offers various stores and restaurants. Medalta in the Historic Clay District is an industrial museum and art gallery. Top restaurants in Medicine Hat include Rustic Kitchen and Bar, Zucchini Blossom Market and Cafe, and Sabai Infusion. Strathcona Island Park offers boating, baseball, barbecue pits, and a spray park for outdoor fun.
Medicine Hat Amenities
Echo Dale Regional Park
Medicine Hat Golf and Country Club
Esplanade Arts and Heritage Center
Medicine Hat Brewing Company
Ralph's Texas Bar and Steakhouse
Cottonwood Coulee Golf Course
The Whiskey District
St. Albert
St. Albert is a picturesque city that offers many outdoor activities, low home prices, cultural amenities, and more. Located just over 15 km from Edmonton, it's close to the capital's attractions and amenities. However, St. Albert offers numerous amenities of its own. Housing in the city is primarily single-family detached houses with three or four bedrooms. Condos and townhomes are mainly found in Braeside and other neighbourhoods close to Highway 2. The average home prices in St. Albert range from around $200,000 to around $515,000, which is considerably lower than in other cities in Alberta.
Amenities in St. Albert are mostly found in neighbourhoods near Highway 2, such as Erin Ridge and Lacombe Park. Luisa Risto, Sushi Park, and Riverbank Bistro all offer delicious dishes. St. Albert Botanic Park provides gardens filled with colourful flowers. Inglewood Towne Centre, SmartCentres St. Albert, and other shopping centers offer several stores and restaurants. The northwestern part of the city is a more rugged area for skiing, hiking, snowboarding, and other outdoor activities. St. Albert Transit offers local bus routes to different parts of the city and commuter routes to Edmonton.
St. Albert Amenities
Musee Heritage Museum
Riel Recreation Park
Lone Spruce Driving Range
Italian Bakery's Mercato
Montana's
Art Gallery of St. Albert
St. Albert's Famers Market
The Arden Theatre
Make Yourself at Home in Alberta's Best Cities
Alberta's best places to live have plenty of natural beauty and affordable homes, which can lead to difficult decisions about where to move. With a better idea of what the best cities in Alberta offer, home buyers can weigh their options and make smarter real estate investments. Whether buyers prefer a small town tucked away in the mountains or a thriving city, Alberta has the perfect home waiting for them. With so many great options, home buyers can look forward to living in one of Canada's top provinces.