8 Best Suburbs of Edmonton: Where to Live in Towns Around Edmonton
Posted by Justin Havre on Monday, April 3, 2023 at 10:55:32 AM
By Justin Havre / April 3, 2023
Comment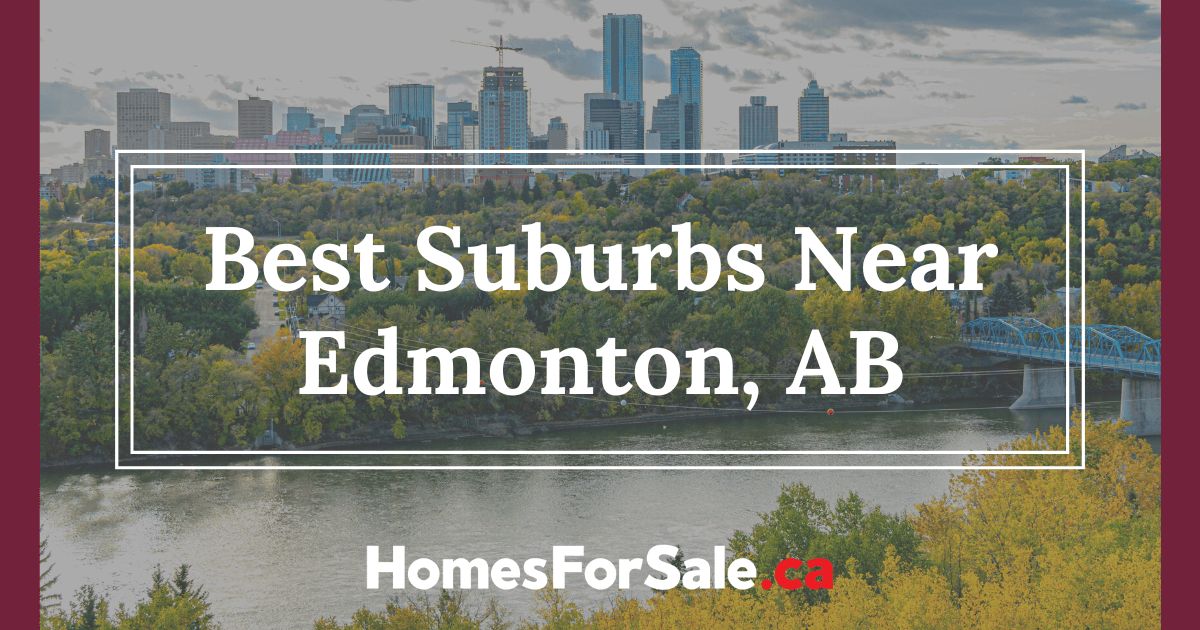 Some people seek more affordable housing outside the city in Edmonton's suburbs, while others search for a more laid-back lifestyle surrounded by nature. Fortunately, the area's road network makes it fairly easy to get around in Alberta's capital region, with Anthony Henday Drive or "Ring Road" looping Edmonton and connecting commuters to major arteries like highways 2 and 16.
To determine which suburbs offer the best combination of affordability, amenities, and lifestyle, we've rounded up a list of the top options. If you're looking to move to Edmonton but want to be a bit outside the city, here are eight of Edmonton's best suburbs.
St. Albert
Located on the Sturgeon River northwest of Edmonton, St. Albert is known for its excellent healthcare system and the St. Albert's Farmers Market, the largest in Western Canada. The suburb has a population of approximately 70,000, making it one of the largest Edmonton suburbs on this list.
With over 100 parks and dozens of playgrounds, St. Albert is an excellent place for anyone looking to spend time outdoors. The suburb is home to the Red Willow Trail, a scenic path that follows the Sturgeon River and connects to several other trails in the area. During winter, locals head to Nordic Ski Club at Kingswood Park, Alpine Park Rink, and additional outdoor spaces for skiing, ice skating, and snowshoeing.
Notable amenities in St. Albert include Sturgeon Community Hospital, where residents can access emergency healthcare services in a modern facility, plus the lively Perron District. Located in the heart of downtown, the district has dozens of shops, cozy cafés, and top-rated restaurants. These include Sushi Park, Songkran Thai, and The Cajun House. Other nearby attractions include Mission Park, Arden Theatre, Italian Bakery's Mercato, and St. Albert Shopping Centre.
St. Albert's real estate ranges from single-family homes to condos. Prices for homes for sale in St. Albert generally fall between $300,000 and $700,000.
St. Albert Amenities
Lions Park
Riel Recreation Park
Sturgeon Valley Golf Club
Inglewood Town Centre
John E. Poole Boardwalk
Servus Credit Union Place
Fort Saskatchewan
Established in 1875, Fort Saskatchewan is one of Alberta's oldest settlements, home to roughly 25,000 people. Its location on the banks of the North Saskatchewan River makes it an ideal place for nature lovers, with easy access to trail systems, waterfront parks, and the Fort Saskatchewan Golf Club. Aside from its picturesque setting, this Edmonton suburb offers many amenities, including modern hospitals, various schools, and longstanding traditions like the annual Sheep Leaving Parade.
Fort Saskatchewan's east side features a downtown district near the waterfront, with plenty of options for dining out. Popular eateries include Hanabi, Atlantic Kitchen, Pots Bar & Grill, and The Bear's Den. Other amenities like Jubilee Recreation Centre, Turner Park, and Fort Saskatchewan Tennis Club are minutes from downtown.
On the west side, residents can access Dow Centennial Centre, a popular multi-purpose facility with a soccer field and an NHL-size rink. To access shopping and health services, residents can head to Cornerstone Fort Mall and Fort Saskatchewan Community Hospital in the suburb's central area.
Real estate in Fort Saskatchewan's best neighbourhoods includes affordable single-family homes, townhomes, and condos. Prices for detached houses range from $300,000 to $700,000, while one- to three-bedroom condos typically list between $100,000 and $400,000.
Fort Saskatchewan Amenities
Harbour Pool
Pryce Alderson Park
West River's Edge Dog Park
Dow Centennial Shell Theatre
Freson Bros. Fresh Market
Fort Saskatchewan Farmers Market
Beaumont
Beaumont is an agricultural town that has become one of Edmonton's most popular bedroom communities. Home to a population of 20,000, the suburb is situated about 18 kilometres east of Edmonton International Airport. Residents have easy access to parks, schools, recreational facilities, and plenty of local shops and restaurants. Beaumont's schools offer French immersion programs through third grade, with up to 80% of all instruction in French, giving young students a chance to become fully bilingual.
Green spaces in Beaumont are plentiful, with options like Gobeil Park, Four Seasons Park, and Coloniale Golf Club, providing athletic courts, playgrounds, ice rinks, splash pads, fairways, dog runs, and more. Popular dining spots include Chartier (for French cuisine), Maina's Donair, and Jef's Cafe. The city's shopping districts also feature an array of eateries, plus staples like Sobeys and No Frills for groceries.
Beaumont real estate offers a mix of luxury rowhomes, townhomes, and single-family dwellings. Prices vary, but most homes for sale in Beaumont typically cost between $300,000 and $800,000. Property styles range from two-story executive homes with two-car garages to split-level townhomes with modern interiors.
Beaumont Amenities
Beaumont Spray Park
St. Vital Church
Seachange Brewing Co
Beaumont Community Centre
École J.E. Lapointe School
Beaumont Sport and Recreation Centre
Leduc
Leduc is 33 kilometres south of Edmonton and home to approximately 30,000 people. Its proximity to Edmonton International Airport makes it an ideal spot for frequent flyers, with easy access to Highway 2. Rich with parks, shops, and services, Leduc has all the amenities needed to make it an attractive option for those looking to settle in the suburbs.
Leduc's downtown area is especially vibrant, with plenty of shops like Side Street Vintage and It's a Crock Country Store. Eateries line the downtown streets, including Ryan's Drive-In, Kosmos Restaurant, and Habanero's Mexican Grill. Nearby amenities include a movie theatre, an ice arena, and multiple parks.
East of downtown lies Telford Lake, a prime spot for outdoor activities like camping, canoeing, and fishing. The lake is home to William F Lede Park, where residents can access the 300,000-square-foot Leduc Rec Centre. Other area attractions include Leduc Golf & Country Club, Premium Outlet Collection Mall, and Maclab Performing Arts Centre.
Homes in Leduc include affordable detached properties priced between $200,000 and $600,000, though new construction homes can go for slightly more. Spacious condos and townhomes are also available, ranging in price from $150,000 to $500,000.
Leduc Amenities
Leduc Farmers Market
Leduc Community Hospital
Alexandra Park
Leduc Skate Park
The Canadian Brewhouse
Stone Barn Garden
Caledonia Park School
Spruce Grove
Spruce Grove is a growing suburb of roughly 40,000 people located 11 kilometres west of Edmonton. The suburb is teeming with modern recreational facilities, plus a four-kilometre stretch of shops along Highway 16A.
Among the most popular rec facilities in Spruce Grove is the TransAlta Tri Leisure Centre, which includes a fieldhouse, gym, pool, and ice arenas. Residents can also choose between Fuhr Sports Park and Border Paving Athletic Centre for sports and leisure activities year-round. Other major amenities include Jubilee Park, Horizon Stage Theatre, and the Parkland School Division, home to 10 schools across the suburb.
Shopping is plentiful in Spruce Grove, with the Westland Market Mall offering an array of shops, restaurants, and services. The mall is home to a Safeway grocery store, Value Village, Browns Socialhouse, and Ricky's All Day restaurants. South of the shopping strip, residents have access to a seasonal farmers market at Grain Elevator Museum. Up north, near Yellowhead Highway, locals can tee off at The Links, a public golf course with an 18-hole championship layout.
Real estate in Spruce Grove consists primarily of single-family detached homes, with fewer condos and townhouses. Home prices range from $250,000 for older structures to around $700,000 for newer builds.
Spruce Grove Amenities
State & Main Restaurant
Henry Singer Ball Park
Ken Morrison Spray Park
Landmark Cinemas
King Street Mall
École Broxton Park School
Devon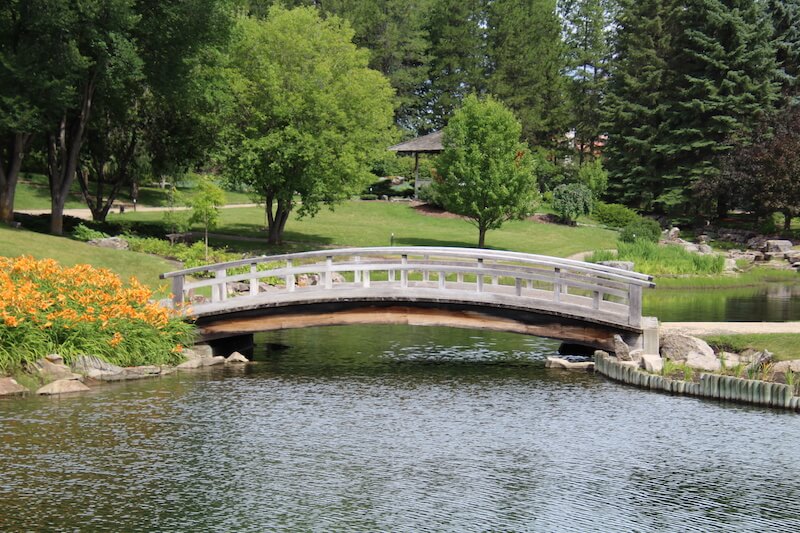 Devon is tucked away on the southern banks of the North Saskatchewan River, about 25 kilometres southwest of Edmonton. It emerged as an oil boomtown in the mid-1900s and has since grown to a population of 7,000. Although it's one of the smallest suburbs of Edmonton, it has just about all the necessities to make life comfortable and convenient.
Devon's residents appreciate their low cost of living, as their municipal tax rates and utility costs are some of the most affordable in the province. The community is conveniently situated near Nisku Industrial Business Park and Acheson Industrial Area, two of Alberta's biggest employment hubs. Residents can access Devonian Way and Highway 19, connecting to Edmonton International Airport in under 20 minutes by car.
One local favourite is Devon Voyageur Park, with its pebbled shoreline along the southern banks of the North Saskatchewan River. Other amenities include the Devon Golf & Conference Centre, featuring an 18-hole layout, and Devon Lions Campground. The suburb's commercial district around Athabasca Avenue offers a selection of restaurants, like Sugar Shack and Norma Dee's Kitchen, plus cafes, shops, and services.
Those moving to Devon will find home prices that typically range from $200,000 to $600,000, making it one of the most affordable towns near Edmonton. Single-family detached homes are the most common builds, though there's a small selection of semi-detached homes and duplexes.
Devon Amenities
Centennial Park
Devon General Hospital
Robina Baker Elementary School
Local Youth Experience
Devon Community Centre
Dale Fisher Arena
Sherwood Park
Sherwood Park is just outside Edmonton's eastern city limits and developed out of farmland in the 1950s, since growing into a modern suburb of 72,000 people. The community's economy is chiefly driven by the oil and gas industry, with Strathcona Refinery, Imperial Oil, and Suncor Energy all having major operations in the area.
Sherwood Park's centrepiece is Broadmoor Lake Park, where residents enjoy sanded playgrounds and volleyball courts, plus a spray park during summer and an ice-skating rink during winter. The park is home to a public golf course, a sports arena, and performing arts venue Festival Place, which hosts over 100 performances annually by leading local, national, and international acts. Sherwood Park Mall is steps away from the theatre, with 84 brand-name stores and a cineplex.
The Elk Island Public Schools and Elk Island Catholic Schools regional divisions serve Sherwood Park's schools. Additionally, New Horizons Charter School near Broadmoor Lake Park is the first of its kind in Canada, offering grade acceleration for attending students.
Homes in Sherwood Park are a mix of single-family detached, semi-detached, and row housing. Prices usually range from $200,000 for a two-bedroom, two-bathroom condo to $700,000 for a large four-bedroom, four-bathroom house.
Sherwood Park Amenities
Strathcona County Farmers Market
Strathcona Athletic Park
Strathcona Country Art Gallery@501
Kinsmen Leisure Centre
LOCAL Public Eatery Sherwood
Millennium Place Rec Center
Calmar
With a population of 2,200, Calmar is the smallest Edmonton suburb on this list. Many of its residents work in the retail, construction, and natural gas industries, commuting to Edmonton, Nisku, and Leduc via Highway 2. The town offers a remote and peaceful atmosphere, with several green spaces, services, and casual restaurants.
Students attend Calmar Elementary and Calmar Secondary School, part of the Black Gold Regional Division. The town also offers a few daycare centres, a library, and a curling club at the Calmar Community Centre. The suburb's main road, Provincial Highway 39, has eateries like Calmar Bakery, Grasshopper Cafe, and Lee's Family Restaurant. Area attractions include the Canadian Energy Museum in Leduc and the Calmar Driving Range just south of the suburb.
Homes in Calmar vary from modest three- and four-bedroom bungalows to custom-built homes. Sale prices fall between $150,000 and $350,000, with 4,000-square-foot lots available in the $70,000 to $100,000 range.
Calmar Amenities
Centre Park
Calmar Medical Center
Calmar Dental Clinic
Mike Karbonik Arena
Ball Diamonds Park
Route 39 Public House
Discover Edmonton's Best Suburbs
Edmonton's suburbs offer an excellent living experience for those outside the big city while still having easy access to big-city conveniences. Each suburb has its own amenities, from recreational facilities operating year-round to many schools, parks, and shops. Those living in these suburbs are uniquely positioned to spend less on housing without settling for a lower quality of life. With so many towns near Edmonton to choose from, house hunters are sure to find a great Edmonton suburb to call home.