Best Places to Live in Beaumont: 8 Beaumont Neighbourhods You're Sure to Love
Posted by Justin Havre on Thursday, April 20, 2023 at 9:35:14 AM
By Justin Havre / April 20, 2023
Comment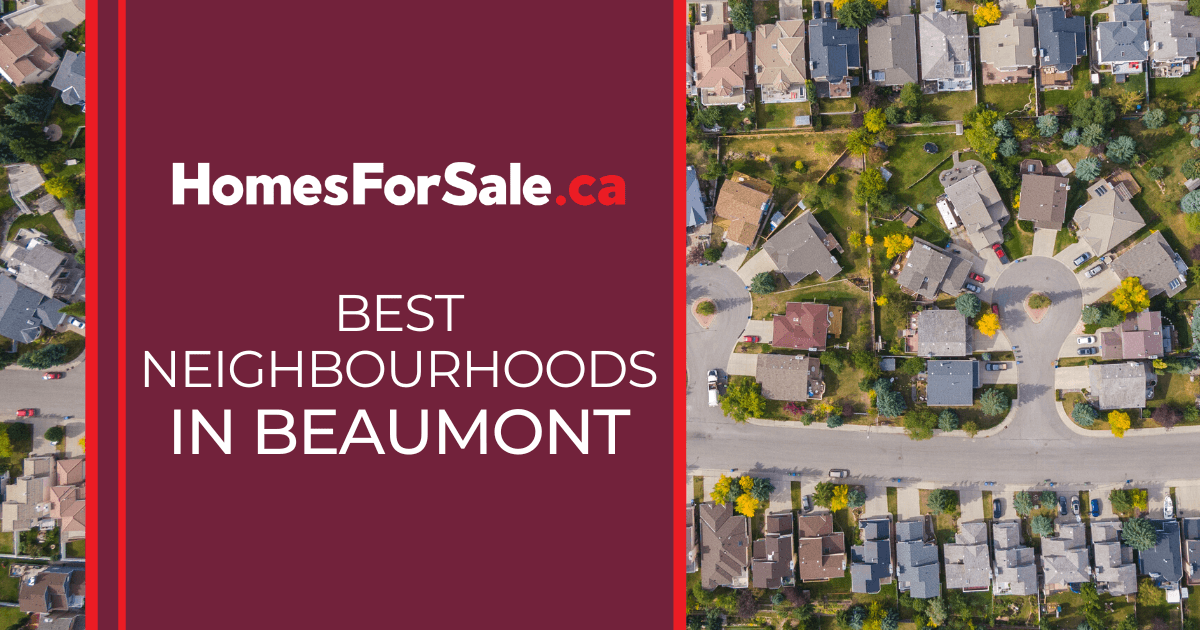 Your search for the best places to live in Beaumont ends here! There's already so much to love about living in Beaumont and finding the perfect neighbourhood only makes it better. Scenic parks, unique architecture, and an affordable cost of living have helped make it one of the fast-growing communities in Canada while allowing it to maintain its small-town charm. Beaumont's best neighbourhoods will complement your everyday lifestyle by providing easy access to best-in-town amenities, ranging from serene lakes to bustling shops and restaurants. If you're looking for a Beaumont home, these eight neighbourhoods are sure to impress.
Beau Meadow
Located just outside of Downtown Beaumont, Beau Meadow offers charming mid-sized homes just minutes from some of the city's best amenities.
Homes in Beau Meadow are mostly traditional single-family homes with two storeys and three to four bedrooms. Most homes were built between the late 1980s and early 1990s, but new-construction homes are also available. The community offers numerous split levels and the occasional duplex. Buyers can expect to pay between $290,000 and $435,000, making this neighbourhood even more accessible than the already affordable cost of living in Edmonton.
Sidewalks along each street allow residents to easily walk to nearby attractions, like the toboggan hill at Beau Meadow's northern edge or downtown Beaumont's many shops and restaurants. Located just north of Beau Meadow on 50th Street, Chartier specializes in French-Canadian comfort food and offers fresh-baked goods from its bakery on weekends.
In Beau Meadow's southeast corner lies the École Beau Meadow School. This K-6 school offers French immersion and hosts the Parc Des Plaines Park, which has soccer fields, a baseball diamond, and a playground.
Beau Meadow Amenities
Parc Canal LeBlanc Park
Parc Nature Park
Parc St. Vital Park
Beaumont Community Centre
Beaumont Centre Pharmacy
Beaumont Dental Centre
Beaumont Animal Clinic
Beaumont Bottle Depot
Coloniale Estates
Centred on an 18-hole championship golf course, Coloniale Estates offers sizable golf course homes surrounded by lush parks and close to essential shops.
Coloniale Estates was built by Mattamy Homes Canada, with its first homes sold in early 2015. Most homes are mid-sized to large single-family homes sporting elegant masonry, although some townhomes and low-rise apartments are also available. Many Coloniale Estates homes overlook the golf course or one of the neighbourhood's numerous parks and lakes. With exceptional recreational opportunities just steps from their front doors, homes in Coloniale Estates typically sell for $455,000 to $850,000.
Coloniale Golf Club is the development's star attraction. The par-72 links-style course features 18 holes winding 7,012 yards between Coloniale Estates' homes and water features. Guests can savour a meal at the Coloniale Grill & Bar while enjoying panoramic views of the course and practice facility.
Coloniale Estates is also just down the road from excellent shopping opportunities. The neighbourhood's main thoroughfare leads directly to a shopping centre with pharmacies, banks, gas stations, and a grocery store, allowing residents to stock up on essentials in a quick trip. This shopping centre is also home to numerous chain restaurants, including Wild Wing, Boston Pizza, and Booster Juice.
Coloniale Estates Amenities
Parc Coloniale Park
Parc Milieu Park
Parc Rosemont Park
Parc Bilodeau Park
Ken Nichol Regional Recreation Centre
Parc St. Vital Park
École Coloniale Estates School
Bibliothèque de Beaumont Library
Forest Heights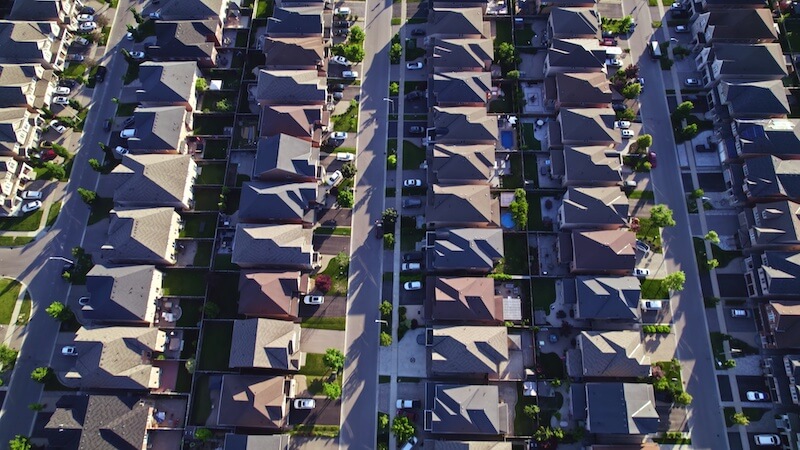 Situated on the eastern outskirts of Beaumont, Forest Heights offers sizable single-family homes and duplexes hidden away from the hustle and bustle of the rest of town.
The secluded neighbourhood features large executive and estate lots, although some smaller, more affordable homes are also available. The ninth and final stage of development consists of semi-estate homes and duplexes overlooking naturalized ponds and the environmental reserve forest from which Forest Heights takes its name. While modest homes can sell for as little as $400,000, the most expensive real estate in Forest Heights can cost up to $880,000.
Tree-lined walking paths throughout Forest Heights connect the neighbourhood to Beaumont's shared-use trail system. Residents can quickly access the community's centrally located Parc Forest Heights Park or one of the many parks surrounding the neighbourhood. Centred on a large pond, Parc Forest Heights Park offers a playground and an expansive green space overlooking the water.
Although Forest Heights sits on the edge of Beaumont, downtown's numerous shops and restaurants are less than two kilometres away. In just five minutes, Forest Heights residents can reach attractions like the Ken Nichol Regional Recreation Centre or Sea Change Brewing Co.
Forest Heights Amenities
Coloniale Golf Club
Parc Nature Park
Parc St. Vital Park
Parc Charbonneau Park
Brookside
Nestled between the Mill Creek Ravine and the North Saskatchewan River, Brookside is a charming neighbourhood known for outstanding recreational opportunities and natural beauty.
Brookside features a mix of older homes and newer developments on large lots with mature trees. Homes for sale in Brookside can vary significantly in size but typically offer at least three bedrooms and bathrooms. While the smallest homes can sell for as little as $450,000, Brookside's largest estates can command up to $2.3 million.
Opportunities for outdoor recreation abound in Brookside due to its large number of parks and natural spaces. The 51-acre Four Seasons Park spans the neighbourhood's southern border and offers numerous facilities, including a spray park, a playground, a football field, a soccer pitch, a disc golf course, a sand volleyball court, and three ball diamonds. Visitors can purchase food at the concession area and enjoy it at one of the park's many picnic sites. The park is also home to Don Sparrow Lake, which is annually stocked with trout for fishing.
Brookside is just a few minutes from downtown, offering residents quick access to the town's best shops and restaurants. It is also just south of the Beaumont Community Centre, which features the largest banquet facility in Leduc County. The 500-seat venue hosts weddings, company banquets, concerts, dances, birthday parties, and other special events.
Brookside Amenities
Parc Des Arbres Park
Parc Bellevue Park
Parc Rivard Park
Parc Beaudoin Park
Parc Reservoir Park
Parc 2000 Park
Beaumont Centre Pharmacy
École Secondaire Beaumont Composite High School
Four Season Estates
Located just south of Four Seasons Park, Four Seasons Estates features sizable luxury homes with quick access to parks, restaurants, and shops. The neighbourhood's stately presence helps secure Beamont's ranking among Alberta's best places to live.
This small, exclusive neighbourhood features some of Beaumont's largest homes, with many boasting well over 200 square metres of space. Three to four bedrooms and bathrooms are standard, as are front-attached garages capable of housing multiple vehicles. Home prices typically range from $650,000 to over $1.1 million.
Many homes in Four Seasons Estates overlook the centrally located Parc Hinse Park. Centred on a tranquil pond, the community park offers a playground and plenty of green space. A multi-use trail passes through the park and connects it to other nearby parks, including the amenity-rich Four Seasons Park just north of the neighbourhood.
The trail system and sidewalks lining every road make it easy to navigate Four Seasons Estates and reach other nearby attractions. Just south of the neighbourhood lies Montrose Village, a shopping mall hosting a pet clinic, a liquor store, and local restaurants like Pizza Box and Porter's Pub.
Four Season Estates Amenities
Parc Hinse Park
Parc Montrose Park
École Champs Vallée School
Les Champs Vallee Fields
Montrose Dental Care
Leaf MedX Medical Centre
Montalet
Set apart by its distinctive French-inspired architecture, Montalet is a charming community featuring sizable homes just minutes from excellent parks and shops.
Drawing inspiration from Beaumont's origins as a French farming community, Montalet blends quiet countryside living with modern amenities. Tree-lined boulevards and two beautiful ponds provide the perfect setting for lovely French-inspired architecture. Built by Anthem between 2003 and 2013, the 127-acre community consists primarily of traditional single-family homes and estate homes, but more affordable duplexes are also available. Due to their high demand, it can be a rare sighting to find homes for sale in Montalet. When they do become available, homes here typically cost around $590,000.
Montalet's serene setting on the northern outskirts of town provides quick access to top employers in Edmonton while avoiding the hustle and bustle of the city centre. Residents have easy access to essential goods and services with the Montalet Shopping Centre and Gallerie just east of the neighbourhood. This 15-acre mall features a grocery store, a post office, pharmacies, banks, gas stations, and other great specialty shops.
Several parks in and around Montalet provide excellent opportunities for outdoor recreation. Set on the neighbourhood's southwestern corner, Parc Montalet Park offers a soccer field and an outdoor rink perfect for ice skating or hockey.
Montalet Amenities
Parc Morin Park
Parc Martine Park
Parc Coloniale Park
École Dansereau Meadows School
Beaumont Lakes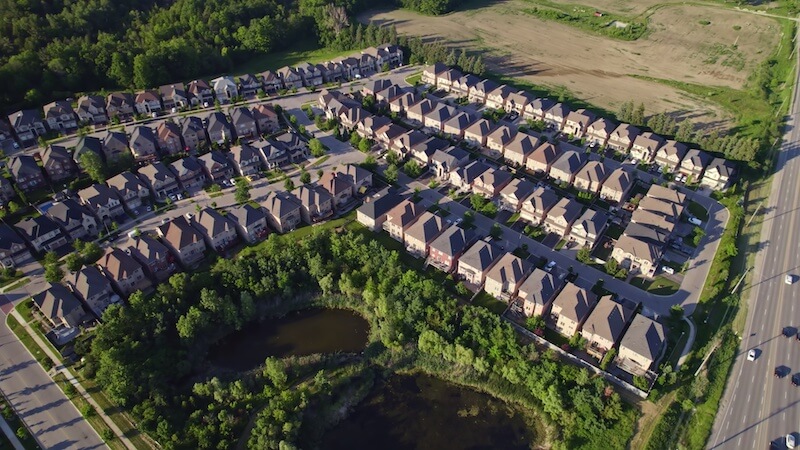 Set among tranquil lakes and scenic parkland, Beaumont Lakes offers spacious luxury homes with excellent opportunities for outdoor recreation and shopping nearby.
Most homes in Beaumont Lakes are rather sizable, with spacious front-loading garages. Many homes feature elements of French architecture, like tall windows, steep roofs, and elegant stone facades. The neighbourhood also boasts numerous waterfront homes, with many properties backing onto serene private lakes. Homes for sale in Beaumont Lakes typically cost between $600,000 to $785,000.
In addition to the neighbourhood's beautiful lakes, residents can enjoy several nearby parks. Parc Canal Leblanc Park encompasses one of Beaumont Lakes' smaller ponds and has a playground and a soccer field surrounded by benches. The park's walking path passes between the pond and another sizable lake, allowing visitors to enjoy spectacular views of the area's natural beauty.
Beaumont Lakes is just a short drive from Bryant Heritage Plaza. This two-storey shopping centre offers services like daycare, dental work, eye care, and laundry. It also features a grocery store and chain restaurants like A&W Canada and Panago Pizza.
Beaumont Lakes Amenities
Parc Juneau Park
Parc Nature Park
Parc Des Plaines Park
École Beau Meadow School
Glenbrae Meadows
Tucked between Beau Meadow and Beaumont Lakes, Glenbrae Meadows is known for its lush green spaces and stylish modern homes.
Glenbrae Meadow real estate offers various property types, from cozy bungalows to spacious two-storeys and split-levels. Most homes in the neighbourhood feature expansive windows providing plenty of natural light, with many offering distinctive bay windows. Meanwhile, sizable yards present ample space for landscaping and outdoor play. Homes in Glenbrae Meadows typically cost between $400,000 and $550,000.
The quiet neighbourhood is home to numerous mature trees and natural spaces, including several parks. Parc Nature Park spans much of Glenbrae Meadows' southeastern border, making it one of the neighbourhood's most popular attractions. A playground and plenty of open space offer a place to play year-round. The city also offers an outdoor skating rink during the colder months. Parc Nature Park features several picnic areas, including one adjacent to the playground.
Glenbrae Meadows is also just 1.5 kilometres from downtown Beaumont. Residents can enjoy quick access to downtown's numerous shops and restaurants, like drive-through bakery Thoroughfare Baked Goods and the charming Jef's Cafe.
Glenbrae Meadows Amenities
Parc Des Plaines Park
Parc Glenbrae Park
Parc Charbonneau Park
École Beau Meadow School
Parc St. Vital Park
Living in Beaumont's Best Neighbourhoods
The best places to live in Beaumont offer spacious homes surrounded by amenities designed to improve residents' quality of life. Living in these excellent neighbourhoods provides residents ample opportunities for outdoor recreation, education, shopping, and dining just minutes from home. With a diverse selection of home styles available at prices lower than the average for Alberta, it's no wonder that Beaumont is widely considered one of Edmonton's best suburbs.