5 Best Neighbourhoods in Leduc: Make Yourself at Home in Leduc's Best Places to Live
Posted by Justin Havre on Monday, April 17, 2023 at 2:02:19 PM
By Justin Havre / April 17, 2023
Comment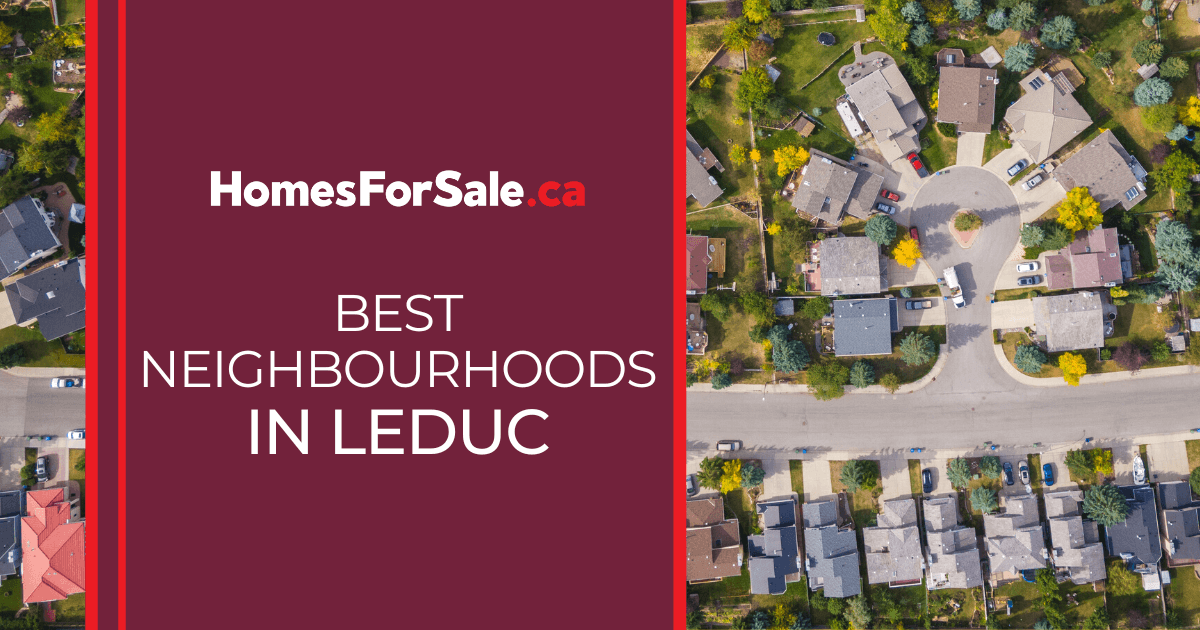 Leduc is one of the fastest-growing cities in Canada due to its extensive parks system, lively arts and culture scene, and importance to the economy in Alberta. Located just 33 kilometres south of Edmonton, Leduc allows its residents to enjoy the feel of living in a small town while accessing big city amenities like walkable neighbourhoods, lush parks, and bustling business districts. Residents can shop, dine in town, and explore over 80 kilometres of trails and pathways linking the city's 60 parks.
With so many great amenities spread across Leduc, it's no wonder the town is considered one of the best suburbs of Edmonton; finding desirable places to live here is easy, but some communities offer more perks than others. The best neighbourhoods in Leduc feature walkable streets, quick access to the city's best attractions, and a diverse selection of home types to suit any buyer's tastes.
Deer Valley
Deer Valley is a newer master-planned community of townhomes, condos, and single-family homes in western Leduc.
Developers have completed three construction phases in Deer Valley, with the earliest homes built in 2006. Cypress Creek Development Deer Valley Inc oversaw the community's first two phases of development. Creation Communities Inc took over the third phase in 2018, and the fourth phase is now underway with a plan to add more homes, parks, and mixed-use spaces to the northern part of the neighbourhood.
Most homes in Deer Valley are two-storey townhomes or duplexes, although condos and detached homes are also available. Elegant masonry and sleek siding in muted colours give the neighbourhood a decidedly modern look. Deer Valley homes typically sell from the mid-$200s to the $500s.
Conveniently located in the centre of the neighbourhood, Mary Marsh Park features a playground with swings, slides, and a climbing wall. It also has a few picnic tables and an expansive lawn offering even more play space.
The southern edge of the neighbourhood also hosts Deer Valley Plaza. This small shopping centre offers a gas station, a sizable liquor store, and chain eateries like Starbucks and Buster's Pizza & Donair.
Deer Valley Amenities
WeCare Medical Clinic
West Leduc Veterinary Clinic
Deer Valley Park
West Haven Park
Leduc Common
Southfork
Situated in a secluded reserve on the southern outskirts of Leduc, Southfork is the fastest-growing community in the city due to its prime location, excellent amenities, and diverse selection of homes.
Award-winning builders Jayman BUILT and Homes by Avi began constructing homes in Southfork in 2006. The neighbourhood continues to grow, adding even more front-drive homes, laned homes, townhomes, and duplexes each year. Homes in the community offer a bold, modern interpretation of traditional home styles in a striking, high-contrast colour palette. Buyers can expect to pay between $270,000–$900,000.
Southfork is also home to the Edgewater Estates subdivision, which features larger homes on lots up to 54 feet wide. This exclusive community has a separate gated entry and private amenities, including a park and a gazebo.
Over 4 kilometres of pathways and bike trails connect Southfork residents to the community's numerous amenities. Southfork Landing, located on the neighbourhood's eastern border, offers retail and service options like a gas bar, a daycare, and a liquor store.
Southfork is also just down the road from the Leduc Golf Club, which features an 18-hole golf course, an all-grass driving range, and a full-service restaurant.
Southfork Amenities
K–8 school
Three playgrounds
BBQ areas
Landscaped pond
Leduc Estates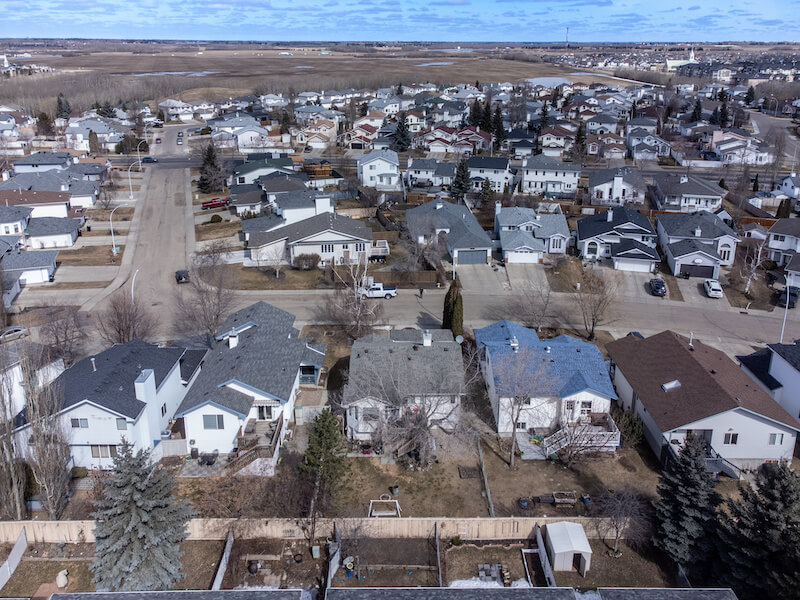 Leduc Estates is one of the best communities for outdoor recreation in a city full of impressive recreational spaces.
Leduc Estates features homes nestled between several sizable parks. Southwick Park has lush green spaces scattered throughout the community's numerous ranches, two-storeys, and townhomes. Meanwhile, Fred Johns Park and the Leduc Reservoir serve as the neighbourhood's eastern border, with some homes offering waterfront views.
Named after Leduc's longest-serving mayor, Fred Johns Park is one of the finest parks in the city. Visitors can enjoy three playgrounds and ball diamonds, picnic and barbecue areas, and a disc golf course overlooking the Leduc Reservoir. The reservoir is stocked with thousands of rainbow trout each year, making it a popular fishing spot. A paved 2-kilometre trail follows the reservoir's shoreline, making it a favoured space for running, dog-walking, and birding.
Leduc Estates is just south of Leduc Common, an enormous shopping centre featuring numerous businesses. Pick up essential goods, get a haircut, or try lunch at restaurants like PhoXpress or Ricky's All Day Grill, all less than 5 minutes from home.
Homes in Leduc Estates can vary significantly in size and price. Cozy cottages can sell for as little as $265,000, while larger luxury homes can command up to $600,000.
Leduc Estates Amenities
Aileen Faller Park
Leduc Golf Club
Deer Valley Park
Harry Bienert Park
North Telford
Set on the western banks of Telford Lake, North Telford is a quiet neighbourhood with excellent access to outdoor recreation, shopping, and cultural attractions.
Telford Lake is the neighbourhood's crowning jewel within the expansive Telford Park. The lake takes its name from the founder of Leduc, Robert Taylor Telford, who first settled on the lake in 1889. A boardwalk lets visitors walk out over the water, while an 8.2-kilometre trail circles the lake's perimeter. The sizable lake is one of the best places in Leduc for boating. It hosts dragon boat competitions each summer and Leduc Motorsports Club and Alberta Endurance Ice Racing Association events each winter.
North Telford is also just across 46th and 47th Streets from Leduc's Central Business District. This bustling commercial area features numerous specialty shops, restaurants, and services. Catch a film at Leduc Cinemas, sample drinks at the Leduc Brewing Company, or enjoy a Prestigio Bakery & Bistro pastry.
Most homes in North Telford are cozy cottages, but the community also has larger two-storeys and luxury homes overlooking the neighbourhood's famous lake. Homes in this highly-desirable neighbourhood rarely come onto the market and typically cost about $1.1 million.
North Telford Amenities
Leduc Boat Club
Arthur Moberg Park
Leduc Lions Park
William F. Lede Park
Leduc Public Library
Alexandra Park
Corinthia Park
Corinthia Park features affordable homes nestled between impressive parks, public schools, and cultural attractions, making it an attractive option for homebuyers moving to Alberta and considering Leduc.
Most homes in this charming neighbourhood are laned homes, although some front-drive homes can be found on Bella Coola Drive and Nootka Road. Ranches, split-levels, and cottages dominate Corinthia Park, but larger two-storeys are also available. Homes in the neighbourhood are relatively affordable, typically listing in the $300s.
Sidewalks on every road make it easy to access the neighbourhood's numerous parks, including the eponymous Corinthia Park. Located next to the neighbourhood's elementary school, Corinthia Park hosts soccer fields, a baseball diamond, a playground, a toboggan hill, and the Leduc Skate Park.
Operating out of Leduc Composite High School, the Maclab Centre for the Performing Arts is one of Leduc's most popular cultural attractions. The 450-seat theatre hosts live music, theatrical performances, and dance recitals from local community groups and international artists.
After the show, stop by Nitza's Pizza just across the road. This local chain serves donairs, poutine, and pizza, with options for keto crust, gluten-free crust, or dairy-free cheese to accommodate any palate.
Corinthia Park Amenities
Kinsmen Park
John Bole Athletics Park
Campbell Park
Alexandra Park
Elk Community Park
Leduc Golf Club
Leduc Community Hospital
Living in Leduc's Best Neighbourhoods
The best neighbourhoods in Leduc offer easy access to the city's best attractions, from theatres and parks to shops and restaurants—all while offering affordable homes that can help lower homebuyers' cost of living in Alberta. Residents can enjoy walkable streets and near-endless opportunities for outdoor recreation, shopping, and dining. Furthermore, these neighbourhoods offer eye-catching homes in various styles, allowing buyers to find the perfect fit for their needs.