7 Best Neighbourhoods in Lethbridge: Where to Live in Lethbridge, AB
Posted by Justin Havre on Wednesday, September 13, 2023 at 11:28 AM
By Justin Havre / September 13, 2023
Comment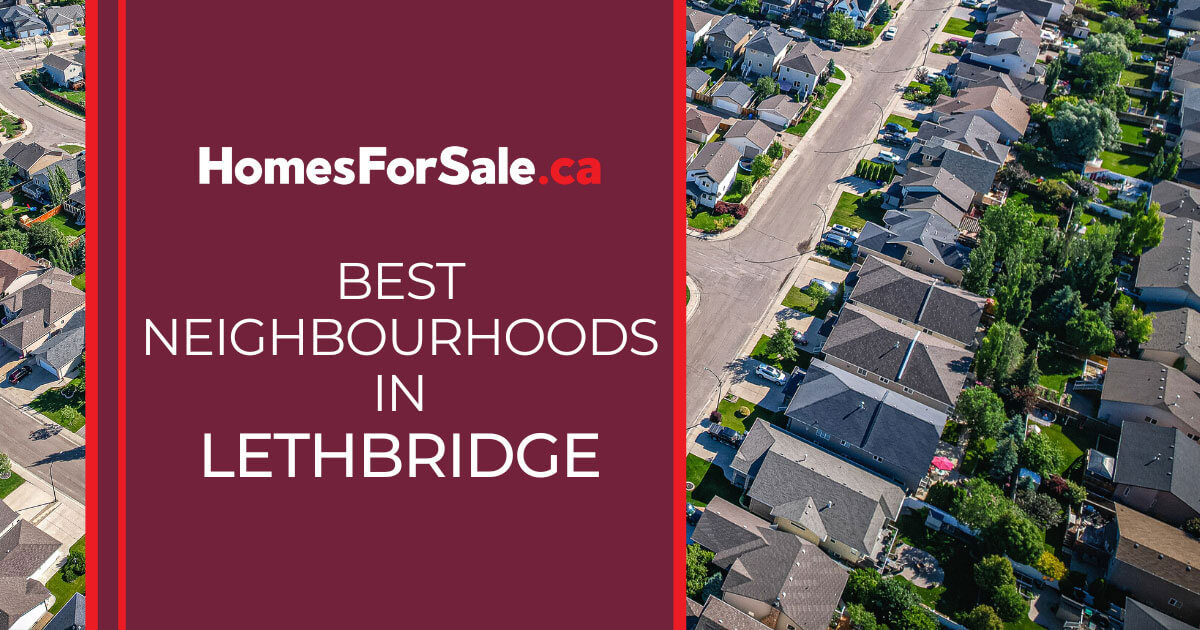 Lethbridge, nestled in the heart of southern Alberta, is a city that offers a blend of urban charm and natural beauty. As it expands and diversifies, certain neighbourhoods have emerged as top destinations for residents and visitors alike. Each neighbourhood showcases unique characteristics and local intrigues, making Lethbridge a mosaic of community experiences. This article delves into those standout areas, offering residents and homebuyers moving to Lethbridge insights into what makes them special and why they're considered the best.
Lakeview
Lakeview offers spacious yet affordable homes just minutes from parks, golf courses, and dozens of shops and restaurants. Lakeview developed in the late 1940s, contributing to the economy in Alberta as Canada recovered from World War II. M. L. Fengstad was one of Lakeview's first private contractors, building 28 units in 1948 and another 100 in 1949. By 1954, Arthur L. Batty had also started adding at least 30 units annually.
Most Lakeview homes are sizable single-family homes with three to five bedrooms, and they're generally priced low enough to ensure residents can keep the cost of living in Lethbridge low. These homes typically cost $300,000 to $500,000, but Lakeview also has a few one to three-bedroom condos available for around $150,000 to $285,000.
Lakeview sits just south of the public Henderson Lake Golf Club. While the century-old parkland-style course is open from mid-April to October 31st, the club's indoor golf simulator welcomes golfers year-round.
Lakeview is also bordered by two major roads, 43rd Street to the east and Mayor Magrath Drive to the west, providing residents quick access to the rest of the city. Mayor Magrath Drive also features hotels, specialty shops, and an eclectic mix of chain and local restaurants, including Kingsmen Ale House, Motte's Cafe Verde, and Bootsma Bakery.
Lakeview Amenities
Lethbridge Music Academy
Coal Banks Trail
Lakeview Park
Henderson Lake Park
Redwood Park
Agri-food Hub & Trade Centre
RiverStone
RiverStone features new Craftsman-style homes overlooking the coulees along Oldman River. The West Lethbridge neighbourhood has already seen over 20 construction phases and continues to grow. RiverStone occupies former farmland, and its parks have adapted the Lethbridge Northern Irrigation District canal as a serene water feature.
RiverStone offers Craftsman-style single-family homes and townhomes with a one- or two-car front-attached garage. Townhomes in the community have one to two bedrooms and one-and-a-half to two bathrooms for $380,000 to $465,000.
Meanwhile, RiverStone's spacious single-family homes feature three to five bedrooms and two-and-a-half to three-and-a-half bathrooms. While modest homes in the neighbourhood start at $375,000, sprawling luxury homes with excellent views of the coulees can command up to $1.5 million.
RiverStone is primarily a residential area, but residents will find a small shopping centre just west of the neighbourhood.
RiverStone Amenities
Grand River Park
Rivermill Island Park
William Pearce Park
Riverstone Dog Park
University of Lethbridge
Legacy Ridge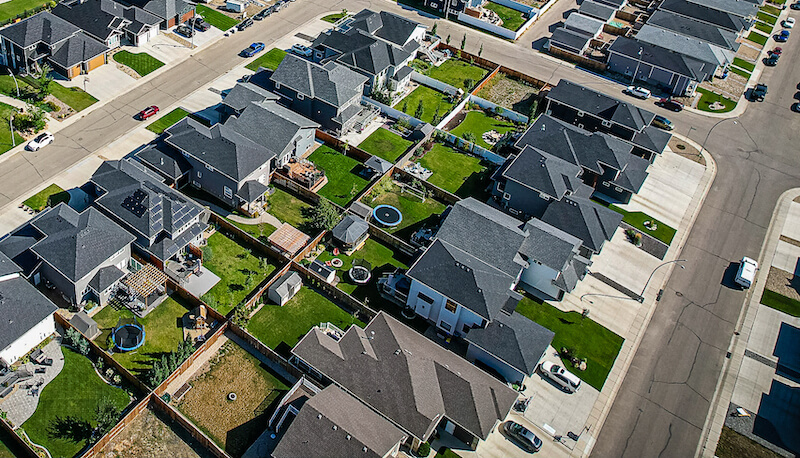 Legacy Ridge is a 280-acre master-planned community that provides residents access to modern amenities while honouring Lethbridge's rich history. Construction in Legacy Ridge began in 2006, with award-winning builders Avonlea Homes, Galko Homes, and Cedar Ridge Quality Homes contributing to the development. Legacy Ridge has had 14 construction phases, with new homes still under construction.
Legacy Ridge offers front-drive and laned homes built with state-of-the-art, energy-efficient practices. Most Legacy Ridge homes are single-family homes with two to six bedrooms and two to four bathrooms, but the community also has some duplexes with three to four bedrooms and two bathrooms. While detached homes can run from $375,000–$900,000, a half-duplex typically costs $250,000 to $325,000.
Legacy Ridge highlights Lethbridge's storied past with interpretive parks and streets named for the region's women pioneers, like Mildred Dobbs and Haru Moriyama. The area also contains Galt No. 6 Mine, a coal mine which operated from 1908–1935 and is now the centrepiece of an interpretive park.
A commercial centre at Legacy Ridge's southeast entrance provides many essentials, including a gas station, a pharmacy, and several chain restaurants, so residents are able to minimize their driving in Lethbridge during inclement weather. Ruben's Veggies also offers local farm-fresh produce from April to December.
Legacy Ridge Amenities
43 acres of green space
Naturalized trail system
Legacy Lodge
Southern Alberta Bowhunters Association
Alexander Wilderness Park
Legacy Regional Park
Ridgewood
Set above the coulees lining Oldman River, Ridgewood offers single-family homes just minutes from sprawling parks, regional shopping centres, and downtown Lethbridge.
Ridgewood is the product of a partnership between the city and the private sector during the post-war boom of the 1970s and 80s. With continued investment, West Lethbridge has seen more growth than any other part of the city since the early 1990s.
Most homes in Ridgewood are Craftsman or split levels with front-attached garages accommodating one to two vehicles. While the neighbourhood's most affordable homes start at under $300,000, sizable luxury homes with views of the coulees can sell for $1.2 million.
Ridgewood is less than five minutes from two major shopping centres, West Lethbridge Towne Centre and West Highlands Towne Centre. These sprawling shopping centres are major parts of the economy in Lethbridge and include grocery stores, banks, gyms, gas stations, a pharmacy, and various specialty shops. They also have numerous chain restaurants and Mojo's Craft Pub & Grill, a local favourite with live music and monthly open mic nights.
Ridgewood's residents also enjoy quick access to Whoop-Up Drive, which reaches downtown in just six minutes.
Ridgewood Amenities
Ridgewood Park
Coachwood Park
Bull Trail Park
Indian Battle Park
University of Lethbridge
Tudor Estates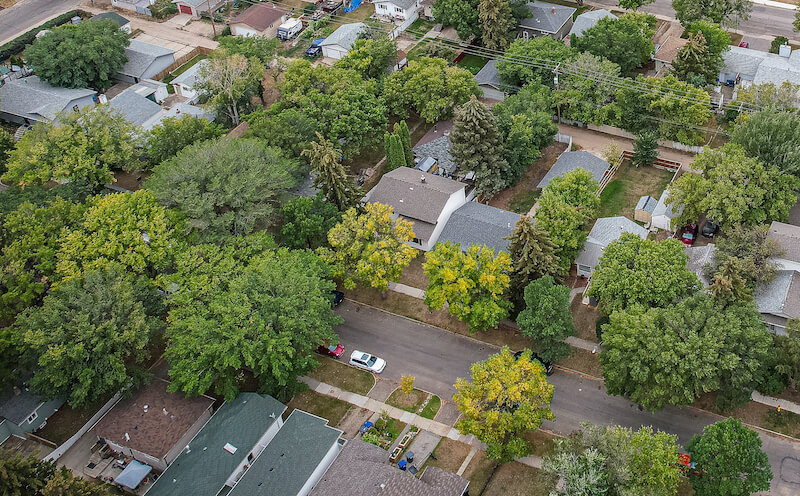 Tudor Estates features roomy single-family homes, an active neighbourhood association, and quick access to shopping and recreation. Tudor Estates makes living even better in a town that's already mentioned among the best places to live in Alberta!
The subdivision's name comes from Edward and Pearl Tudor, a farming couple who moved to Lethbridge in 1914. Tudor Estates was one of the last areas to develop along the coulees because developers repeatedly encountered sewer problems. D. A. Martin Associates finally devised a unique sewer system for the neighbourhood, allowing construction to begin in the summer of 1979.
Tudor Estates was an instant hit, with about half of the development's 213 lots sold by March 1980. Tudor Estates was so popular that all six homes on display in Lethbridge's Homeshow 1980 were from the neighbourhood.
Buyers can choose from six different floor plans in Tudor Estates, with most homes costing between $575,000 and $775,000. About one-third of Tudor Estates enjoy coulee views, but the community's largest homes overlooking the best landscapes can cost over $1 million.
The Tudor Estates Neighbourhood Association organizes numerous events to keep the community engaged, including garage sales, egg hunts, winter walks, door decorating contests, disc golf tournaments, and barbecues.
The eastern part of Tudor Estates features the 5,479-seat Enmax Centre, which hosts concerts, circuses, wrestling, markets, and other events. Tudor Estates is also just a short distance from Mayor Magrath Drive's many grocery stores, healthcare providers, specialty shops, and chain restaurants.
Tudor Estates Amenities
Neighbourhood association
Tudor Park
Kings Park
Servus Sports Centre
Lethbridge College
Southgate
Southgate offers spacious single-family homes and townhomes mere steps from parks and shops.
Construction on Southgate began in the 2000s, and new homes are still being built to meet the demand of homebuyers moving to Alberta. The community consists of Coulee Creek and Sixmile. While single-family homes dominate both subdivisions, some townhomes are available in Coulee Creek.
Homes throughout Southgate are sizable, with floor plans for single-family homes including three to five bedrooms and three to four bathrooms. Meanwhile, townhomes offer two to four bedrooms and two to three bathrooms. While townhomes in Southgate cost around $400,000, single-family homes can sell for $420,000 to $1.3 million.
With construction ongoing in Southgate, the neighbourhood also has lots available for $155,000 to $175,000. Set in Sixmile, these lots are the perfect location to build a new construction home across the road from one of Southgate's new parks.
The western side of Southgate hosts Coulee Creek Common, an enormous shopping centre with a department store, pharmacy, pet supply store, furniture store, hardware store, and liquor store. Visitors will also find several chain restaurants, including Hankki, Buster's Pizza & Donair, and the Canadian Brewhouse. There is also a Costco and a Walmart just west of the neighbourhood.
Southgate Amenities
Southgate Park
Coulee Creek Park
Ridge Park
St. Therese Villa Park
Lethbridge Airport
The Canyons
The Canyons features spacious Craftsman-style homes, sprawling lots, and excellent coulee views on the southern outskirts of West Lethbridge—all while enjoying savings compared to the province-wide Alberta cost of living.
Construction in the Canyons is ongoing, with efforts from Galko Homes, Cedar Ridge, Avonlea Homes, and Van Arbor Homes. Upon completion, the 346-acre community will feature approximately 1,700 single-family homes and 400 condos and townhomes.
Homes in the Canyons sit on ample lots ranging from 36 to 60 feet wide. They sport colours and attractive rock siding reminiscent of the surrounding prairie. Both starter homes and larger estates are available, with most homes costing around $670,000 to $775,000. Meanwhile, lots cost around $240,000.
To the east of the Canyons lies Paradise Canyon Golf Resort. While its par 71 championship course is one of the best in Southern Alberta, the resort offers numerous other amenities. Members and guests can enjoy the resort's fine-dining restaurant, scenic outdoor pool, fitness centre, and driving range, or play tennis, basketball, street hockey, or pickleball.
To the south is Popson Park, an undeveloped natural area with beaches, boat launches, and picnic areas. Dogs can run free in the park's off-leash dog area or take a dip in the Oldman River. Popson Park also hosts the Lethbridge Astronomy Society at the Oldman River Observatory.
The Canyons Amenities
34 acres of parks
16-acre commercial site
Amphitheatre
Playground
Walking trails
Discover Lethbridge's Top Neighbourhoods
The array of neighbourhoods in Lethbridge, one of Alberta's most affordable cities, remains a testament to its dynamic spirit. These select areas, each with its own distinct flavour, represent the best the city offers. Whether one is seeking serene parklands, bustling cafes, or rich history, there's a corner of Lethbridge that resonates. By understanding the nuances of these neighbourhoods, both locals and visitors can fully appreciate the depth and diversity of this Alberta gem.