8 Best Neighbourhoods in Red Deer: Where to Live in Red Deer AB
Posted by Justin Havre on Tuesday, October 3, 2023 at 10:01:02 AM
By Justin Havre / October 3, 2023
Comment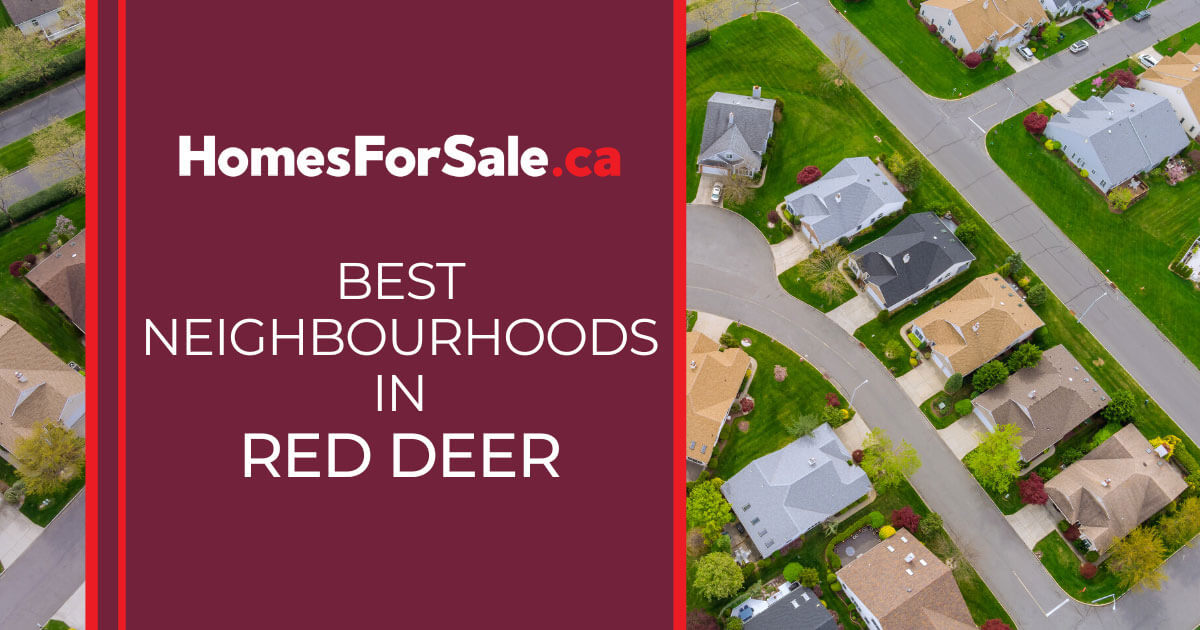 Settled halfway between Calgary and Edmonton, the vibrant city of Red Deer is drawing new residents in droves thanks to its affordability, outdoor recreation, and beautiful neighbourhoods. From new construction neighbourhoods to well-established communities, Red Deer's neighbourhoods paint a vivid picture of community, culture, and connection. Whether you're a nature enthusiast seeking tranquillity or a city dweller in search of urban convenience, the best neighbourhoods in Red Deer have options to suit your lifestyle.
Clearview Ridge
The Clearview Ridge neighbourhood is a Melcor community in the northeastern quadrant of Red Deer. Centered around an artificial lake, the neighbourhood is defined by being extremely walkable and having several open green spaces, parks, and well-maintained paths for both walking and biking. Everything from the grocery store to essential services like banks, doctors, and dentists are within Clearview Ridge. Several neighbourhood schools and playgrounds are also within convenient walking distance.
One of the biggest draws is being close to Clearview Market Square, with several shops, restaurants, salons, and a grocery store. On one end of Market Square is Red Deer's The Canadian Brewhouse, a particularly popular local watering hole. The brewhouse offers several draft and bottled beers, as well as a full menu and dozens of big-screen TVs for watching sports.
About half of the homes in Clearview Ridge are detached, single-household houses, while the other half comprises townhomes, condos, and apartments. Single-household homes typically have three or four bedrooms, and multi-housing units generally have two or three bedrooms. Homes in this neighbourhood are generally listed between the mid-$200s and $700,000.
Clearview Ridge Amenities
Clearview Market Square
Outdoor skating rink in the neighbourhood
Playgrounds with a splash pad
Multi-use trails for walking, running, and bicycling
Tim Hortons coffee shop
Anders Park
Located in Red Deer's southeast quadrant, Anders Park is a popular residential neighbourhood with primarily larger single-household homes. Many houses here are multi-story and have landscaped front and back yards. Garages are also quite common, both attached and detached. You'll find picturesque streets lined with mature trees, several parks, and a number of green spaces and walking paths in Anders Park. The efficient public transit system in Red Deer serves the community, and like Clearview Ridge, it's also quite walkable.
The namesake Anders Neighbourhood Park sits at the heart of the community, but there's also the larger Victoria Park, with a wide range of unique amenities. This park has a popular disc golf course, an outdoor gym, an outdoor skating rink, combination tennis and basketball courts, and baseball diamonds. Residents also enjoy treating themselves to the special creations from You Had Me at Cupcake on the western edge of Anders Park. In addition to fancy decorated cupcakes, the bakery also makes special-order wedding and celebration cakes.
Individual home listings in Anders Park are incredibly varied, so this is a popular Red Deer neighbourhood for homebuyers of all budgets. Listings can range from the high $100s for a three-bedroom, one-bath townhouse to around $1.4 million for a five-bedroom, three-and-a-half-bath single-household luxury home with over 3,300 square feet of living space.
Anders Park Amenities
Close to East Hill Shopping Centre
Multiple neighbourhood parks
Served by public transit
Close to Sunnybrook Grocery
Several schools
Sunnybrook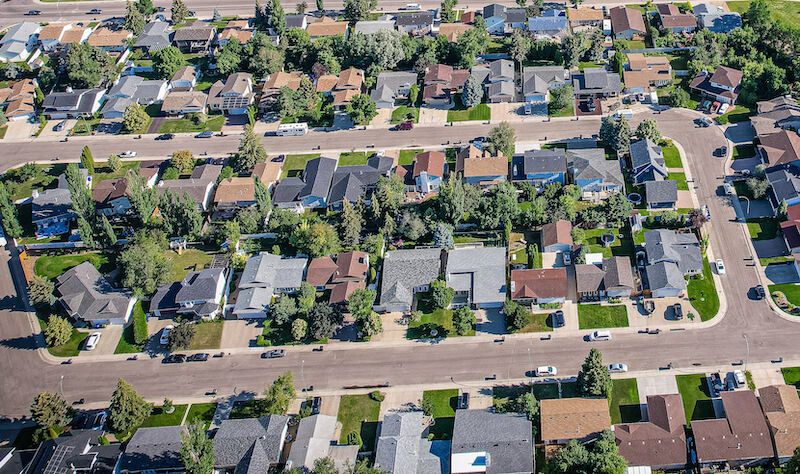 Just on the other side of 40 Avenue, Sunnybrook is adjacent to Anders Park. This is one of the most well-established communities in Red Deer, built throughout the 1960s and '70s. As such, the neighbourhood is lined with many mature trees and the lots tend to be significantly larger than many others throughout the city, offering a level of privacy that's difficult to find elsewhere. Piper Creek also runs through Sunnybrook, and an abundance of dedicated green space surrounds it, with several wooded trails.
Being that Sunnybrook is well-established and highly sought-after, homes for sale don't become available as often as in other parts of Red Deer. When you do come across one, expect to pay anywhere from the mid-$400s for a three-bedroom and one-bathroom, to $1.3 million for a two-storey home on a large lot. Many homes also back up to the wooded preserve areas along Piper Creek. You can sometimes find rental homes and condos, which typically range in price from $750–$1,650 per month. Condos and townhomes tend to have one or two bedrooms, while single-household homes typically have three to five bedrooms.
Sunnybrook residents enjoy shopping at Bower Place, a traditional mall with dozens of retailers and places to eat. Stores like H&M and Hudson's Bay anchor the mall, and there are over 120 additional shops. For an in-depth look at Red Deer's history, head to Sunnybrook Farm Museum, home of the city's oldest farm. Visitors can interact with farm animals, take wagon rides, watch demonstrations of equipment from the early 1900s, and more.
Sunnybrook Amenities
Proximity to Piper Creek
Bower Place mall
Bower Place Fitness Park outdoor gym
Sunnybrook Grocery
Numerous trails along Piper Creek
Westlake
Adjacent to the Red Deer River and close to Red Deer Polytechnic College and Heritage Ranch, widely considered the "jewel of Red Deer," Westlake is one of the best places to live in Red Deer. It consists almost entirely of luxury single-household homes, with no multi-unit buildings such as townhomes or condominiums—although there are a handful of duplexes. This neighbourhood is also a hub for outdoor enthusiasts, thanks to its proximity to the river. Although it's not the most walkable area, it is convenient to several major roads and Highway II. Plus, this quiet community offers residents tranquility and privacy.
Homes in Westlake generally sit on sprawling lots and have at least four bedrooms and three bathrooms, and the vast majority were built in the 2000s. This area also presents the opportunity to purchase vacant land, somewhat of a rarity in Red Deer. Listing prices for homes here typically range from low-to-mid $400s to $1.5 million.
Heritage Ranch is a major hotspot in Westlake, a scenic ranch that offers guided horseback rides and several other activities. It's a popular venue for weddings, birthday parties, and date nights, and the ranch also hosts seasonal activities like horse-drawn carriage tours during peak leaf-peeping season. The onsite Westlake Grill is a popular restaurant in its own right, serving everything from casual pizza to five-course romantic dinners.
The river itself is also a popular Westlake destination. Many residents spend time walking along the river or simply enjoying the views along the riverbank.
Westlake Amenities
Adjacent to the southern bank of the Red Deer River
Large home lots, many overlooking the river
Heritage Ranch and Westlake Grill
Many walking paths along the river
Close to Red Deer Polytechnic
Parkvale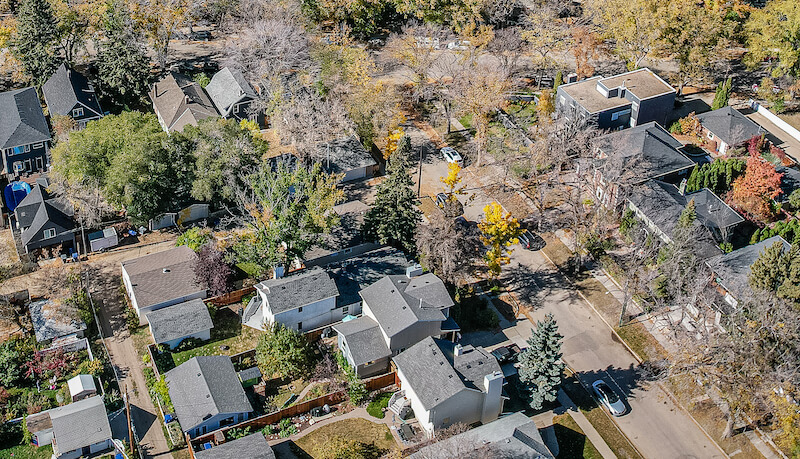 Parkvale is the oldest residential neighbourhood in Red Deer, offering spacious, historic homes with loads of character, large lots, and plenty of mature shade trees. This neighbourhood was originally founded in 1905 as Parkvale Estates and is still sometimes referred to that way. Rotary Recreation Park anchors the community, sitting at its centre and providing four-season recreation to residents. At the eastern end of the neighbourhood, Waskasoo Creek serves as a natural border and a lovely backdrop for waterfront parks and multi-use trails.
As a historic neighbourhood, there's a great deal of variation among home styles and sizes in Parkvale, so you'll find a mix of apartments, smaller two- and three-bedroom bungalows, and some larger, more contemporary homes with four or more bedrooms. Condo pricing generally starts in the mid-$100s and ranges from the high $100s to low $600s for detached houses.
Rotary Recreation Park is the hub of Parkvale, with endless activities. The park has playgrounds, a spray pad, an outdoor skating rink, horseshoe pitches, and more. It's also home to the Red Deer Museum and Art Gallery and the Norwegian Laft Haus, a historic log building that hosts programming year-round. At the park, the Red Deer Recreation Centre is another popular hotspot. There are indoor and outdoor pools, fitness classes, multi-purpose community rooms, and programs for all ages.
Parkvale Amenities
Walking distance to downtown Red Deer
Rotary Recreation Park
Waskakoo Creek
The Pioneer's Lodge historical landmark and venue
City of Red Deer Memorial Garden
Pines
The Pines community offers the best of both worlds: proximity to Gaetz Avenue, with its abundance of restaurants and shops, and being close to the river and nature at Mackenzie Trails. Located in northern Red Deer, residents don't have to choose between going shopping and going for a hike or paddling the river for the afternoon—they can easily do both. The neighbourhood is particularly walkable, with several banks, grocery stores, and schools.
Homes in Pines include both large detached single-household houses and multi-unit dwellings like condos and apartments. Prices range significantly in this area, based largely on how close a property is to the river. For a house, prices usually range from the mid-to-high $300s to the high $800s, while condos typically start at $180,000.
Mackenzie Trails Park is the neighbourhood's crown jewel, a heavily wooded natural oasis. It's actually part of the larger Waskasoo Park, with several paved walking trails, picnic areas, playgrounds, and direct access to the river with a canoe launch. For some retail therapy, there's Parkland Mall, one of the city's largest, with both big-box and local stores. With so many varied and convenient things to do nearby, it's easy to see why Pines is considered one of the best neighbourhoods in Red Deer.
Pines Amenities
Mackenzie Trails Park
Gaetz Avenue, with dozens of restaurants, shops, and entertainment venues
Bulletproof Loop hiking trail
Wal-Mart
Starbucks
Timber Ridge
This neighbourhood is centrally located, adjacent to Clearview Ridge, and convenient to shopping, parks, and many other amenities. Timber Ridge comprises mostly single-household detached homes, making it a popular, highly sought-after area for homebuyers wanting to be close to everything Red Deer offers. While the community is still being developed, it has a lovely pond, green spaces, and plans that include a large commercial space with restaurants, grocery stores, and other shops.
Homes in Timber Ridge have three to five bedrooms, two to four bathrooms, and 1,800 to 2,400 square feet, while prices range from the low $400s to high $700s. There are no schools in the immediate neighbourhood, but the location is convenient to many other parts of Red Deer, making for a quick, easy commute.
Residents enjoy visiting Timberland Park, which has a nice playground for little ones, as well as going to eat at Sunset Grill, in the northern section of the community. The restaurant is open for breakfast and lunch, serving traditional dishes like eggs any way you like them, French toast, and pancakes.
Timber Ridge Amenities
Convenient to David Thompson Highway
Red Deer Pickleball Club
Timberland Park
Planned commercial district with shops and restaurants
Edo Japan Grill & Sushi
Discover Your New Home in Red Deer
The best neighbourhoods in Red Deer offer many appealing factors, from walkability to outdoor recreation to convenient locations. Whether you dream of living in a well-established (or even historic) community with mature trees and walkability or a master-planned community with many amenities right outside your front door, living in Red Deer can be the perfect fit for you.