Top 8 Neighbourhoods in Spruce Grove: Uncover Spruce Grove's Best Places to Live
Posted by Justin Havre on Thursday, June 1, 2023 at 10:03:43 AM
By Justin Havre / June 1, 2023
Comment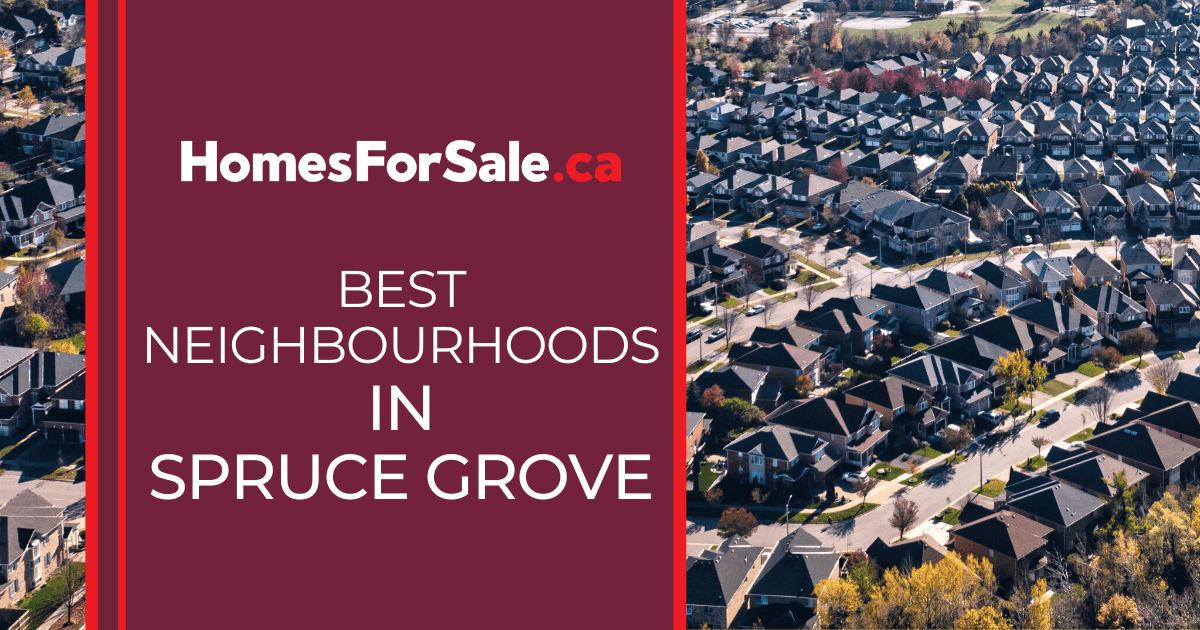 Spruce Grove, Alberta, is a thriving community located just outside Edmonton. With more than 34,000 residents, Spruce Grove—one of Edmonton's best suburbs—has become a popular place to live in the region. The city is divided into several neighbourhoods, each with its own unique character and charm. For homebuyers who are moving to Alberta that need to narrow down their search, this guide will explore the best neighbourhoods in Spruce Grove and highlight what makes each of them so special.
Greenbury
Located in the city's northeast corner, Greenbury features a range of brownstone homes and well-manicured lawns, creating a cohesive and picturesque atmosphere. This modern subdivision is home to the 60-acre Jubilee Park, which offers various recreational facilities, including a disc golf course, a playground and a splash pad. Yellowhead Highway is less than a 10-minute drive via Century Road, making it an excellent spot for commuters.
In Greenbury, students usually attend Prescott Learning Centre and Spruce Grove Composite High School. A private option is St. Thomas Aquinas Catholic School, located about five minutes west of the subdivision when driving. Other neighbourhood amenities include the YMCA Cantiro Child Care Centre, a Petro-Canada station on Pioneer Road, and several local shops and services. These range from wellness and therapy centres to art and music studios right in the heart of the community.
Homes for sale in Greenbury are mainly single-family brownstones that mix traditional and contemporary styles. Homeowners enjoy front-attached garages, wide driveways and two-storey floor plans with generous square footage. Home prices range from $300,000 for a three-bedroom home measuring 1,300 square feet to the upper $800s for a four-bedroom house closer to 3,000 square feet, making it a great place for homebuyers looking to avoid the cost of living in Edmonton.
Greenbury Amenities
Chop Shop Physiques Gym
City Pizza Donair & Broast
Sakkate Therapy & Wellness
Val's Music Studio
Ken Morrison Excellence Spray Park
McLaughlin Heights
McLaughlin Heights is located north of Highway 16, close to Spruce Grove's eastern city limits. It's a walkable community with many amenities to explore on foot. Some homes in McLaughlin offer direct access to over 40 kilometres of densely forested trails along Heritage Grove Park. Shops, restaurants and services are also just a few steps away, blending urban convenience with natural beauty.
McLaughlin is the closest gateway to the city's premier rec facility: the Tri-Leisure Centre. Here, residents can swim in the indoor pool, work out at the fitness centre, play hockey in one of two rinks, or partake in many of the centre's year-round activities. MacLaughlin Heights also has a Superstore, a Canadian Brewhouse and McLaughlin Park. The park features a playground and a sledding hill, turning into an active snow park in winter. Other amenities include Steve's No Frills, Sobey's and an M&M Food Market. Students are close to Milgrove School and Spruce Grove Composite High School.
Homes in McLaughlin Heights are predominantly new-construction single-family residences featuring two-storey floor plans, front-attached garages and modern Craftsman designs. Home prices range from $300,000 for 1,300 square feet and three bedrooms to $800,000 for 2,500 square feet and four bedrooms.
McLaughlin Heights Amenities
It's Sushi
El Taco Loco
Starbucks
Orangetheory Fitness
Westgrove Common Shopping Mall
Swiss Chalet Rotisserie & Grill
Brooklyn Tomato Vietnamese Restaurant
Millgrove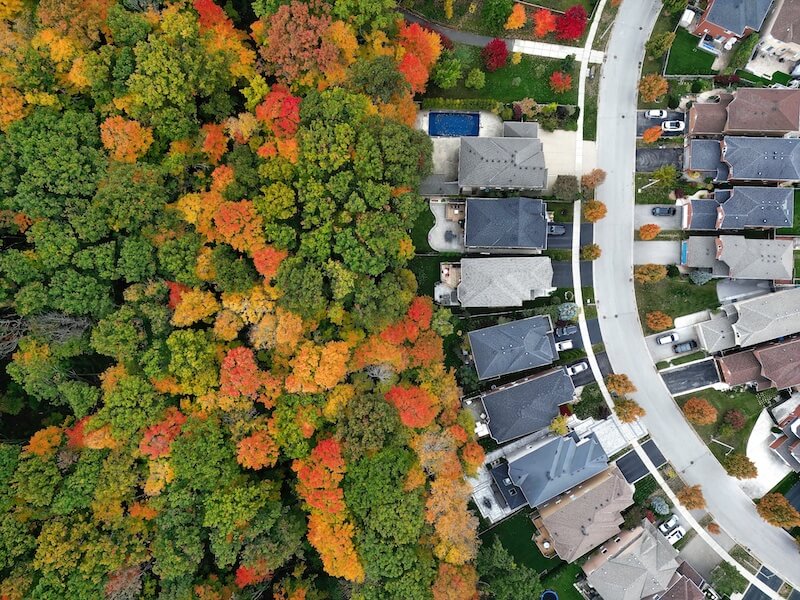 Millgrove is an established neighbourhood in the heart of Spruce Grove, located south of Grove Drive and west of Calahoo Road. The community showcases bungalows and Craftsman-style homes dating back to the '70s and '80s, with many backing onto the city's extensive parkland system. Residents can enjoy schools and playgrounds within walking distance, and there's a bus route along Millgrove Drive for those who want to get around by public transit.
The community's elementary school students generally attend Millgrove School, while junior high and high school students attend École Broxton Park School and Spruce Grove Composite High School. The high school is home to Horizon Stage, a performing arts theatre that hosts local and national acts throughout the year. The area has abundant green spaces, including Heritage Grove Park, McKean Park, and the popular Marlboro Off-Leash Dog Park. Millgrove residents head to McLeod Avenue to shop and dine. AtWestland Market Mall, they can find numerous specialty shops and services and a few casual dining options.
In terms of affordable housing and property values, Millgrove is one of the best neighbourhoods in Spruce Grove. Homes tend to sit on spacious lots and are priced from the low $300s to the upper $500s. Most properties are single-family detached homes with three to five bedrooms and square footage ranging from 1,100–3,000.
Millgrove Amenities
Miller Park
Value Village
Safeway Grocery Store
Browns Socialhouse
Ricky's All Day Grill
Stephanie's Little Cookie Shoppe
Woodhaven
Centrally located in Spruce Grove, the picturesque neighbourhood of Woodhaven is known for its tree-lined streets and well-maintained bungalows from the '70s and '80s. It's home to the Agrena Complex, a popular hockey venue whose two ice rinks serve as dry land courts in the summer. The city's extensive trail system is also easily accessible from the neighbourhood, making it an excellent option for those who enjoy outdoor activities.
Brookwood Elementary, Woodhaven Middle School and Spruce Grove Composite High School serve the area's students, with many homes within walking distance of the schools. The community's retail sector is concentrated south of the neighbourhood along McLeod Avenue, with a wide selection of shops, services and restaurants for everyday needs. Popular places to shop and dine include Grove Plaza, Something Else Restaurant and Harvey's. For live music, games and community events, Woodhaven residents head to The Cossack, a local entertainment venue next door from Columbus Park.
Homes in Woodhaven consist mainly of two-storey detached properties that sit on generous lots, with some offering front-attached garages. Home prices range from $300,000–$600,000 for three to four bedrooms, and square footage ranges from 1,200–2,500.
Woodhaven Amenities
Woodside Park
Spruce Grove Playschool Society
Perks Coffee House
Joey's Seafood
Grape & Olive Restaurant
Dynamic Physiotherapy
Spruce Grove Skate Park
Aspen Glen
Aspen Glen is located south of Yellowhead Highway and west of Calahoo Road near the city's northwestern border, so it's a great neighbourhood for residents who commute daily to participate in Edmonton's major industries. One of the best places to live in Spruce Grove, it boasts an eclectic mix of new construction homes and older properties from the '90s, plus quiet tree-lined streets and plenty of green spaces. The area is home to The Links at Spruce Grove, a public golf course with a challenging 18-hole layout, a venue for special events and a restaurant.
Students may attend Brookwood School, serving grades K–4, and Greystone Centennial Middle School in nearby Spruce Village. Older students typically attend Spruce Grove Composite High School, located within walking distance of the neighbourhood. For outdoor recreation, residents can access Aspenglen Park, Fieldstone Park and Playground and the Heritage Grove trail system. Additionally, the community offers various locally-owned shops and services, including massage therapists, bakeries and daycare centers.
Most homes in Aspen Glen offer two levels of living space, with three to four bedrooms and paved driveways leading to two- or three-car garages. Home buyers can expect to find starter homes priced from the $300s to the $500s, with newer luxury homes listing for up to $800,000.
Aspen Glen Amenities
Jesperdale Park
Rachel's Cakes
Earth and Sky Massage
Aspenglen Ice Rink
Fairways Park
Fairways Basketball Court
Deer Park Estates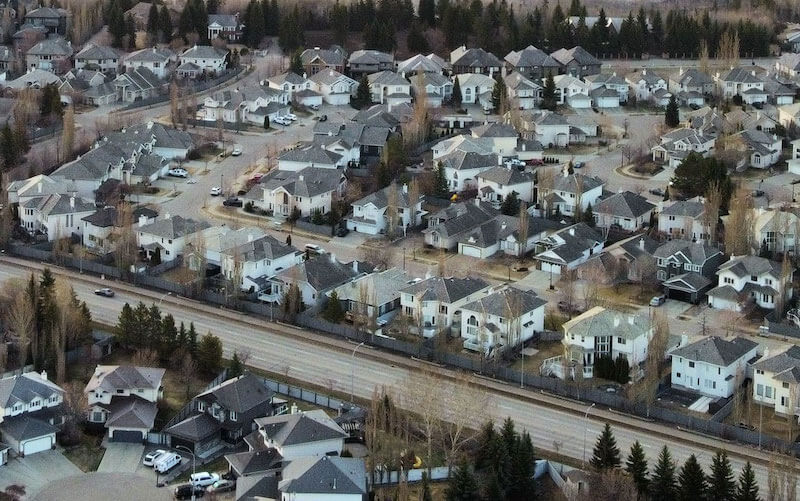 The residential subdivision of Deer Park Estates is nestled east of Jennifer Heil Way in the city's western region. It's home to tree-lined streets, large ponds and attractive two-storey properties dating back to the early aughts, with newer builds mixed in. Paved pathways wind through the subdivision, leading to parks and other neighbourhood amenities. The location provides commuters with a peaceful and welcoming environment, with easy access to Yellowhead Highway and the city's commercial corridor along McLeod Avenue.
Cooperhaven School is located about two kilometres west of Deer Park Estates and serves students in grades K–9. Private sectarian options include Living Waters Christian Academy and St. Peter the Apostle Catholic High School. Deer Park Estates also provides convenient access to various amenities and services, including restaurants and shops and the Tri Leisure Centre on Jennifer Heil Way. Other nearby amenities include Fuhr Sports Park, Heritage Grove Trail and Atim Creek Natural Area.
One of the best places to live in Spruce Grove wouldn't be complete without unified homes that reflect the neighbourhood's community spirit. Deer Park Estates is no exception, offering well-appointed homes in the luxury market. Properties on 60-foot-wide lots tend to be priced between $500,000 and $800,000.
Deer Park Estates Amenities
Dillon Park
Heatherglen Park
Pet Foods Etc
Boston Pizza
Boardwalk Burgers
Aerials Gymnastics Club
Parkland Physiotherapy
Linkside
Linkside is located south of Yellowhead Highway and east of Century Road in northern Spruce Grove. The neighbourhood was built around The Links at Spruce Grove, with many golf course homes backing onto the green or offering views of water hazards and fairways. It's one of the best neighbourhoods in Spruce Grove, with quiet streets, generous lots and plenty of green spaces.
Public schools in the area include Greystone Centennial Middle School and Spruce Grove Composite High School. Private, denominational options such as St. Thomas Aquinas and St. Marguerite Catholic schools are nearby. For shopping and dining, residents can access Century Road Plaza and Hillside Centre, two shopping malls just outside The Links golf course. Between the two malls, visitors can find places like No Frills, barBURRITO, La Bezt Donair & Pizza and Tasty Vietnamese Restaurant.
In addition to views of the golf course, Linkside homes offer increased peace and privacy, with many residences on cul-de-sacs or dead-end streets. Homes here are typically priced between $500,000 and $700,000 and feature large yards, two- or three-car garages and well-appointed interiors.
Linkside Amenities
Grill at the Links
Studio Max Hair & Beauty
Hilldowns' Park & Playground
St. Andrew's United Church
Fieldstone Park and Playground
Spruce Village
Spruce Village is situated just west of Jubilee Park and east of Century Road in northwestern Spruce Grove. It's a relatively small neighbourhood, offering a mix of single- and multi-family properties in various builds. Commuters from Spruce Village have easy access to Yellowhead Highway via Century Road, connecting them to nearby cities within the Edmonton Metropolitan Region and critical roadways for getting around Edmonton.
The closest public school to Spruce Village is Greystone Centennial Middle School, which is easily accessible within a 15-minute walking distance for most residents. The school has various sports facilities, including a baseball diamond, outdoor basketball and tennis courts. Residents in Spruce Village are also close to local parks and shops, including Spruce Village Park, Exotix Candy Shop and The Little Teapot Bake Shop. Other recreational activities are available at nearby Jubilee Park, including disc golf, ice skating, axe throwing and more.
Spruce Village's housing options include traditional two-storey bungalows with porch entries and new construction properties with attached garages that can fit two or three cars. Home prices range from $300,000 for a 1,200-square-foot, single-family detached property to $700,000 for a 2,500-square-foot luxury home.
Spruce Village Amenities
Vanderbilt Common Park
Jubilee Trail
Tim Hortons
Lovepizza
Steve's No Frills
Canadian Pies & Kurry Knights
ConnectCare Medical Clinic
Explore Spruce Grove's Best Neighbourhoods
Spruce Grove offers a variety of neighbourhoods to suit every lifestyle and preference, and it comes with a tremendous added benefit: it's one of the cities with the lowest property taxes in Alberta! Whether you are looking for a quiet suburban setting, a family-friendly community, or a bustling downtown area, Spruce Grove has something for everyone. Each neighbourhood has distinct features and amenities, making finding the perfect place to call home easy. With its wonderful community, educational options, and convenient location, Spruce Grove is an excellent choice for anyone looking for a place to settle down and enjoy all that Alberta has to offer.