8 Best Neighbourhoods in St. Albert: Best Places to Live in St. Albert, AB
Posted by Justin Havre on Wednesday, July 19, 2023 at 10:01:40 AM
By Justin Havre / July 19, 2023
Comment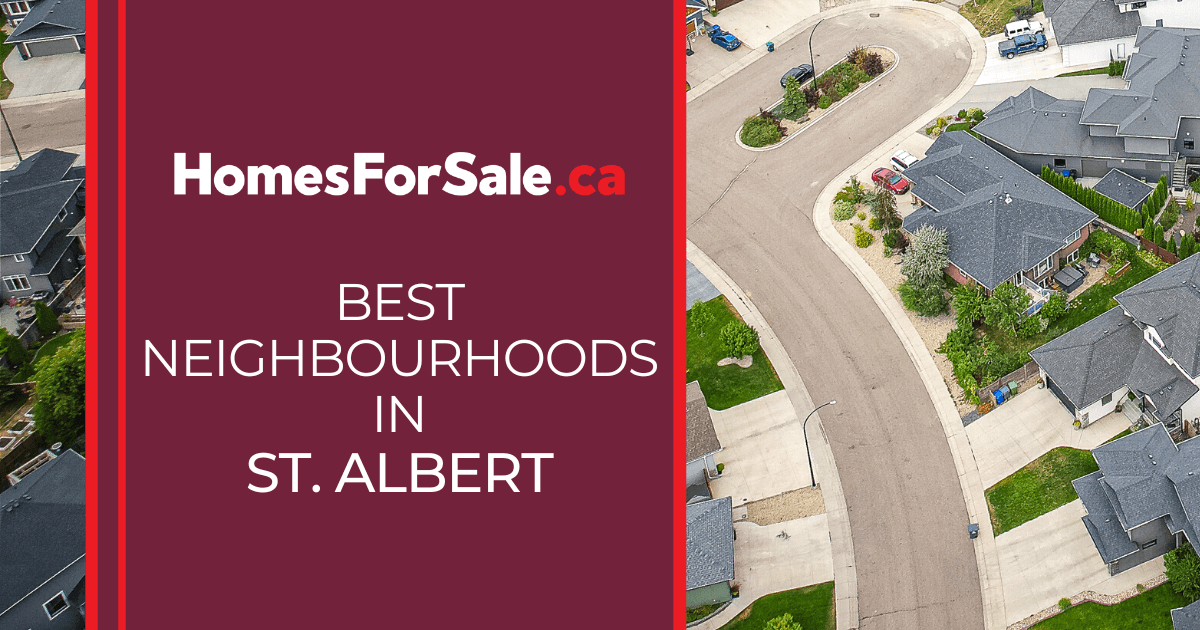 St. Albert, Alberta, is a great place to buy a home, with plenty of neighbourhoods that offer different amenities and features for prospective homeowners. From Lacombe Park to Heritage Lakes, there are a variety of great neighbourhoods that can accommodate the budget and lifestyle of anyone moving to Alberta and considering the St. Alberta area.
Homes in St. Albert are more expensive, on average, than those in Edmonton. However, when compared to homes for sale in Airdrie—a comparable suburb of Calgary—St. Albert is considerably more accessible. This article will explore the best neighbourhoods in St. Albert, highlighting their key features and amenities so you can make an informed decision when choosing where to live.
Lacombe Park
This charming community has everything, from luxurious estate-style homes to cozy condos, making it an ideal spot for anyone looking to buy a home in one of the best areas of one of Edmonton's best suburbs! Prices range from the high $300s to around $1 million, depending on the property type and size.
Residents of this neighbourhood can take advantage of numerous walking paths, tree-lined streets, and parks to enhance their quality of life. The area boasts a collection of custom-built residences and luxury estates, adding to its appeal as a desirable place to live. The local amenities in Lacombe Park are second-to-none. There's no shortage of shops, restaurants, entertainment venues, and schools nearby. This vibrant community also offers easy access to major transportation routes for commuters travelling into Edmonton or beyond. Meanwhile, there are plenty of green spaces where residents can relax and enjoy nature.
Homeowners will benefit from an active Homeowners Association dedicated to preserving property values through regular maintenance initiatives throughout the year.
Lacombe Park is one of St. Albert's best neighbourhoods for buying a home, offering something unique every homeowner will appreciate. From stunning homes with spectacular views to convenient amenities such as shopping centers, schools, and hospitals, this pocket of Alberta has everything needed for comfortable living that won't break your budget!
Braeside
Braeside offers a charming atmosphere with scenic river views and luxurious homes, making it an ideal place to call home. Located between Sturgeon Road and Sir Winston Churchill Avenue in St. Albert, Braeside is bordered by Red Willow Park to the North and Highway 2 on its eastern and western boundaries. This great location makes travel to any of the best cities in Alberta—a list that St. Albert can regularly be found on—a breeze.
Most of Braeside's real estate consists of traditional single-family homes built from the 1970s to early 2000s, with prices typically ranging from the $300s to mid-$600s. Tenor on the River condos are also available for a more modern living experience. Today, Braeside remains one of St. Albert's most sought-after neighbourhoods due to its remarkable blend of beauty and convenience.
Residents have easy access to all of the amenities St. Albert offers, such as shops, restaurants, parks, and recreation centres, all while enjoying beautiful views of the nearby Sturgeon River valley.
Grandin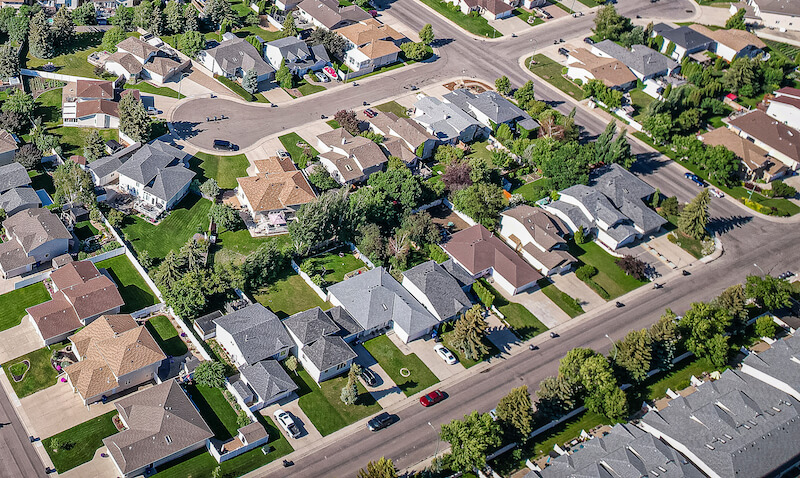 Grandin is another idyllic St. Albert neighbourhood, boasting luxurious homes and a tranquil atmosphere that will make you never want to leave. It sits on the south bank of Sturgeon River, just across from Braeside, and has some of the most spectacular views in the city. Grandin's real estate market offers luxury single-family homes that range from the $400s to over $1 million and are often built with modern amenities, fireplaces, high-end appliances, large windows, and spacious yards.
Grandin also has abundant green spaces throughout its community, making it perfect for those who enjoy outdoor activities like hiking or biking along the river trails. Residents can also take advantage of nearby parks such as Red Willow Park, which offer plenty of recreational activities like swimming pools, baseball diamonds, soccer fields and picnic areas. With its convenient location near major highways and public transportation options like buses and light rail systems, Grandin is ideal for anyone looking for easy access to all parts of St. Albert while enjoying a peaceful suburban lifestyle.
Oakmont
The Oakmont community offers stunning river views, luxurious homes, and convenient access to all the city's best amenities. Located in the northeast quadrant of St. Albert, this charming neighbourhood offers plenty of appeal for homebuyers looking for a tranquil setting with modern conveniences nearby. Predominantly single-family homes are found in Oakmont, with pockets of medium-density housing scattered throughout the area, ranging from affordable residences to luxurious abodes.
The Shops at Boudreau provide further convenience for residents, while nearby Red Willow Park and St. Albert Botanic Park present excellent outdoor recreation opportunities. Commuters benefit from local routes provided by StAT on weekdays and commuter routes to Edmonton and Dial-A-Bus service—all within walking distance of many properties in the neighbourhood. With prices typically from the low $300s to around $1.2 million, Oakmont is an ideal choice for those wanting a beautiful residential with big-city proximity; once there, getting around Edmonton is a breeze thanks to its public transit system.
Erin Ridge
Nestled on St. Albert's northern boundary, Erin Ridge offers scenic views for its low- and medium-density residential housing, plus convenient access to transit, services, and amenities. With approximately 5,960 residents, this neighbourhood boasts interconnected trails, a basketball court, baseball diamonds, soccer fields, and play structures for outdoor recreation.
The commercial corridor between St. Albert Trail and the Sturgeon Community Hospital provides additional convenience for residents. Home prices in Erin Ridge range from the $300s to the high $600s. Erin Ridge continues expanding towards the north, where it seamlessly blends into another thriving neighbourhood—Erin Ridge North—offering even more potential growth opportunities to this vibrant area of St. Albert.
North Ridge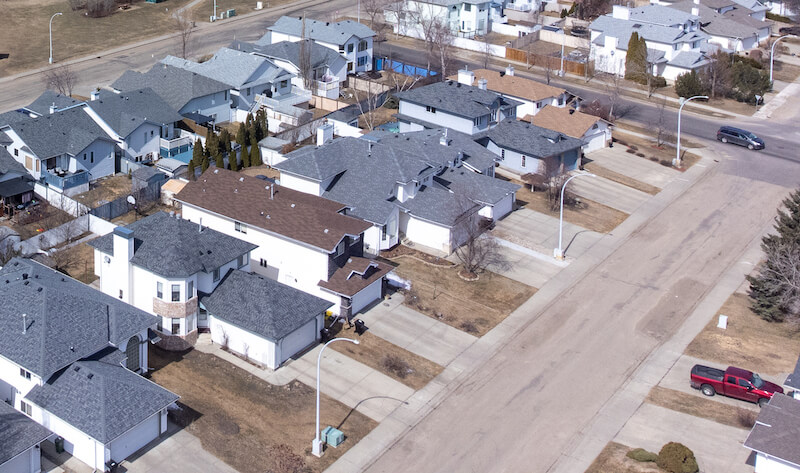 North Ridge is like a breath of fresh air for those looking for a peaceful suburban life with plenty of recreational opportunities. Situated just northwest of downtown St. Albert, the area includes a variety of appealing housing choices. Numerous parks and green spaces are also available, providing ample outdoor activity opportunities. Sturgeon Heights School is located in the neighbourhood, ensuring families with children can access nearby education.
In addition, effortless access to Highway 2 makes commuting a breeze for those who participate in the massive Edmonton economy. The neighbourhood is connected by St. Albert Transit (StAT) services, including weekday local routes, weekday commuter routes to Edmonton, and Dial-A-Bus service. Home prices in Northridge range from the high $300s to the $800s, making it an affordable option for those looking to buy homes in the area. With its desirable location between an energetic cityscape on one side and tranquil outskirts on the other, North Ridge offers an unbeatable combination for individuals seeking a balanced lifestyle.
Heritage Lakes
Heritage Lakes offers a tranquil suburban setting with captivating water features and amenities. Located in the southernmost area of St. Albert, this neighbourhood is an excellent option for potential homeowners looking to buy in Alberta. The low-density residential housing is complemented by medium-density housing on its western side, and the abundance of parks gives residents plenty of outdoor space to enjoy.
Home prices range from the $300s to the high $500s, making Heritage Lakes an attractive option for buyers interested in this area. Additionally, École La Mission Francophone school provides students with quality French language education within the community's boundaries. Those looking for a peaceful neighbourhood that's more accessible compared to the cost of living in Edmonton will find Heritage Lakes an ideal location for their home purchase needs.
Riverside
Riverside is a tranquil oasis that offers you an escape from the hustle and bustle of city life with its lush forests, waterfront views, and natural wildlife. Spanning 145 acres, the community is encircled by a mature White Spruce Forest for exploration. You can start your day with a refreshing morning jog along the Sturgeon River or take a leisurely evening stroll witnessing breathtaking sunsets over the water.
Nature enthusiasts will enjoy biking through Red Willow Park—home to moose and deer—and canoeing down the river into Big Lake adjacent to Lois Hole Provincial Park. Living in Riverside also means residing in homes certified as greener, healthier and more sustainable than traditional houses.
With Riverside Landing within walking distance, residents can enjoy various shopping, dining and recreational options while enjoying an exceptional living experience immersed in nature. Home prices are typically from the $400s to the $800s, making it an ideal neighbourhood for those looking to buy their dream home outside St Albert's downtown core.
Scenic St. Albert's Great Neighbourhoods
There are plenty of options when it comes to finding the perfect neighbourhood in St. Albert, where the population growth indicates that many homebuyers considering moving to Edmonton are giving the suburb a good look. Each area offers something unique and special for its residents, providing them with an opportunity to find their own little slice of paradise. Trying to decide which neighbourhood is right for you can be like a puzzle: all the pieces must fit perfectly for the picture to be complete. With so many great communities in St. Albert, there's sure to be one that fits your lifestyle!