8 Best Neighbourhoods in Stony Plain AB: Peaceful Suburban Neighbourhoods
Posted by Justin Havre on Tuesday, July 18, 2023 at 12:29:45 PM
By Justin Havre / July 18, 2023
Comment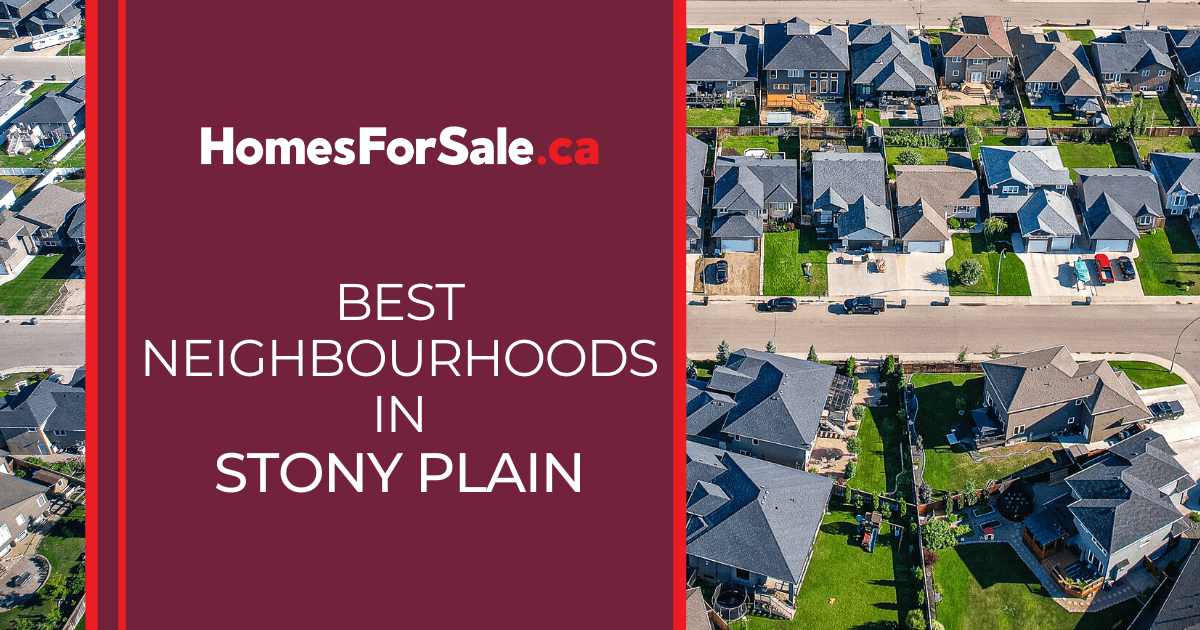 Nestled within the Edmonton Metropolitan Region, the town of Stony Plain contains a unique blend of residential options, from picturesque single-family homes to contemporary condos. This blossoming community has many great neighbourhoods that make it an ideal place to live for many lifestyles and budgets. From community spaces to impressive local amenities and stunning natural landscapes, Stony Plain neighbourhoods offer a unique blend of rural and suburban living. Here are the best neighbourhoods in Stony Plain to help potential homeowners find a house and an incredible place to call home.
Genesis on the Lakes
Genesis on the Lakes is located at the southern edge of Stony Plain, just off 48 Street. It lives up to its name with a beautiful seven-acre lake at its centre and several other smaller water features throughout the community. There's also plenty of community green space and walking trails complemented by mature landscaping that provides a natural escape close to home.
While the area around Genesis on the Lakes is mainly agricultural, residents are only a few minutes by car from the heart of Stony Plain. Even closer to home, the Genesis Centre shopping area provides residents with a place within the community to grab a bite to eat or get gas and serves as a home for several local businesses. Meanwhile, developers have secured space for future multi-family and commercial development to bring even more life to the fast-growing neighbourhood.
Homes in Genesis on the Lakes are primarily single-family detached properties in a diverse mix of one- and two-storey styles. Prices for these new construction homes usually start in the high $300s to low $400s for three-bedroom layouts with 1,300 to 1,600 square feet of living space. However, larger properties of up to five bedrooms and nearly 3,000 square feet can reach close to $1 million on the high end. Those looking to build their custom dream home may be able to secure one of the community's unbuilt lots for around $300,000.
Genesis on the Lakes Amenities Amenities
Oversized lots
Genesis Centre shopping area
Numerous lakes and water features
Walking trails
Community playground
Heritage Estates
Those looking for a combination of seclusion and convenience can check out Heritage Estates. It sits south of central Stony Plain, where current developments give way to more rural, agricultural areas, and is only accessible via 57 Avenue through The Glens.
This compact community includes several cul-de-sacs for additional low-traffic options. Residents are close to Stony Plain Outdoor Pool and Spray Park, a perfect spot to cool off on hot summer days, and the Glenn Hall Centennial Arena. Just a few minutes further brings them to the shopping and dining options of Stony Plain, plus access to Highway 16A for trips into Edmonton or points west.
Most homes in Heritage Estates are new construction or relatively newly built. Both one- and two-storey models are available, typically selling from the mid-$400s to the mid-$500s, offering three or four bedrooms and 1,500 to 2,300 square feet of living space. Many back onto undeveloped agricultural areas for beautiful views and privacy, while others are directly adjacent to Stony Plain Central School. Students and residents can use the school's outdoor green space, including a playground, track, and other amenities.
Heritage Estates Amenities
Stony Plain Outdoor Pool and Spray Park
Stony Plain Central School
Glenn Hall Centennial Arena
Adjacent to rural undeveloped areas
The Fairways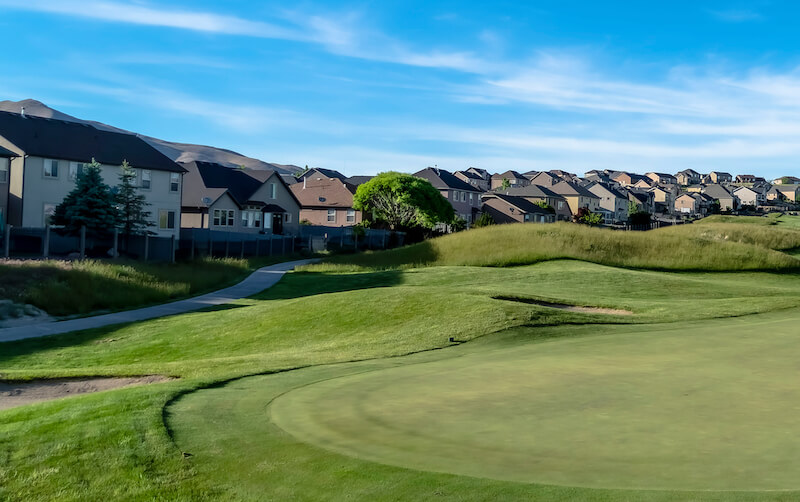 The Fairways takes its name from its location adjacent to the Stony Plain Golf Course, making it an ideal community for frequent golfers. The club features an 18-hole course, driving range, and full pro shop, in addition to hosting league play and offering lessons. It's also the site of a popular neighbourhood eatery, Station 83 Restaurant.
Homes in The Fairways are in a relatively secluded portion of Stony Plain, with looping side roads backing onto parts of the course or undeveloped rural land. Still, residents are just over two kilometres from the heart of town and a bit further to Highway 16A, making it a convenient spot to call home and a beautiful one.
Those shopping for homes for sale in The Fairways will find single-family detached properties throughout the community. While the area is built with a similar density to many other nearby neighbourhoods, careful planning allows for larger-than-average yard sizes for many homes. Properties typically have three or four bedrooms spread over 1,300 to 1,500 square feet of living space, and most offer large two- or three-car garages. Prices start in the low $400s and top out around half a million dollars.
The Fairways Amenities
Stony Plain Golf Course
Golf course views
Fairway Drive Playground
South Creek Park
Convenient to central Stony Plain, Highway 16A
Graybriar
Graybriar sits near the western edge of Stony Plain, just south of Highway 16A. This makes it ideal for those who regularly commute into Edmonton, Spruce Grove, or other nearby cities and employment centers.
The shopping, dining, services, and other amenities and attractions of Spruce Grove are just as close as those of Stony Plain, an additional convenience for homeowners. The area near the highway also supports several popular businesses like the locally owned Perks Coffee House.
The backside of Graybriar is bordered by Stony Plain Golf Course, providing recreation and the benefit of vast open space nearby. Meanwhile, several parks, playgrounds, and green areas are located throughout Graybriar, many connected via peaceful walking paths.
Graybriar's detached single-family homes and townhouses have some of the widest-ranging prices of any top Stony Plain neighbourhood. On the low end, three-bedroom ranch-style properties are typically available starting in the-$200s. More often, homes sell from the mid-$300s to the $600s, with top properties (commonly offering five bedrooms and more than 2,200 square feet) reaching three-quarters of a million dollars or more.
Graybriar Amenities
Community walking paths
Graywoood Cove Playground
Jutland Ridge Park
Stony Plain Golf Course
Convenient to central Stony Plain, Highway 16A
Brookview
Brookview is a small but desirable development southeast of Golf Course Road and 44 Avenue. While Brookview itself is an entirely residential community, it's within walking distance of extensive shopping and dining options, from well-known chains and supermarkets to local businesses in St. Andrews Plaza. It's also highly convenient to Highway 16A, ensuring residents can always get where they're going in a flash. Brookview residents are just minutes from downtown, where they can enjoy a meal at spots like Twenty Eight Urban Kitchen and Atomic Pizza & Donair, shop at various stores, or relax in the spacious, serene Rotary Park.
Brookview was built in the mid- to late-2000s. The community's larger mix of builders helps contribute more variation among the community's two-storey homes with both laned and front garages, generally including three to four bedrooms and square footage in the mid-teens. Numerous properties back onto walking trails and offer beautiful views of the nearby golf course. Homes typically sell in the low to mid-$400s.
Brookview Amenities
Convenient to central Stony Plain, Highway 16A
St. Andrews Plaza shopping mall
Brookview Playground
Stony Plain Golf Course
Lake Westerra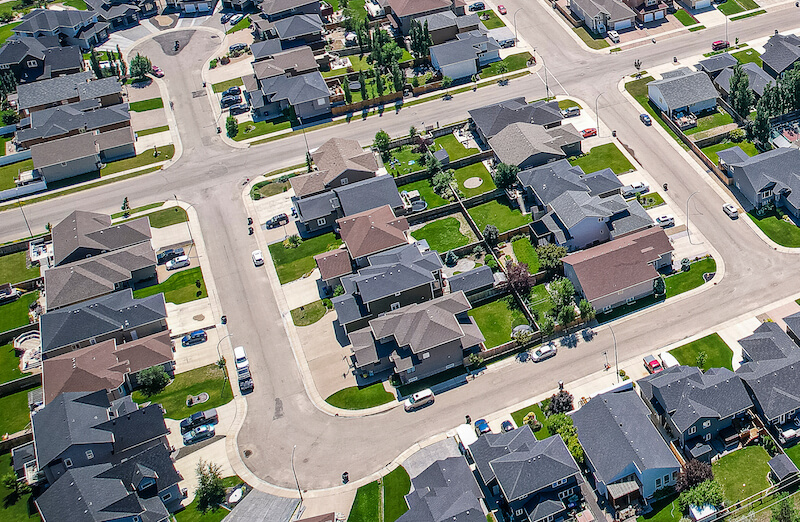 Lake Westerra is a relatively newly built community of diverse homes and green space. It sits at Stony Plain's southern edge, just off Alberta Route 779 and Township Road 524. This second road allows direct access into western Edmonton, linking with Highway 2.
Lake Westerra residents can easily escape into the gorgeous rural areas south of town. Closer to home, nearly every resident is just steps from a community park, with a handful spread throughout the region to provide relaxation and outdoor fun. The neighbourhood is also the site of Memorial Composite High School.
Uniquely among Stony Plain's top neighbourhoods, Lake Westerra offers a mix of condos and semi-attached properties in addition to single-family detached homes. The former group provides the most budget-friendly options, with one- to three-bedroom properties with 800 to 1,200 square feet typically starting in the mid-$100s and topping out under $300,000. Larger detached homes offer up to four bedrooms and 2,400 square feet of living space, with prices ranging from the mid-$400s to around $600,000. Privacy is also a top feature, as homes back onto undeveloped agricultural space or carefully preserved mature landscaping. Houses were generally built between the mid-2000s and mid-2010s.
Lake Westerra Amenities
Westerra Park and Playground
Westerra Outdoor Rink
Westerra Drive Park
Westerra Boulevard Park
Memorial Composite High School
Forest Green
Forest Green is a Stony Plain community that's as idyllic as it sounds. It's set just west of the golf course, bounded by 49 Avenue and 48 Street, made up of a looping network of low-traffic roads. Numerous smaller neighbourhood parks and green spaces are also tucked throughout the area, but the attractions and services of downtown are still close by, as is the Stony Plain Golf Course. Forest Green is also adjacent to the mix of businesses and amenities along 49 Avenue, like Blake's Bakery and the Stony Plain Skate Park. The Forest Green School also makes it a convenient neighbourhood for students.
Prospective homebuyers in Forest Green will find condos and single-family detached homes. Condos are generally available as affordably as under $100,000. Most detached properties offer single-storey layouts and three-bedroom options with around 1,100 square feet start in the mid-$300s. Larger properties with four bedrooms and nearly 2,000 square feet of living space can reach the mid- to high $400s.
Forest Green Amenities
Convenient to central Stony Plain, Highway 16A
Campbell Park
McNabb Park
Walking trails
Forest Green School
Stony Plain Golf Course
Stony Plain Skate Park
South Creek
Centred along South Creek Drive south of Stony Plain Golf Course, South Creek is still developing. It's nevertheless located next to a municipal nature reserve, ensuring the area will maintain its undeveloped character for years, even in fast-changing Stony Plain.
Despite this rural feel, residents can quickly access Highway 16A via Veterans Boulevard, also home to several conveniently located businesses. There's also a gorgeous green space on the community's northern end at South Creek Park, home to a playground and sports fields. Additionally, golfers will enjoy life just steps from the area's top public course.
Housing in South Creek consists of a mix of single-family detached homes and duplex-style properties. Even the area's original homes are less than a decade old. Most have three or four bedrooms and span 1,400 to around 2,000 square feet. Many also have oversized garages with ample storage space. Yards are also fully fenced for privacy and include easy-to-maintain landscaping, generally selling from the mid- to high-$300s.
South Creek Amenities
South Creek Park
Walking trails
Fairway Drive Playground
Find Your Ideal Stony Plain Neighbourhood
Stony Plain presents a wealth of attractive neighbourhoods, each with its unique charm and features. Tree-lined streets, modern conveniences, rich community life, and small-town charm offer something for everyone. With its strong sense of community and easy access to Edmonton, Stony Plain stands out as one of the best places to live in the area, offering a high quality of life and a promising future.