8 Cities With the Lowest Property Taxes in Alberta [2024]
Posted by Justin Havre on Friday, February 3, 2023 at 10:03:07 AM
By Justin Havre / February 3, 2023
Comment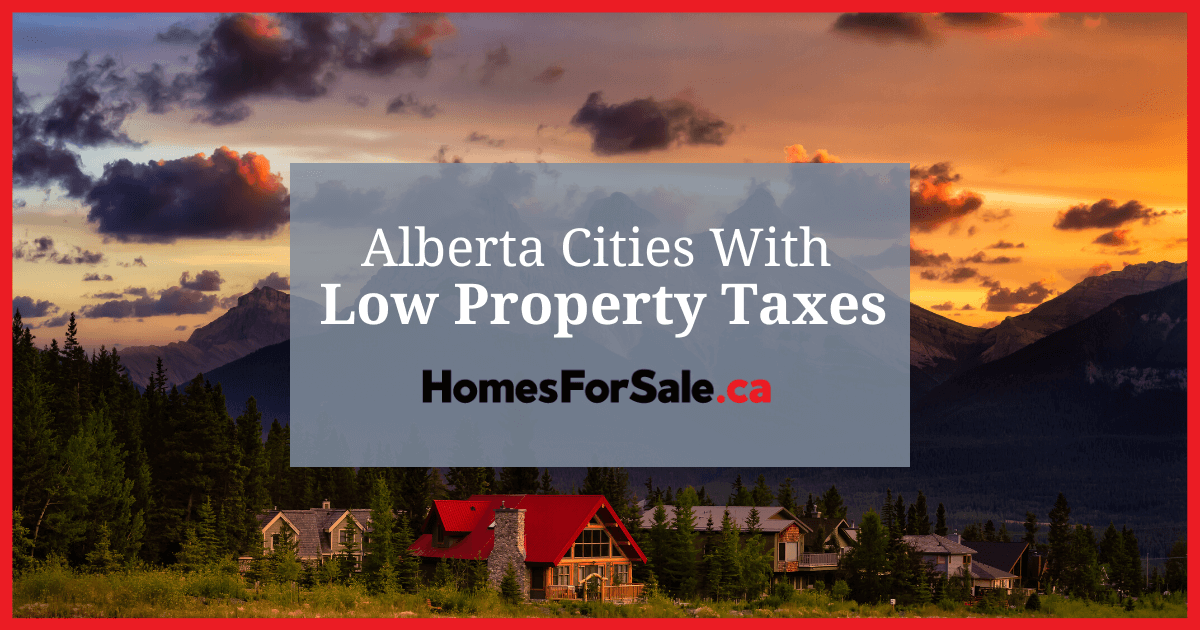 Alberta is known throughout the country for its wide-open spaces and low cost of living, among the reasons it's one of the fastest-growing parts of Canada. However, one cost that some would-be homebuyers forget beyond the typical mortgage is the property taxes they must pay each year to support the services and infrastructure in these areas. Property taxes are one of the most frequently overlooked ongoing expenses associated with homeownership. By learning about property tax in Alberta, buyers can make the most informed financial decision when buying a home. Check out the eight Alberta cities with low property below.
Okotoks
Okotoks combines the homey feel of Alberta's many rural communities with the big-city conveniences of Calgary, just to the north. Commuters will find travel there easy thanks to the proximity to Highway 2/2A. While it was long thought of as primarily a bedroom community to Calgary, Okotoks has grown into a desirable town in its own right. The Okotoks real estate market comprises single-family detached homes supplemented by a few condos for sale.
Those looking for detached properties should expect to pay at least $400,000, with high-end options topping $1.25 million. Okotoks residents pay a property tax rate of 0.8171%, which means owners of a $500,000 home will owe approximately $4,086 annually. Condos and townhomes in Okotoks provide the most affordable options, with many selling starting at prices in the mid-$200,000s. Like many other fast-growing Alberta towns, much of the housing was built in the last 10–20 years.
The Sheep River snakes through town, providing residents with plentiful green space and walking trails. Meantime, the historic downtown offers several shops, restaurants, and bars like Bistro 1882 and Hub Town Brewing. Larger chains and big-box stores are located along the highways, providing convenient daily shopping and errands.
Okotoks Amenities
Sheep River access
Okotoks Recreation Centre
Cornerstone Okotoks shopping mall
Okotoks Off Leash Dog Park
Okotoks Air Ranch Airport
Calgary
The biggest city in Alberta also charges its residents some of the lowest property tax rates. Property taxes in Calgary are set at 0.71498%, roughly $3,575 annually for a $500,000 property. Like other large cities, real estate in Calgary is a diverse mix of housing options, both in style and price. Calgary condos and townhouses for sale can be found for lower prices than in other Canadian cities, while single-family properties typically cost between $400,000 and $1 million. On the flip side, Calgary's luxury homes can reach the $5–8 million range for sprawling mansion-style properties. In between, would-be buyers can find homes, townhouses, and condos at just about every price point, averaging just over half a million.
Calgary offers everything big-city lovers could ask for. This includes extensive job opportunities in the region's energy industry, a variety of parks and green spaces along the Bow and Elbow Rivers, and some of the country's finest restaurants and entertainment. Much of this latter group is located along the 17th Avenue district, a long stretch of dining, nightlife, and shopping not far from the Calgary City Centre and residential areas. The city is also home to various cultural and educational spots, from museums to music and live theatre venues.
Calgary Amenities
C-Train and bus mass transit system
17th Avenue dining/shopping/entertainment district
Scotiabank Saddledome
Calgary Zoo
University of Calgary
Access to Trans-Canada Highway
Cochrane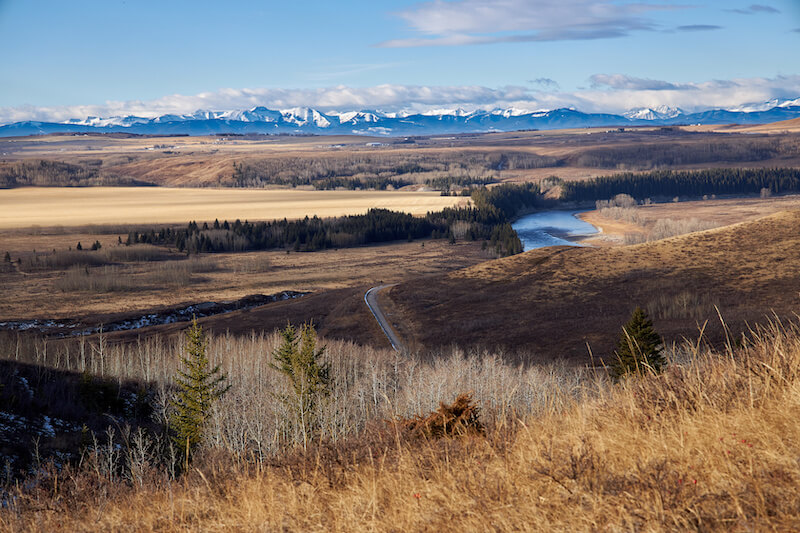 Property tax rates in Cochrane are set at 0.74947%, equivalent to $3,747 annually for homeowners with a $500,000 property. Anyone looking at real estate in Cochrane will find mainly single-family detached homes, with some condos and townhouses to round out the market. Properties of all types can be found starting in the $200,000–$300,000 range. However, larger new construction homes for sale in Cochrane are likely to list for more than $1 million.
Set along the Bow River northwest of Calgary, Cochrane is less than 40 kilometres from the larger city. But this quaint western-style town can feel a world away. The community traces its roots to one of the province's first large ranches in the late 19th century, some of which is preserved as Historic Cochrane Ranche today. This popular park offers hiking and biking trails, historic buildings, and a variety of cultural and natural attractions.
Those looking to stay active during chilly Alberta winters can take advantage of the Spray Lake Sawmills Family Sports Centre, which offers indoor ice rinks, an aquatic center, a fitness room and classes, an indoor track, and much more. Residents can also enjoy the quaint western downtown (said to have some of the province's best ice cream), full of diverse shops and delicious restaurants like Fence & Post.
Cochrane Amenities
Convenient to Calgary, Alberta's natural spaces
Cochrane Arena
Riverfront Park
Spray Lake Sawmills Family Sports Centre
Cochrane Community Health Centre
Airdrie
Less than 40 kilometres north of Calgary, Airdrie is an excellent choice for those working in Calgary but looking for a more relaxed, small-town environment to call home. Airdrie's property taxes are assessed at 0.71927% of the home's value or about $3,596 in annual taxes for a $500,000 property. Homes for sale in Airdrie are mostly single-family detached houses, though many condos and townhomes are also available. The town's average real estate prices make it one of the most affordable cities in Alberta. However, detached properties can reach as high as the $1.5 million range for luxury real estate or new construction homes.
It's a straight shot along Highway 2, providing easy trips to communities like Red Deer and Edmonton to the north. Airdrie is known regionally for its Pro Rodeo (one of Canada's largest) and annual Festival of Lights holiday celebration. Parks are some of the top amenities in Airdrie, from the 55-acre Chinook Winds Regional Park (offering walking paths, sports facilities, playgrounds, and a skatepark) to Gwacheon Park, where unique totem poles commemorate a sister-city arrangement with Gwacheon, South Korea. Residents can enjoy a diverse selection of restaurants along the highway and spread through the town, including local favourites like Abe's Diner.
Airdrie Amenities
Nose Creek Regional Park
Chinook Winds Regional Park
Bert Church Live Theatre
Genesis Place recreation centre
Woodside Golf Course
Airdrie Air Park
Chestermere
Another low-tax Calgary suburb, Chestermere, is set just east of city limits along 17th Avenue/International Avenue, making it an easy commute for those heading downtown to other employment centers. Homeowners in Chestermere are responsible for 0.719457% of annual property taxes, resulting in a tax bill of roughly $3,597 per year. Chestermere homes are almost universally single-family detached properties. On the low end, they can sell from the low $300,000s for modestly sized three- and four-bedroom properties. Plentiful options are available through the high six figures, while new construction homes and the most luxurious houses in Chestermere can sometimes reach $2 million or more.
Chestermere has grown dramatically in the past two decades from just over 3,000 residents to more than 21,000, meaning much of the community's housing is relatively new. It takes its name from Chestermere Lake, the gorgeous, nearly 5-kilometre-long artificial reservoir that's become a popular fishing, swimming, and boating spot. Many of the town's amenities ring the lake, from numerous parks to the famous Chestermere Regional Community Association recreation centre. Meantime, residents can also enjoy convenient shopping and plenty of delicious places to eat at the Chestermere Station shopping centre.
Chestermere Amenities
Chestermere Lake
Access to Trans-Canada Highway
Chestermere Regional Community Association recreation centre
John Peake Memorial Park
Lakeside Golf Club
Chestermere Public Library
Canmore
Nestled in the Rocky Mountains not far from the British Columbia border, Canmore offers unparalleled access to nature and low municipal property taxes. Residents pay property taxes of 0.504508% of the assessed value of their home, meaning the owner of a $500,000 home would be responsible for about $2,523 in taxes yearly. Homes for sale in Canmore typically start around a half-million dollars for one- or two-bedroom condos, though they quickly rise into the high six figures. Detached properties can be found from the $800,000s and up. Canmore's ultra-luxury properties can stretch from $2 million to as high as $6 million, making it one of the most expensive cities in Alberta.
It's among the closest communities to the breathtaking Banff National Park and many other outdoor recreation spaces popular year-round for hiking, biking, cross-country and downhill skiing, canoeing, and more. Canmore is also home to a charming downtown, full of popular restaurants and shops, ranging from high-end and tourist-friendly to casual locals-only spots. Despite the relatively rural location, this helps provide residents with everything they need close to home. Still, Calgary is just over 100 kilometres away from Calgary, an easy drive on the Trans-Canada Highway.
Canmore Amenities
Convenient to Banff National Park, other natural spaces
Access to Trans-Canada Highway
Canmore Nordic Centre
Numerous Bow Riverfront parks
Elevation Place recreation centre
Centennial Park
Canmore General Hospital
Fort Saskatchewan
Fort Saskatchewan's name shouldn't fool homebuyers with their hearts set on Alberta. The city of Fort Saskatchewan is located firmly within Alberta, just over 30 kilometres northeast of Edmonton. Fort Saskatchewan assesses an annual property tax of 0.826164%, which would cost owners of a $500,000 house about $4,131. A mix of condos and single-family detached homes provide housing options for would-be Fort Saskatchewan residents. Condos can even be found for less than $100,000, though the majority sell from the mid-$100,000s through the mid-$300,000s. Most single-family homes list from the mid-$200,000s to around $600,000, though new construction properties can exceed that by a few hundred thousand in some cases.
It lies along the banks of the North Saskatchewan River, originally established as a fort and jail in the late 1800s. Today, the city preserves this history in the Fort Heritage Precinct and historic downtown while also developing as a hub for the province's energy industry. This area of town is also famous for its one-of-a-kind free-range sheep flock that roams around the neighbourhood in the warmer months, delighting residents and visitors alike. Fort Saskatchewan also offers plenty of modern conveniences, from multiple recreation centres to a thriving shopping mall at Cornerstone Fort Saskatchewan.
Fort Saskatchewan Amenities
Turner Park
Dow Centennial Centre
Jubilee Recreation Centre
Cornerstone Fort Saskatchewan shopping mall
Riverpointe Medical Centre
Fort Saskatchewan Golf & Curling Club
Spruce Grove
Our final low-tax Alberta community is Spruce Grove, sandwiched between Highway 16A and the Yellowhead Highway 30 kilometres west of Edmonton. This location provides the best of all worlds for Edmonton commuters who want a smaller town to call home.
Property taxes in Spruce Grove are set at 0.91303%, meaning a $500,000 house would have a tax bill of roughly $4,565. Single-family detached homes form the bulk of Spruce Grove's housing options. They start in the high $200,000s to mid-$300,000s for modestly sized two- or three-bedroom properties. The vast majority sell for $600,000 or less, with some new construction or luxury properties topping $800,000. A selection of condos provides the most affordable options in Spruce Grove, starting as low as the $100,000s.
It's also home to the TransAlta Tri Leisure Centre, which provides an indoor pool, a variety of sports fields and facilities, an indoor track, a fitness centre, and numerous programs for adults and children. In addition, residents can enjoy some local culture at Horizon Stage, the site of regular theatre performances and live musical events.
Spruce Grove Amenities
Central Park
TransAlta Tri Leisure Centre
Grant Fuhr Arena & Stu Barnes Arena
Westgrove Common shopping centre
Horizon Stage theatre
The Links at Spruce Grove
Find the Best Home in Your Budget in Alberta
While these eight cities and towns may have many differences, they're all united by their low property taxes, which could save homeowners tens of thousands of dollars and allow them to put that money towards home improvements that increase property value. In the meantime, they won't need to sacrifice when it comes to the quality of their property, local amenities and services, or the cost of living. There's something for all would-be buyers in these Alberta communities, from the mountains to the big cities.