4 Energy Efficiency Home Improvements: Lower Utility Bills & Increase Sustainability
Posted by Justin Havre on Wednesday, October 26, 2022 at 9:49:26 AM
By Justin Havre / October 26, 2022
Comment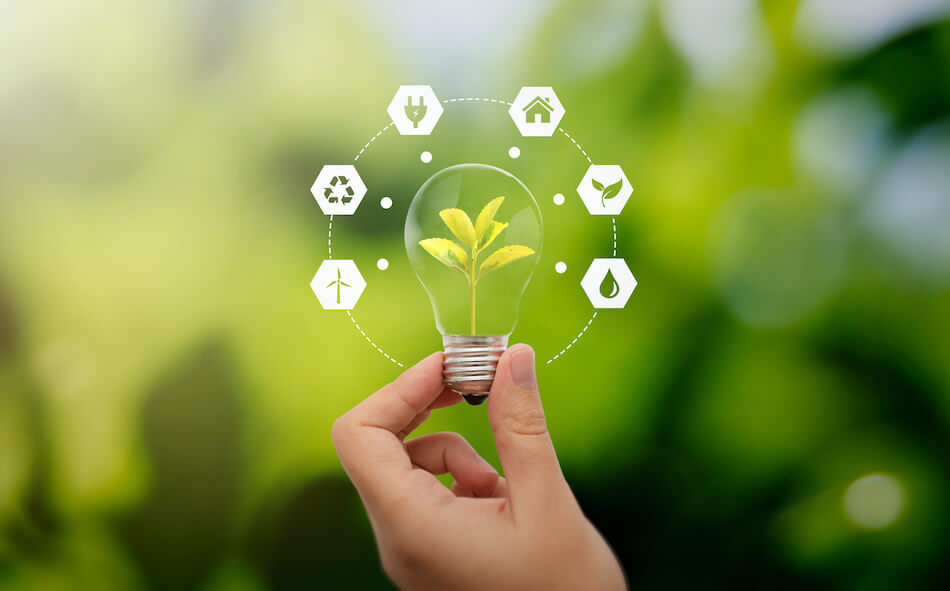 Energy efficiency in the home is a top priority for modern buyers. As homeowners seek to reduce their carbon footprint and lower energy costs, many want to make sure they are investing in wise upgrades with a solid return on investment (ROI). With this in mind, we will explore a few popular energy-efficient home updates that hold their value and can increase the home's value.
Insulated Garage Doors
Enclosed garages are rarely heated or cooled with electricity, and extreme weather changes can affect indoor temperatures. Keeping this area comfortable might be essential for owners who use the garage for projects or crafts.
Insulated garage doors can be a great investment in any climate. They add an additional thermal layer that helps regulate temperatures and eliminates the need for heating or cooling. In addition to keeping the elements at bay, these doors are more stable and secure than a basic metal garage door installation.
Double-layer doors typically have polystyrene insulation and can range in cost from $1000 to $2300. There are also triple-layer doors that average $3850, and both options will save owners money on energy and are highly desirable for buyers.
Replace Inefficient Windows, Skylights and Doors
Windows, doors and skylights are often a significant source of energy loss in the average home. It is estimated that owners spend up to 25 percent of their utility bills due to inefficient ones. In the coldest parts of the country, this is likely to even go higher in wintertime.
The cost of replacing skylights varies depending on their size and location in the home. Replacement window prices also depend on their shape and size. On average, double-hung windows range between $230 and $850 CAD.
Slider windows range between $300 and $1050, while bay and bow windows tend to cost between $1400 and $5900. The larger the windows are, the more owners will pay. However, the savings reaped in energy costs can allow owners to recoup their investment within a few years.
The potential ROI rises significantly when owners go with Low-E glass, which provides additional energy-saving insulation by reflecting UV rays. Low-e glass also helps control infrared light penetration levels, which equates to better heat and cooling retention.
The price of replacing a standard door will depend on the type of door chosen. Steel-reinforced doors generally aren't very expensive to install, yet the additional privacy and security offer owners an immediate return on their investment.
Solar Power Installations
Solar electricity is rapidly becoming more popular with homeowners for many reasons. Not only is this method of powering the home environmentally friendly, but the technology is actually available at lower prices than ever before.
Prices for photovoltaic panels have become more accessible to residential owners, making them an affordable way to offset the price of electricity. Their ability to even eliminate electric bills is highlighted by available incentives and incentives for buyers.
Canada's SolarHomes rebate is $0.60/Watt for qualifying solar photovoltaic systems. For the average system, the rebate will equate to an estimated 25% of the cost of the system. The maximum rebate owners can receive is $6,000, or 25% of the eligible cost.
Smart Home Automation & Appliances
Smart appliances are all the rage with owners and potential buyers. Those who want to ensure quality and top savings will want to check out recommendations from ENERGY STAR Canada. These modern appliances can help a home be transformed into a "smart" home. Some of the most popular systems to consider include:
Washers & Dryers
Refrigerators & Freezers
Ovens & Ranges
Built-in Microwaves
Irrigation Systems
Heating & Cooling
Home Alarm Systems
Smart Locks & Lighting
Enjoy the Bounties of an Energy-Efficient Home
Take advantage of saving money on energy with energy-efficient home upgrades with high ROI. With sustainable construction trends continually on the rise, investing in complementary energy-efficient home upgrades will help you design a home that's good for the environment and your budget.