8 Most Affordable Cities in Alberta: Find Alberta's Cheapest Real Estate Prices
Posted by Justin Havre on Monday, January 16, 2023 at 10:32:24 AM
By Justin Havre / January 16, 2023
Comment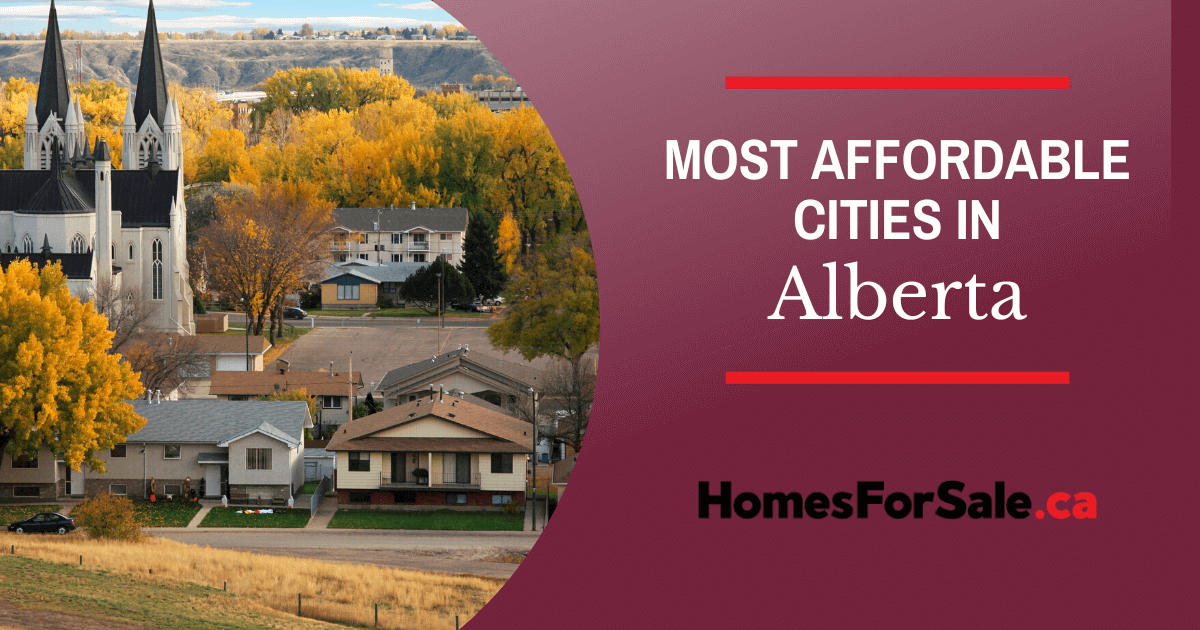 Anyone who's looked at buying a home in recent years may have been surprised by price increases. Fortunately, affordable cities in Alberta await! The province is growing faster than ever thanks to its well-established energy sector, the newly booming tech industry, and the influx of people moving from sky-high housing prices in Ontario and British Columbia. Despite the growth, real estate in Alberta remains some of Canada's most affordable, with average prices typically well below national averages. Even better, buyers will find plenty of quality places to live in communities of all types and sizes. Whether you're looking for a big city or a small town, Alberta has it all at prices you'll love.
Lloydminster
Straddling the border with Saskatchewan, Lloydminster boasts a unique history along with its quality, affordable homes. The town was founded in 1903, two years before the official dividing line was drawn between the provinces of Alberta and Saskatchewan. The placement split the city along what's now 50th/Meridian Avenue, leading to two "separate" municipalities being operated until provincial governments reincorporated Lloydminster together. This unusual arrangement is commemorated with the town's Border Marker Monument.
These days, residents can relax at several peaceful local parks, including Bud Miller All Seasons Park. This full-featured rec space offers a large lake, sports facilities, walking and biking trails, an indoor pool, ice skating, and more. Additionally, the Lloyd Mall provides big-city shopping for this small town, and numerous nearby restaurants bring a diverse selection of cuisine. The city is bisected by the Yellowhead Highway, allowing fast, direct travel to Edmonton, Saskatoon, and other parts of the region.
Affordability is easy to find when searching for a home in Lloydminster. Some smaller condos can be found for $50,000 or less. Even single-family homes can be found from $100,000 and up, with plentiful options under $300,000.
Lloydminster Amenities
Bud Miller All Seasons Park
Lloyd Mall
Lloydminster Hospital
Lloydminster Golf and Curling Centre
Lloydminster Municipal Airport
Strathmore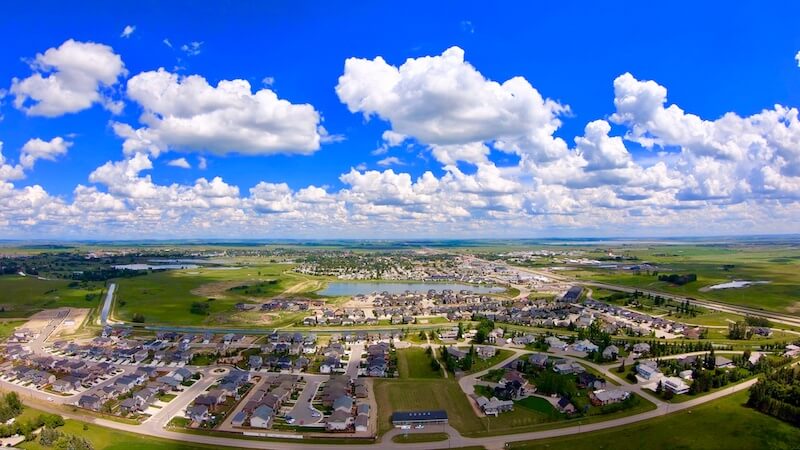 Set along the Trans-Canada Highway east of Calgary, Strathmore is a small community of approximately 15,000 residents. The town is centred around a quaint commercial and public area north of the highway and east of Wheatland Trail. Residents can stroll through peaceful Kinsmen Park, shop at local businesses, or grab a bite to eat at spots like Strathmore Station and PJ's Diner. Well-known chains and big-box stores closer to the highway offer a convenient location for daily shopping and errands.
While would-be owners can enjoy the small-town charm and easy access to Alberta's gorgeous natural areas, Strathmore is still just 50 kilometres down the road from the cosmopolitan amenities of Calgary. This makes commuting easy for those who don't work in the area's agricultural or energy industries.
Real estate in Strathmore comprises a mix of single-family detached homes, townhouses, condos, and vacant homesites. Townhouses and condos for sale make up the most affordable part of the market, starting in the low to mid-$100,000s for compact units of one to three bedrooms with less than a thousand square feet. Detached houses start in the mid-$200,000s. Other than rare luxury properties, homes rarely sell for more than half a million.
Strathmore Amenities
Adjacent to Trans-Canada Highway
Kinsmen Park
Ranch Market Shopping Centre
Strathmore Family Centre Arena
Strathmore Golf Club
Strathmore District Health Services
Red Deer
Red Deer is located approximately halfway between Edmonton and Calgary on the Queen Elizabeth II Highway, built along the river's banks that share its name. Founded in the late 1800s as a critical trading stop between the two larger cities, it has grown to more than 100,000 residents. Still, the area preserves plenty of entertaining outdoor space, from the trails and scenic views of Maskepetoon Park to the waterpark fun of Discovery Canyon, part of the River Bend Golf and Recreation Area.
Red Deer also boasts a thriving arts and culture scene, from the shows and performances of the Central Alberta Theatre to the exhibits of the Red Deer Museum, which highlights local history and culture. A quaint and thriving downtown also offers plenty of spots for everyday errands, shopping, and dining.
Red Deer offers a variety of budget-friendly housing choices, whether buyers are looking for excellent value single-family detached properties, condos, or townhomes. It's not uncommon to find condos and multi-family units as low as $75,000. Single-family detached homes provide additional space without breaking the bank, starting in the mid-$100,000s.
Red Deer Amenities
Parkland Mall
Red Deer Recreation Centre
Maskepetoon Park
River Bend Golf & Recreation Area
Red Deer Regional Hospital Centre
Red Deer Museum and Art Gallery
Edmonton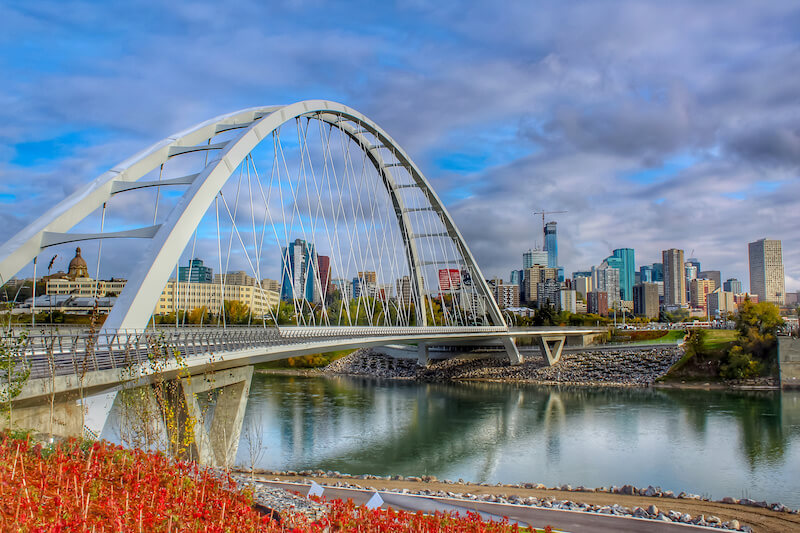 As the capital of Alberta, Edmonton is the province's second-largest city, with more than a million residents. Like Calgary, it offers some high-end and luxury neighbourhoods typical of all large cities. But it also provides plenty of affordable communities, like Athlone, Prince Charles, Blackmud Creek, Abbotsfield, Hairsine, Canon Ridge, and more. Condos start around $100,00, but buyers will find the greatest selection in the $200,000 to $300,000 range. The average price of single-family homes in Edmonton ranges from $350,000 to $450,000.
Edmonton serves as a critical hub for the energy and other resource-extraction industries. It is also known as "Canada's Festival City" due to the year-round lineup of charming and fun events hosted by the city and local organizers. Shoppers will love that the city is also home to the second-largest mall in North America by square footage, the sprawling West Edmonton Mall.
In addition, residents can enjoy plentiful parks along the North Saskatchewan River and even hit the slopes right within the city at Snow Valley, one of a handful of ski clubs throughout Edmonton. Meanwhile, Edmontonians can enjoy the same dining, nightlife, and other conveniences and amenities as any other big city, despite its very northern location.
Edmonton Amenities
West Edmonton Mall
University of Alberta
Edmonton International Airport
Snow Valley Ski Club
Edmonton Valley Zoo
Royal Alberta Museum
Edmonton Convention Centre
Calgary
Alberta's largest city is also one of its most affordable, especially when compared to Vancouver or Toronto. Calgary real estate certainly has enough high-priced luxury homes and high-rise condos to be considered one of the most expensive cities in Alberta. However, it also has a wide variety of budget-friendly communities like Huntington Hills, Deer Ridge, Renfrew, and Coach Hill that keep it affordable. A diverse selection of condos for sale can be found from $200,000 and up, while traditional detached single-family homes usually cost around $570,000, significantly less than the average Canadian real estate prices. These are just miles away from multi-million dollar houses and with nearly as good access to Calgary's many incredible amenities.
With so much going on in this fast-growing city, future Calgary residents will never run out of things to see and do. The 17th Avenue SW District offers a fantastic selection of shopping and entertainment, while the nearby Scotiabank Saddledome is home to the NHL's Calgary Flames and other major events like concerts. Those looking to get outdoors will find a wide variety of parks throughout the city, particularly along the Bow River, which winds through just north of downtown. Naturally, Calgary residents will also be close to the region's economic center, with tens of thousands of jobs in wide-ranging fields located in the city, just a minimal commute away.
Calgary Amenities
17th Avenue shopping/dining/nightlife district
Bow River waterfront parks
Scotiabank Saddledome
Calgary International Airport
Calgary Zoo
Southern Alberta Institute of Technology
Lethbridge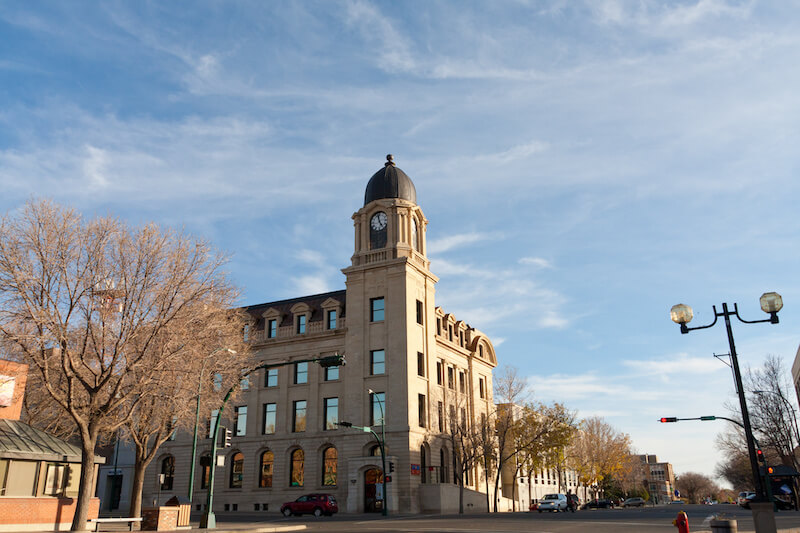 Lethbridge serves as a significant hub for southern Alberta, located more than 200 kilometres from Calgary but fewer than 90 from the US border. While much of the surrounding area remains agricultural, Lethbridge has developed a diverse economy with health and hospitality providing many jobs. The city offers a walkable downtown with various restaurants, nightlife, and the Park Place Mall.
Education also plays a prominent role in Lethbridge, home to the University of Lethbridge, Lethbridge College, and satellite campuses of other regional higher education institutions. Parks and green space are in ample supply, from the numerous green spaces along the Old Man River to more developed spots like Henderson Lake Park, home to trails, fishing areas, playgrounds, and even the Nikka Yuko Japanese Garden, a serenely landscaped outdoor area landscaped in a combination of Japanese and Canadian influences.
Condos and small traditional detached single-family can be found in Lethbridge starting around $100,000. Those with a bit more to spend will find extensive choices in various styles and home types under the mid-$200,000s. Plots of vacant land in Lethbridge are also available for under $100,000 for those looking to build their property.
Lethbridge Amenities
Henderson Lake Park
Extensive community and riverfront park space
Park Place Mall
Chinook Regional Hospital
University of Lethbridge
Lethbridge College
Grande Prairie
Grande Prairie is located just a short distance from the British Columbia border, more than 450 kilometres from Edmonton. The area's history dates back to the late 19th century, though it wasn't officially incorporated as a town until 1958. Today, downtown includes restaurants like Tito's Bistro and entertainment venues like Bonnetts Energy Centre, with the campus of Northwestern Polytechnic just a short walk away.
Numerous shopping centres and golf courses are also located throughout the city, providing plenty of leisure opportunities. Grand Prairie preserves more than 445 hectares of gorgeous natural surroundings right in the heart of town at Muskoseepi Park. Six distinct areas offer amenities for all seasons, like sports facilities, hiking trails, playgrounds, an outdoor pool, a spray park, and a winter skating pond. Residents looking to stay active during the chilly winter can also use the indoor pool, workout room, or fitness classes at the Eastlink Centre.
Prices for Grande Prairie housing start around $150,000 for more modestly sized condos. Two- or three-bedroom detached houses can be found for anywhere between $210,000 and $500,000. In addition, Grande Prairie offers an extensive selection of lots and homesites under $100,000.
Grande Prairie Amenities
Muskoseepi Park
Eastlink Centre
Prairie Mall Shopping Centre
Grande Prairie Golf and Country Club
Grande Prairie Airport
Northwestern Polytechnic college
Medicine Hat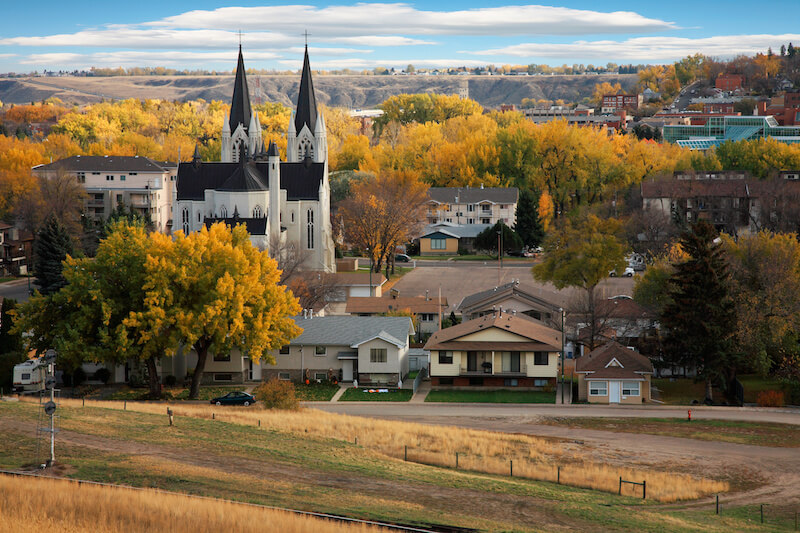 The southeastern Alberta town of Medicine Hat traces its roots to the First Nations people who originally inhabited the area and whose eagle-tail headdresses inspired the area's modern name. Nowhere is this heritage more apparent than the Saamis Tepee, which soars 215 feet above the nearby Trans-Canada Highway as one of the most notable attractions in Medicine Hat.
While it may not be the biggest city in Alberta, it has everything residents could need, including a mall, plenty of schools, and a variety of restaurants and bars in the town's central area along the South Saskatchewan River. There's an active cultural scene with several art galleries and the famous Esplanade Heritage and Arts Centre, showcasing exhibits, performances, classes, and other activities.
Like many other Alberta communities, condos offer the most affordable housing options in Medicine Hat. These can be found for as little as $250,000. Smaller or older traditional single-family homes start around the same range. Overall, there are extensive choices for those on a budget, with most Medicine Hat homes selling for prices between $300,000 and $400,000.
Medicine Hat Amenities
Access to Trans-Canada Highway
Esplanade Heritage and Arts Centre
Police Point Park
Echo Dale Regional Park
Medicine Hat Mall
Medicine Hat Regional Hospital
Medicine Hat Regional Airport
Medicine Hat College
Affordable Alberta Is Waiting For Future Homeowners
From the Saskatchewan to British Columbia borders, homebuyers will have no trouble finding an affordable place to live in Alberta. Shoppers can choose from various home styles and types, each with unique advantages for the budget-conscious. Whether they're looking for big-city life or small-town charm, there's something for all future affordable homeowners in Alberta.