7 Most Expensive Cities in Alberta: Towns With Luxury Homes
Posted by Justin Havre on Monday, January 9, 2023 at 11:59:10 AM
By Justin Havre / January 9, 2023
Comment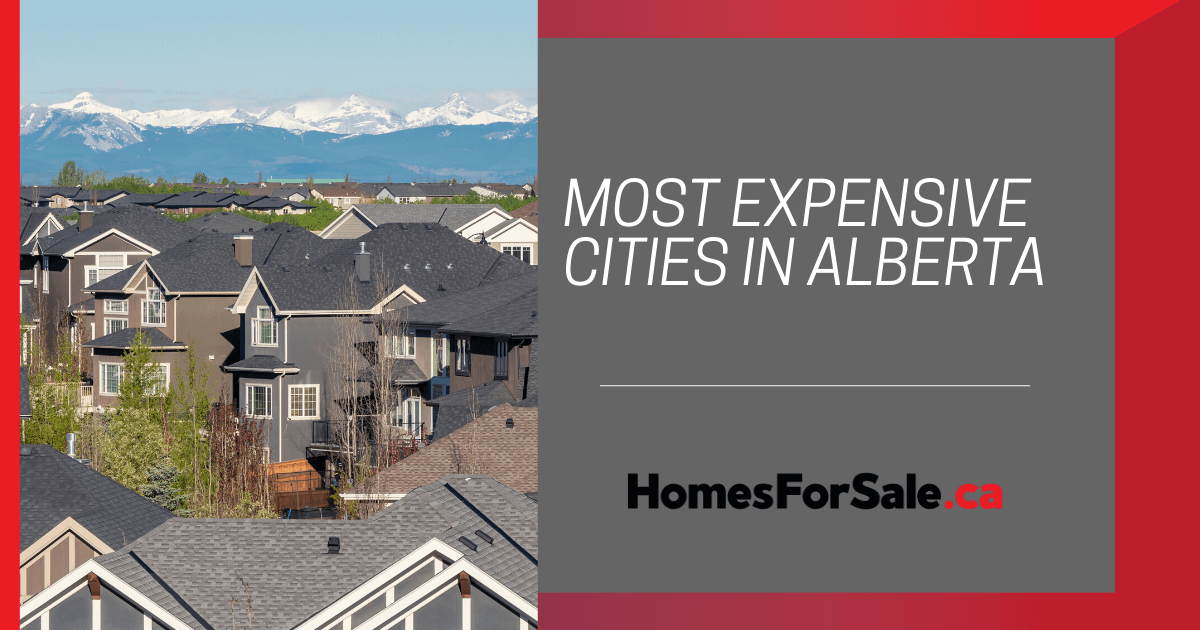 Between the vast, rolling prairies of Saskatchewan and the soaring mountains and breathtaking waterways of British Columbia, Alberta is one of Canada's most unique provinces. With an economy powered by oil and gas and the area's incredible nature, Albertans enjoy a strong job market and exciting cities. Those looking to live in style will also find a wide variety of communities with high-end housing and top amenities, from the luxury homes in Calgary to the beautiful suburban homes for sale in Cochrane. If you're looking to live in one of Alberta's most expensive cities, keep reading and get ready for a life of luxury.
Drumheller
The things that make Drumheller the most famous aren't new—they're tens of millions of years old! The community is best known for its incredible fossil heritage, which has drawn people here for over a century. Drumheller even calls itself the "Dinosaur Capital of the World" and is home to the self-proclaimed World's Largest Dinosaur. Residents can get up-close looks at this history at attractions ranging from the Royal Tyrrell Museum to the kid-friendly Fossil World Dinosaur Discovery Centre to the Dinosaur Trail scenic drive, along with numerous hiking trails and other outdoor recreation spots.
Beyond the tourist-friendly fun, residents can enjoy easy access to local favourite restaurants and shops like Bernie & The Boys and Vintage Tap House, along with riverfront parks and beaches. Drumheller homes are almost entirely single-family detached properties, ranging from modest two-bedrooms to sprawling, luxurious five-bedroom mansions. While some older properties can be found in the $200s, many homes can more than double that, with the highest-end houses reaching $800,000 or more. The less-developed areas outside the core of Drumheller also offer numerous homesites for those looking to build their dream property.
Drumheller Amenities
Royal Tyrrell Museum
Dinosaur Trail scenic drive
Newcastle Beach
Drumheller Memorial Arena
Napier Theatre
Drumheller Health Centre
Canmore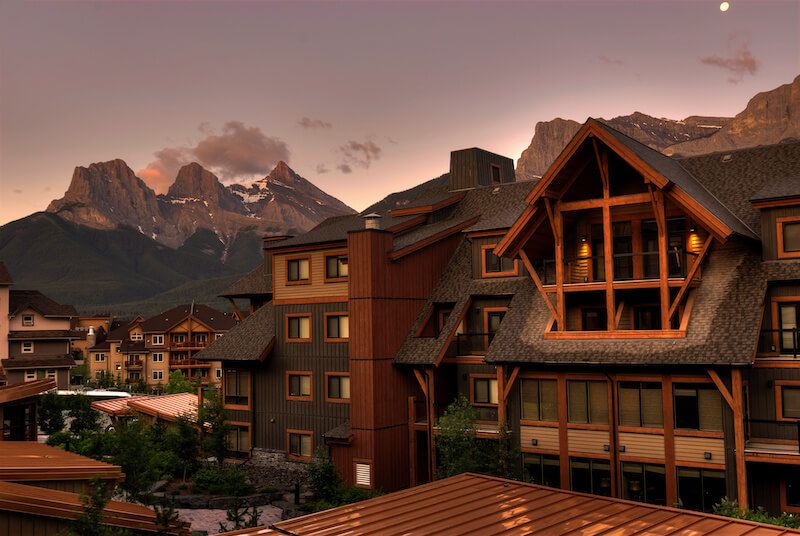 Those who love the mountains may find the home they're looking for in Canmore, a Rocky Mountain town near the border with British Columbia. Residents have easy access to numerous outdoor adventure spots, from the Three Sisters mountains that loom over the city to more low-key walks on nature trails in town. Of course, there's no more significant area attraction than Banff National Park, which draws tourists, nature lovers, and nearby residents alike to some of the world's most breathtaking wild scenery.
The city also offers a large and diverse art and dining scene, with galleries clustered along 8th Street and popular restaurants like The Wood Restaurant & Lounge and BLAKE Restaurant Brewhouse and Distillery on the same street and on the nearby Bow Valley Trail.
Canmore offers a mix of housing options, from townhouses and condos on the more affordable end to spacious, modern mountain estates with incredible nature views. However, even the area's most budget-friendly properties generally list from the $500s for one- or two-bedroom properties with less than 1,000 square feet. More typically, properties sell from the high six figures to $3 million, with ultraluxury properties reaching the $5–$6 million threshold.
Canmore Amenities
Three Sisters mountains
Convenient to Banff National Park
Policeman's Creek Boardwalk
Silvertip Golf Course
Canmore Golf and Curling Club
Canmore Museum and Geoscience Centre
Canmore General Hospital
Fort McMurray
Alberta's economy is fueled (pun intended) by the oil and natural gas energy industries. There are few places this is more apparent than Fort McMurray, set within the province's vast Athabasca oil sands. Numerous oil producers and transport companies are located in the area, providing many jobs to the fast-growing region.
But there's more to Fort McMurray than work: residents can enjoy a wide variety of activities, many of which take advantage of the gorgeous natural surroundings. These include MacDonald Island Park, home to a leisure centre for skating, curling, indoor rock climbing, and much more, along with a community fitness centre. Also on the island is Miskanaw Golf Club, one of several golf courses in and around the city. Nearby, a quaint and thriving downtown includes various shopping options like Peter Pond Mall and restaurants spanning many diverse cuisines.
Fort McMurray's rapid growth in recent years has meant an explosion in new homes, including a mix of single-family detached homes, townhouses, and condos. Detached homes provide the city's most expensive properties, topping out north of $900,000. Townhouses can sell for more than half a million, as can the area's most spacious and centrally located condos.
Fort McMurray Amenities
Convenient to energy industry jobs
MacDonald Island Park
Vista Ridge All Seasons Park
Borealis Park
Fort McMurray Golf Club
Keyano College
Oil Sands Discovery Center
Heritage Village
Calgary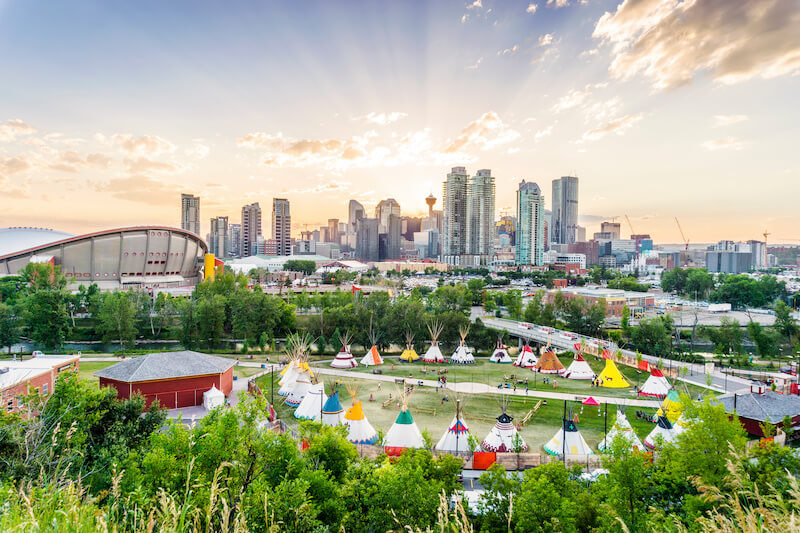 Alberta's most populous city, Calgary, is also unquestionably its most unique and cosmopolitan option—not to mention one of its most expensive. Located in the province's south-central portion, Calgary includes about anything a city-dweller could dream of. The city is centred around a bustling downtown on the shores of the Bow River, home to a thriving economy primarily linked to the province's energy industry and many of Calgary's top employers. Nearby, 17th Avenue offers dozens of shops, restaurants, bars, and other popular local spots, ensuring residents rarely run out of new, fun places to check out.
Sports lovers can also catch a game at the Scotiabank Saddledome, which hosts the NHL's Calgary Flames and the CFL's Calgary Stampeders. There's simply no better option in Alberta for those who enjoy city life.
As one of Canada's largest cities, Calgary's real estate is similarly wide-ranging in style and price. However, there's certainly no shortage of high-end properties for those with the budget to buy them. These can include everything from gorgeous, new construction luxury condos to spacious single-family homes that range from historic to modern. While condos for sale in Calgary can list from the $200s, many homes reach the $3–8 million range, with the bulk of homes listing between the $400s and $2 million.
Calgary Amenities
Diverse shopping, dining, and nightlife scene
Scotiabank Saddledome
Calgary Zoo
Numerous parks (including waterfront Bow River access)
University of Calgary
Calgary International Airport
Cochrane
Just over 35 kilometres northwest of Calgary, the town of Cochrane offers another high-end Alberta locale. The city was founded in the late 1800s on the site of a former property of industrialist, rancher, and politician Matthew Henry Cochrane, now preserved as Historic Cochrane Ranche. Today, Cochrane is a top choice for those commuting into Calgary on nearby Highway 1A, nearly doubling in population in the last decade. However, it offers plenty to do and see close to home.
The western-style town offers a charming downtown, noted for its shops, restaurants, and some of the province's best ice cream. Numerous parks and green spaces provide Bow River access, while other amenities like the Spray Lake Sawmills Family Sports Centre provide plenty of wholesome fun.
Would-be buyers in Cochrane will find primarily single-family detached homes, supplemented by a few newer townhome and condo developments like other fast-developing Alberta communities. Homes for sale in Cochrane typically start in the high six figures and routinely sell for upwards of $1 million. Cochrane condos and townhomes can be found from the low $300s to $700,000 or more.
Cochrane Amenities
Bow River access
Mitford Park
Spray Lake Sawmills Family Sports Centre
Tim Bannister Memorial Outdoor Rink
The Links of Gleneagles golf course
Cowboy Trail access
Edmonton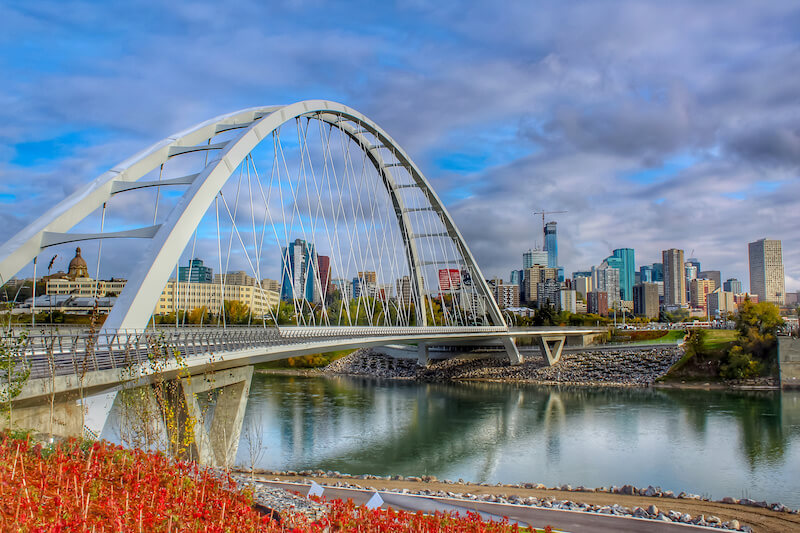 As the province's capital, Edmonton is located in the central part of Alberta and offers plenty of things to do for would-be residents. The city is centred around a thriving downtown and historic district, which sit on opposite sides of the North Saskatchewan River. Parks and nature are among the most notable parts of Edmonton, including the vast green spaces of the River Valley Park system, a connected network of more than 20 parks with over 160 kilometres of walking and biking paths.
Winter sports enthusiasts can even take advantage of multiple ski areas right within the city, just minutes from home. Shoppers will also love the West Edmonton Mall, North America's largest shopping centre, home to more than 800 stores, over 100 restaurants, multiple hotels, and even indoor theme and water parks! Sports are also a big part of Edmonton culture, with the NHL's Oilers and the CFL's Eskimos both playing in the city.
As with other large Canadian cities, housing comprises a mix of single-family detached homes, townhouses, condos and other multifamily units. While more affordable options can be found, homes typically start in the mid-to-high six figures, generally reaching around $2 million. Those looking for ultraluxury can find sprawling, high-end estates on large lots, typically near the city's outer edges. These can sell for as much as $5-6 million.
Edmonton Amenities
West Edmonton Mall
River Valley Parks
University of Alberta
Royal Alberta Museum
Edmonton Valley Zoo
Muttart Conservatory
St. Albert
St. Albert is one of Edmonton's largest suburbs, located just northwest of the city along Highway 216/Anthony Henday Drive. With roots in agriculture and a former Catholic mission, it offers a convenient mix of homes, shopping, and some of the area's top arts and cultural spots. This latter group includes attractions like the Musée Héritage Museum and The Arden Theatre, among numerous galleries, music venues, and annual festivals.
St. Albert is also an excellent choice for those who like to stay active and get outdoors, with more than a hundred parks spread throughout the city and indoor fitness facilities like Servus Credit Union Place. Meanwhile, all employment centers, restaurants, nightlife, cultural spots, and more of Edmonton are only a few minutes away by car.
Housing in St. Albert consists of single-family detached homes, condos, and townhouses, in order of most to least common. Many properties were built in the 1980s or more recently, though some older homes remain. Luxury condos are typically the city's most expensive homes, commonly selling from $1.5 million and up. Single-family homes can also cross $1.5 million, with the majority selling for half a million or more. Townhouses typically list from the $200s to the $400s.
St. Albert Amenities
St. Albert Botanic Garden
Servus Credit Union Place
St. Albert Centre shopping mall
The Arden Theatre
Musée Héritage Museum
Century Casino
So Many Luxury Options For Alberta Homebuyers
The province of Alberta offers some incredible communities throughout, especially for those with a big budget. Whether they prefer the cosmopolitan convenience of Edmonton, the excitement of Calgary's best festivals, or the breathtaking natural landscapes surrounding Canmore and Fort McMurray, there are homes and towns for all tastes. With so many options with so much to offer, it's hard to go wrong with these expensive Alberta cities.