Moving to Alberta: 9 Things to Look Forward to When Living in Alberta [2024]
Posted by Justin Havre on Thursday, June 15, 2023 at 9:45 AM
By Justin Havre / June 15, 2023
Comment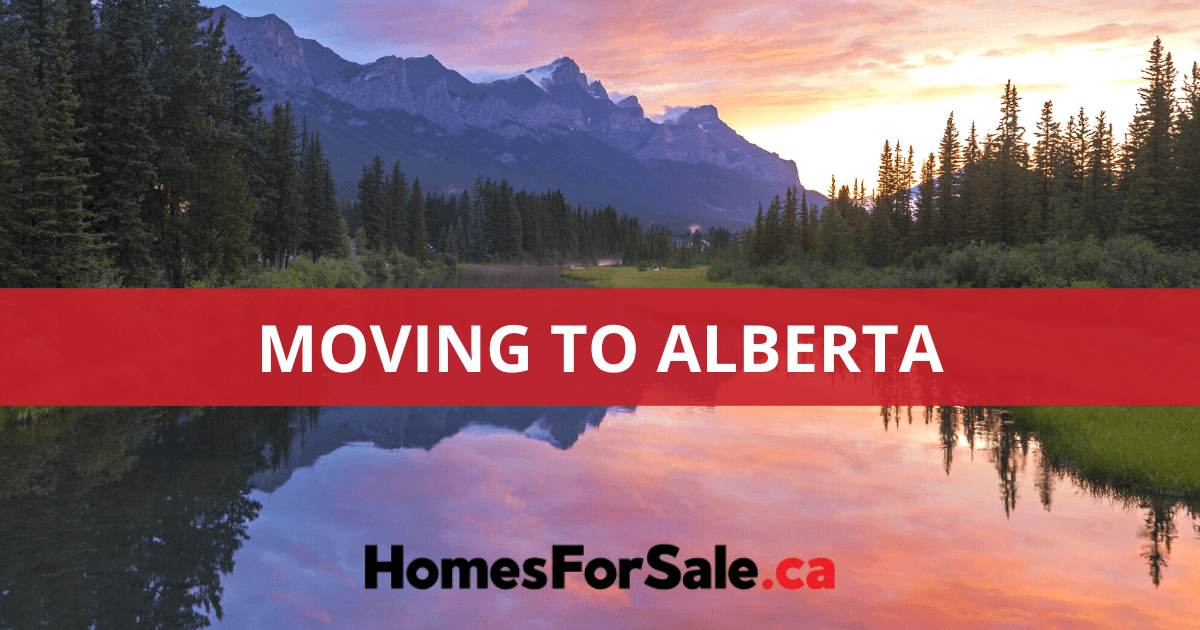 Alberta is a lovely place to live, thanks to its scenic landscapes, plentiful community amenities, and reasonable cost of living. With its location on the western side of Canada, this province goes from coniferous forests to desert badlands—and even features over 600 lakes.
Across its diverse landscapes, there are 19 different cities, each with its amenities and community feel. A healthy job market and fair cost of living complete the picture of perfection. As a result, more than 50,000 people moved to Alberta in just the third quarter of 2022.
Although Alberta boasts the highest growth rate in the country, it's still a fantastic time to move to this province. And while housing prices can be high in some areas, Alberta's most affordable cities provide opportunities for homebuyers of all budgets. Ready to see what awaits in this great province? Here's what you need to know about moving to Alberta and whether or not Alberta is a good place to live.
Reasons to Live in Alberta
Stunning Natural Landscapes: Alberta boasts the Canadian Rockies, Banff, and Jasper National Parks, offering breathtaking mountains, lakes, and wildlife.
Thriving Economy: Alberta's robust industries, including oil, gas, agriculture, and tourism, provide ample employment opportunities and a high standard of living.
Affordable Housing: Alberta offers comparatively affordable housing options, making it an attractive place to settle and call home compared to other areas of the country.
Quality Education: Alberta is home to esteemed educational institutions, such as the University of Alberta and the University of Calgary, ensuring excellent academic and professional growth.
Recreational Activities: Alberta offers diverse recreational opportunities year-round, including skiing, hiking, fishing, and camping.
Festivals and Events: Alberta hosts numerous cultural festivals and events, showcasing arts, music, and cuisine.
Best Places to Live in Alberta
With more than a dozen cities to choose from, finding the perfect place to live in Alberta can be difficult. These five cities never disappoint, making them some of the best cities in Alberta and a great choice for new homeowners and renters alike.
Calgary: The largest city in Alberta with a population of over 1.4 million people. Set in southern Alberta with iconic districts sprawling out from Calgary City Centre, Calgary is known for its cultural district, entertainment district, and Eau Claire district hosting Calgary's famous annual festivals, including the Calgary Stampede. Benefits of living in Calgary include reliable public transit, innovative skywalk system, clean city with excellent air quality, outdoor recreation opportunities, free healthcare, and proximity to world-class amenities.
Edmonton: Edmonton is Alberta's capital city, with a population of over 1.4 million people. It features diverse neighbourhoods and a densely populated downtown area. Advantages of living in Edmonton include cosmopolitan attractions, lower tax rate, access to outdoor activities, career opportunities, and affordable housing.
Red Deer: Red Deer is a sprawling city in central Alberta with over 100,000 residents. It offers a wide range of amenities and access to more than 4,000 businesses. Benefits of living in Red Deer include a low cost of living, career opportunities, waterside activities, central location, and quality education.
Grande Prairie: Grande Prairie is a fast-growing city in northwest Alberta with over 67,000 residents. Known as "Swan City" due to the presence of trumpeter swans, it offers abundant community amenities, an arts and culture scene, and various recreational activities. Advantages of living in Grande Prairie include affordable housing, outdoor recreation opportunities, quality healthcare, reliable public transit, and a robust education system.
Fort McMurray: Located in northeast Alberta with over 66,000 residents, Fort McMurray is situated within the boreal forests and known for its natural resources, especially the Athabasca oil sands. It features a wide range of neighbourhoods, a commercial downtown area, and a strong job market in the energy industry. Reasons to live in Fort McMurray include a robust housing market, local attractions, breathtaking views, a diverse food scene, and convenient public transportation.
Cost of Living in Alberta
Alberta has a relatively reasonable cost of living compared to similar provinces in Canada. This province ranks fourth on the list of most expensive places to live in Canada, but the healthy job market helps compensate for that.
Canmore, Calgary, and the city of Cochrane are among Alberta's most expensive cities, while Medicine Hat, Red Deer, and Grande Prairie are the most affordable. On average, monthly expenses for an individual falls in the $700 range, while a household of four needs around $2,200 to stay afloat.
The monthly budget breakdown for a household of four:
Groceries: $500
Utilities: $200
Transportation: $400
Car insurance: $150
Healthcare: $120
Other essentials: $300
Taking public transportation can lower expenses while choosing a private school over public offerings can significantly increase monthly costs.
Housing costs also add to that total, although the amount depends on whether residents want to rent or buy, their ideal home size, and the location. Rental housing prices range from $800 monthly to rent a one-bedroom apartment to over $1,200 for a three-bedroom unit. When renting a house, expect to pay anywhere from $1,500 to $3,000 a month.
On average, the purchase price for Alberta homes lies in the $425,000 range. Homeowners can expect to pay anywhere from $2,500–$3,600 monthly for their mortgage, property taxes, and homeowners' insurance.
More information about cost of living in Alberta:
Job Market in Alberta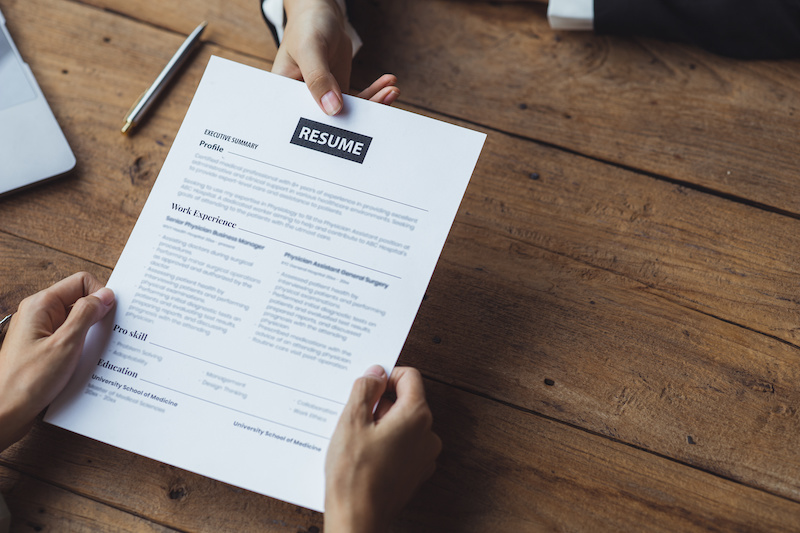 Alberta has a relatively healthy job market with ample opportunities for career growth through every level of employment. Well-represented industries include retail, energy, education, healthcare, and construction. Small businesses also thrive in every city, adding even more career paths.
The leading employers in Alberta include Agricultural Financial Services Corporation, Alberta Blue Cross, and Inter Pipeline. Together, they employ thousands of people while helping provide the province with financial services, healthcare, and energy.
Located in Lacombe, Agricultural Financial Services Corporation has proudly provided farmers with crop and livestock insurance for over 80 years. Their employees work hard to help minimize the risk of doing business, ensuring the community stays well-fed by local sources.
Alberta Blue Cross is a leading health insurance agency in Edmonton. Their services support nearly two million Alberta residents in getting the healthcare they need year-round. They've been in business for over 70 years, making them a great place to build a successful career.
Inter Pipeline supports the sustainable energy needs of Alberta and beyond. They're headquartered in Calgary, giving them easy access to many facilities, including the Heartland Petrochemical Complex, Redwater Olefinic Fractionator, and Boreal pipeline system.
Metropolitan areas, like Calgary, offer many more career paths than other rural locations do. In Fort McMurray, for example, jobs center around the energy industry more often than not. In Edmonton, on the other hand, residents can find lucrative positions in hospitality, food services, healthcare, retail, and so on.
The unemployment rate landed at 5.5% in 2022, which is 9.1% lower than in June 2020. Industries with the highest growth for full-time jobs are education, food services and accommodation, and agriculture.
More information about finding a job in Alberta:
Industries in Alberta
The industries that employ the most residents in Alberta are:
Retail: Nearly 15%, or 337,000 people, work in the wholesale and retail trade industry, with the highest number of employees in the bustling city centres.
Education: Nearly 7%, or 157,000 residents, are employed in the educational services industry, helping local students go to school from preschool through college.
Healthcare: Over 12% of people, or 293,000 residents, hold jobs in healthcare, working in local hospitals, doctor's offices, nursing homes, and other care facilities.
Construction: Just over 10%, or 236,000 residents, work in the construction field building new construction homes, commercial buildings, and more.
Energy: Over 6% of residents, or 145,000, work in the energy sector, and the highest concentration of workers are in rural areas like Fort McMurray.
All these industries are equally prevalent in all cities across Alberta. Residents may need to relocate for certain positions to push their careers to the next level.
Things to Do in Alberta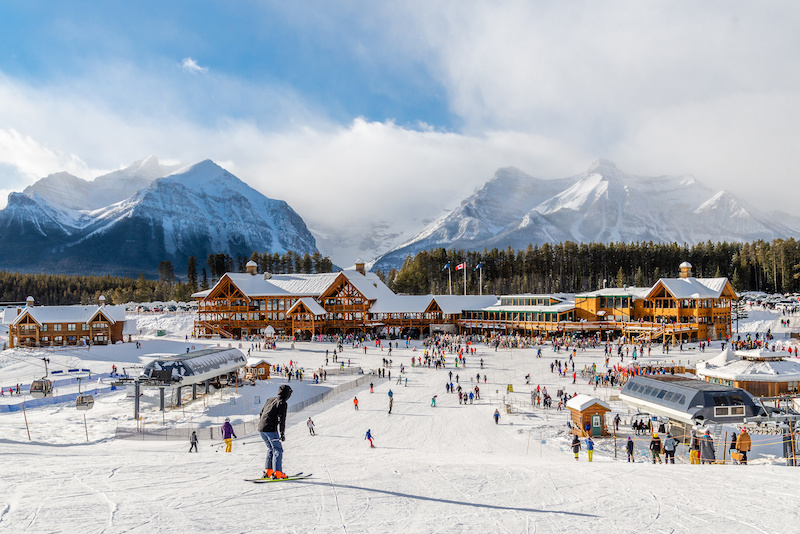 There's no shortage of things to do in Alberta, from outdoor activities to major attractions. Rural areas generally favour outdoor adventures over indoor entertainment venues, while the opposite is true for the dense cityscapes.
That said, every city has ample greenspaces to enjoy whenever you want to get outdoors. And many rural areas put their all into providing indoor entertainment to remember, so everyone can still have a spectacular time when the weather takes a turn for the worst.
There are also can't-miss historical attractions in every major city, like the Brooks Aqueduct, Frank Slide Interpretive Centre, and Lougheed House. With some planning, filling every day with fun is a breeze throughout the year.
Outdoor Activities
Alberta has many exceptional places to enjoy outdoor adventures, like hiking, mountain biking, kayaking, snowshoeing, skiing, and picnicking. Each natural landscape has its unique flavour, making them all worth visiting at least once.
Popular places to spend time outdoors in Alberta are Banff National Park, Elk Island National Park, and Jasper National Park. These parks are beautiful places for a day trip, although weekend camping trips are a much more popular way to enjoy the natural landscape.
At Banff, wintertime adventures like taking a dip in the Upper Hot Springs afterward can rejuvenate. On the other hand, Jasper offers endless guided horseback riding excursions, starting from the nearby stables, like Rockin' K Stables.
More adventures await at Moonshine Lake Provincial Park, Caribou Mountains Wildland Park, and Bow Valley Provincial Park. Each one treats visitors to breathtaking scenery and plenty of opportunities to explore the mountains, prairies, and everything in between.
Don't forget to explore all the incredible city parks, including Hawkrelake Park in Edmonton. This 66-hectare park has plenty of room to hike, bike, and picnic the day away.
Historic Attractions
Exploring all the top historic attractions is a cinch with the Experience Alberta's History Annual Pass. Valid for one year, this pass offers free admission to historical museums, interpretive centres, and historical sites.
Residents can go to Father Lacombe Chapel, Historic Dunvegan, and many other interesting locations with that pass in hand. Each site takes visitors on a deep dive into the history and culture of the region. Self-guided tours are standard with regular admission, but many offer guided tours for an additional fee.
Father Lacombe Chapel is the oldest building in Alberta, offering a glimpse into the life of the Metis settlers. Careful restorations have occurred over the years, but the spirit of the building remains. Historic Dunvegan takes visitors on an even deeper dive into the province's early history. At this site, four buildings are captured in time with historically accurate furnishings and décor.
Sports, Entertainment, & Nightlife
Sports, entertainment, and nightlife venues are set across Alberta, promising all their visitors a memorable experience at every visit. Every city has its own unique collection of bars, restaurants, and more, so they're a delight to explore one by one.
Global cuisine is the name of the game in this province, resulting in an eclectic mix of multicultural eateries in each city. Fan favourites include Ten Foot Henry in Calgary, Casa Amigos Cantina in Medicine Hat, and The Canadian Brewhouse in Fort McMurray.
Want to listen to live music while eating? Go to The Aviary, The Starlite Room, or Cook County Saloon in Edmonton. In Calgary, Broken City, The Blues Can, and The Palace Theatre all offer food, drinks, and a show.
For the full sports bar experience, head over to Tyson's Sports Bar, Garage Sports Bar, or Elk & Oarsman to start. Many pubs keep sports on the TVs all day long before switching to more immersive nightlife activities, like dancing as the DJ spins records.
When it comes time for dessert, The Scoop is the place to go in Grande Prairie. Owned by the same people behind Jeffrey's Cafe, this farmhouse-style ice cream shop makes all its ice cream in-house. They even have homemade popsicles, waffle cones and bowls, and fun seasonal flavours.
Alberta Climate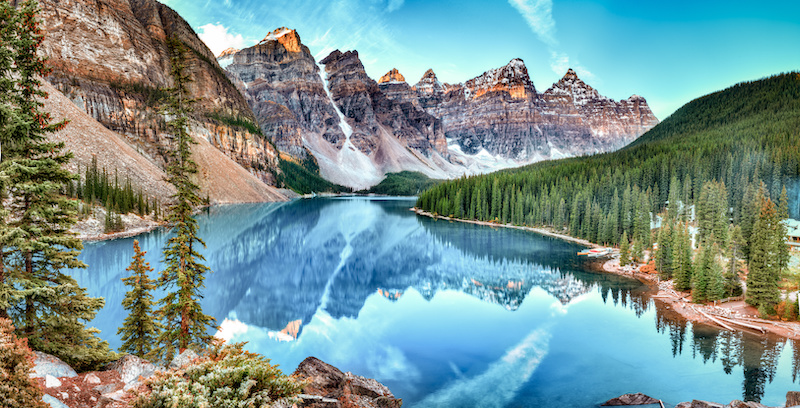 With its continental climate, Alberta's weather moves through all four seasons. The year begins with cold, sunny days through the winter. Every day has a high chance of snowfall, which results in about 9 metres total falling all between November and April in the ski areas. Daytime temps can drop as low as -5 degrees Celsius, while the lowest lows get to a frigid -40 degrees.
The spring season warms up the region considerably. During the daytime, temperatures usually fall in the 4 to 17-degree Celsius range, helping give life to all the beautiful flowers, shrubs, and trees. Sunny days are more common than not, especially as the region moves into the summer months.
Alberta has the highest number of sunny days each year out of all the Canadian provinces, typically totalling over 312 annually. Summer temps stay in the 20- to 25-degree Celsius range, although temperatures in the 30s are not unheard of. The fall season brings everything back around as the weather grows colder and wetter toward the winter months.
Getting Around in Alberta
There are many excellent ways to get around Alberta, including by car, bus, and plane. When travelling long distances by car, most routes will go along Highways 1 through 4, 16, and 43. The primary roads crisscross through the province, creating convenient routes to all the top destinations. Expect to travel at a max of 110 km/h on the highways and down to 50 km/h on city streets.
Travelling across the province on a Greyhound bus is possible. For shorter city-to-city trips, there are the city transit systems, like Red Deer Transit which offers trips to and from Edmonton several times a day. Intercity travel is relatively quick, easy, and affordable on public transit, especially when buying the full-day pass.
Plane trips are less common but can save time when travelling far across the province. Air Canada offers a flight pass that allows their guests to take 10 flights per year for one low price. The flights go between Edmonton, Calgary, Vancouver, and Victoria, although more destinations could get added in the future.
Ready to Make the Move to Alberta?
In the end, it's clear that Alberta's best cities offer quality living at an affordable price. The diverse housing market provides endless chances to upgrade to a spacious, well-designed home of any kind, including waterfront homes, townhouses, and apartments.
With so many things to see, do, and try, residents can fill their days with global cuisine, fun adventures, and new experiences. No matter where the road takes you, breathtaking views promise to add beauty to the day, so it's always rewarding to walk out the front door and tackle what's ahead.