Living in Edmonton: 11 Things to Know Before Moving to Edmonton [2024]
Posted by Justin Havre on Thursday, February 16, 2023 at 10:34:35 AM
By Justin Havre / February 16, 2023
Comment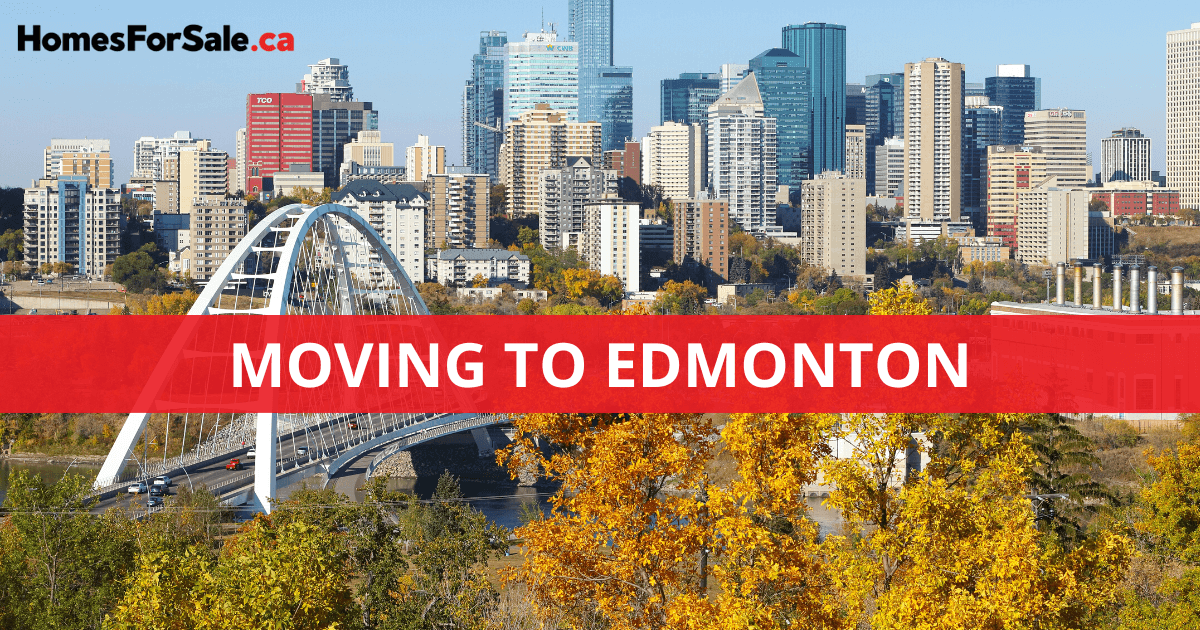 Are you thinking about living in Edmonton? You can look forward to an affordable cost of living and a fast-growing economy fueled by Alberta's biggest industries. The rich culture of the capital city adds to the magic, especially when it comes to all the fantastic eateries, boutique shops, and nightlife venues.
Add in the scenic landscapes and green spaces throughout the cityscape, and it's no wonder more than one million people proudly call this city their home. If you're moving to Alberta, then Edmonton might be your perfect home. Here's everything you need to know before moving to Edmonton.
Life in Edmonton: 10 Reasons to Move Here
Edmonton is the Festival City of Canada, with over 30 festivals annually.
Discover numerous sports teams, from NHL hockey to professional soccer and junior football.
With over 400 parks and more than hundreds of kilometres of trails, there's plenty of green space to explore.
As one of Alberta's most affordable cities, housing costs less than in many other Canadian cities like Vancouver or Toronto.
Industries such as oil & gas, technology, and healthcare thrive in the city's job market.
The public school system provides dozens of easy-to-access schools.
The University of Alberta is well-known for its undergraduate and graduate programs.
As North America's largest mall, West Edmonton Mall offers countless stores, a roller coaster, and a water park.
The climate has four distinct seasons, including scenic, snowy winters and sunny, warm summers.
Edmonton serves as the capital of Alberta.
Cost of Living in Edmonton
The cost of living in Edmonton is often lower than national living expenses. Housing prices are even more affordable, a stunning 45% lower than the average across the nation. When buying a home in this city, homebuyers will see average real estate prices often range between $300,000 and $900,000. At that price, a 25-year mortgage with a 4% interest rate costs between $1,625 and $1,950 per month when paying a 5% down payment.
Edmonton's luxury homes can quickly exceed $1 million, mainly in high-end neighbourhoods like River Valley Walterdale, Winsor Park, and Westbrook Estates. Meanwhile, condos for sale in Edmonton can range from the mid-200s to about $700,000. Lower home prices await in nearby suburbs, many of which offer the lowest property taxes in Alberta.
When renting, renters often pay between $895 to $1,775 for a studio to three-bedroom apartments in Downtown Edmonton. Rental rates for three-bedroom apartment homes lie in the $1,200 range in Central McDougall and Strathcona. Single-family rentals usually run between $1,500 and $3,500, depending on the home's location, square footage, and amenities.
Other monthly expenses in Edmonton include:
Utilities: ~$580 per month for a two-person household
Food: ~$300 per person per month or $1,000 per month for a household of four
Public Transportation: ~$100 per month for each person
Car Insurance: ~$125 per month
Edmonton Job Market
On average, employees in Edmonton make just over $55,000 per year, which equals around $28 per hour. The minimum wage is $15 per hour, although most entry-level positions pay just over that for an annual total of $38,000.
With the right experience, Edmonton residents can land well-paid roles like finance managers, software engineers, and clinicians. In those roles, annual salaries often end up in the $75,000 to $120,000 range, if not higher.
The major players in the business world include The Alberta Machine Intelligence Institute, Alberta Health Services, CN Rail, Stantec, PCL Constructors Inc., the University of Alberta, and the Alberta Canola Producers Commission. Residents can also build rewarding careers while working directly for the City of Edmonton.
Together, these companies provide over 250,000 jobs to residents and help them enjoy an excellent standard of living. With their headquarters right in the city, opportunities for advancement abound, giving all their employees plenty of ways to build successful careers.
Popular Industries in Edmonton
The top five economic sectors in Edmonton are:
Tech
Energy
Health
Agriculture
Manufacturing
The tech industry is growing quickly in Alberta! Edmonton companies focus on advancing nanotechnology, big data, AI, and microelectromechanical systems. Their collective efforts help propel technology forward to benefit humankind and the world.
Sustainable energy generation is a top priority for many leading companies in Edmonton. Wind and solar energy producers work together to achieve sustainability goals and actively reduce the carbon footprint of the city as a whole.
Alberta Health Services provides medical care to over four million residents while also working to make essential life science discoveries. Their innovations help patients across all disciplines, including neurology, oncology, and cardiology.
Despite its urban setting, Edmonton companies aim to produce agricultural resources in an unconventional environment. The most ambitious project yet is the 800,000-square-foot Aurora Sky facility that processes hemp for textiles, bioplastics, apparel, and more.
Nearly 300 companies make up the machinery manufacturing world in Edmonton. They collectively make all the big equipment that energy, agriculture, and construction companies need. This helps further promote the success of the city's most important industries.
Things to Do in Edmonton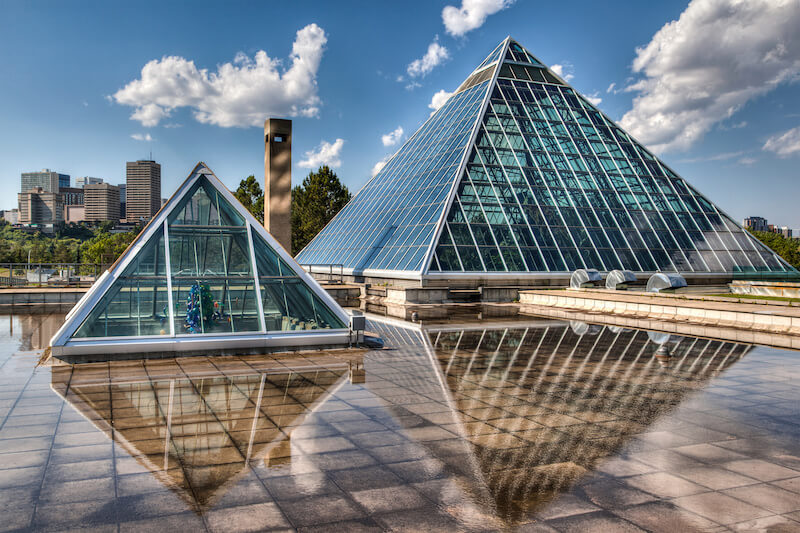 While living in Edmonton, residents have many indoor and outdoor activities just moments away. Day trips are always a total blast, making it easy to let loose and rejuvenate with fun times for all on days off from work.
Out of all the major attractions around town, one offers a truly memorable one-stop shopping, dining, and entertainment adventure: The West Edmonton Mall. As the largest shopping center in North America, this 490,000 square metre mall has over 800 stores and eateries, a waterpark, a minigolf course, an ice palace, an underground aquarium, and much more. Guests can even rent one of the paddleboat swans for a romantic ride across the indoor Deep Sea Adventure Lake.
Outdoor Activities
Year-round fun awaits Edmonton residents at all the local parks and other key attractions. Over 400 parks and many additional green spaces are across the city. The parklands feature open fields, playgrounds, sports courts, and fields for baseball, basketball, and more.
In the winter, Castle Downs, Hawrelak Park, and Rundle Park give residents a place to ice skate all day long. Residents also enjoy snowshoeing at John Janzen Nature Centre, Elk Island National Park, and beyond. During the holiday season, the University of Alberta Botanic Garden hosts the beloved Luminaria festival, where guests can enjoy colourful lights at every turn.
Local Attractions
At the Canadian Hall of Fame, visitors can see over 100 historic planes, helicopters, and other innovative aircraft, plus vintage motorcycles. With a trip to the Art Gallery of Alberta, visitors can check out over 6,000 unique works of art, ranging from paintings to monumental sculptures. The Royal Alberta Museum features endless local artifacts that tell the region's story from its prehistoric beginnings through hundreds of generations of First Peoples.
The Muttart Conservatory lets visitors explore four hothouses shaped like pyramids that are filled with plants grown all across the globe. Other popular places include the Edmonton Valley Zoo, TELUS World of Science, Alberta Railway Museum, and Rogers Place.
Restaurants and Nightlife
Edmonton boasts over 240 distinct eateries, many of which are locally owned and operated by its valued residents. Fast-food joints, casual sit-down eateries, and fine-dining restaurants are all well-represented in the capital city.
Popular fast-food joints include Blaze Pizza, Marcos Famous, and myFRIES Poutinerie. Five Guys is another coveted Edmonton eatery known for big burgers paired with hand-cut French fries served fresh out of the fryer.
For delicious Japanese cuisine, residents head over to restaurants like Let's Grill Sushi & Izakaya, The Workshop Eatery, and Otto Food and Drink. La Ronde Revolving Restaurant, Corso, and other local fine-dining establishments take the experience to the next level with five-star quality plates made with artistic flair.
Craft brews stay close to Edmontonian's hearts, paving the way for the rise of upscale breweries all over the city. Sea Change Brewing Co., Bent Stick Brewing, and Analog Brewing Company are just a few showstoppers serving craft beverages with a smile. Local musicians also join the fun, giving restaurant and brewery guests even more for their money.
Edmonton's Climate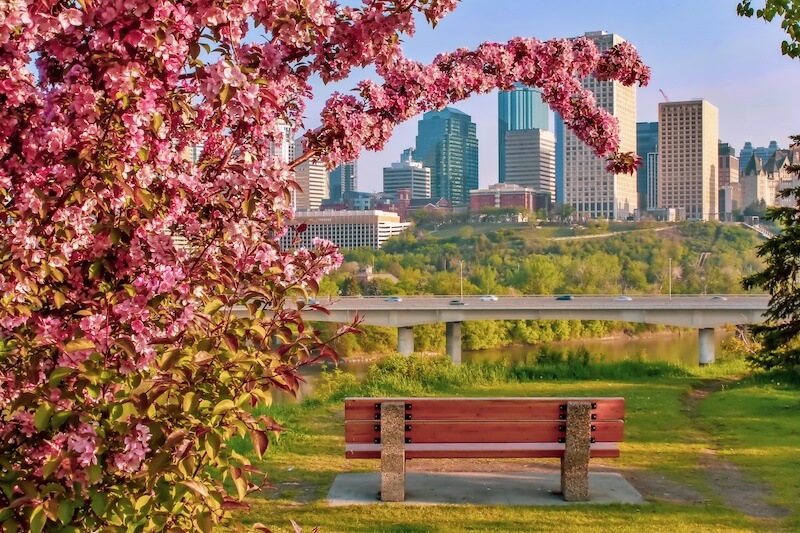 Edmonton's prairie-steppe climate has predictable summers and winters but variable spring and fall seasons. Residents usually get to enjoy four distinct seasons, though, and typically count on having frigid winter weather.
In the summer, the sun shines brightly more often than not, keeping the area warm but not too hot. Temperatures stay around 23 degrees, perfect for outdoor adventures. Early autumn brings heavy rainfall, often exceeding 10 centimetres in just one month. Temperatures start mild and then quickly drop to an average of 1 degree by November.
Cold winters are a part of living in Edmonton. The snow season stretches from October through April, resulting in over 125 centimetres of snowfall every year. Daytime temperatures of -6 degrees are ordinary, while nightfall drops temps to -16 or below. The spring season reverses course and gradually brings temperatures back to the 17-degree range.
Traffic in Edmonton
Edmonton's major highways circle the city to help keep traffic smoothly flowing all day long. The rest of the city streets create a basic grid pattern that allows drivers to travel to their destinations easily.
While travelling through the city, it's essential to know that city planners gave east and west roadways the avenue name. Roads travelling north and south are called streets.
The main highway is 216, which circles the outer perimeter of the cityscape. Highways 2 and 16 converge to create this path while offering additional routes into the city center.
Rush hour starts at 6 a.m. each weekday and then lightens as the day continues. By 4 p.m., commuters return to the roadway to make their way home. On the worst days, heavy traffic is only about 25% more congested than usual, adding about six minutes to a 30-minute trip.
Alternative Routes
While traffic in Edmonton is far lighter than in Vancouver or Toronto, it still helps to know a few workarounds when things are backed up. Take Highway 216 during rush hour, for example. This main thoroughfare sees more than 100,000 vehicles each day, and travel times are significantly slower during rush hour.
Avoiding 216 is possible if you know the workarounds. If all goes well, cutting through the city on Highways 2 or 16 can work okay. Of course, these highways are also subject to occasional slowdowns. By timing your travel outside the busiest rush hours, you can easily avoid traffic in Edmonton.
Edmonton Public Transportation
Commuters can get around town with ease on the local bus and rail system run by the Edmonton Transit Service. This system includes both traditional bus lines and the innovative light rail system. Passengers just have to pay a small fee of about $3 per ride, although regular commuters can get a monthly pass for $100.
Taxis and rideshare services are also viable options when it comes time to ride around town. Most of these companies charge at least $25 for every eight-kilometre trip. Passengers may pay up to $30 an hour for wait time if they ask their driver to stick around while they run errands.
Edmonton residents find the city highly walkable when only travelling a short distance. Above and below-ground pedestrian walkway systems offer safe travel routes while on foot. Residents can use the local Pedways map to plan their routes and streamline their everyday travels.
Over 200 kilometres of trails are available throughout the city and beyond for those who prefer to ride their bike. These trails go from all the major neighbourhoods into the city center to make commuting by bicycle quick and easy.
Edmonton Schools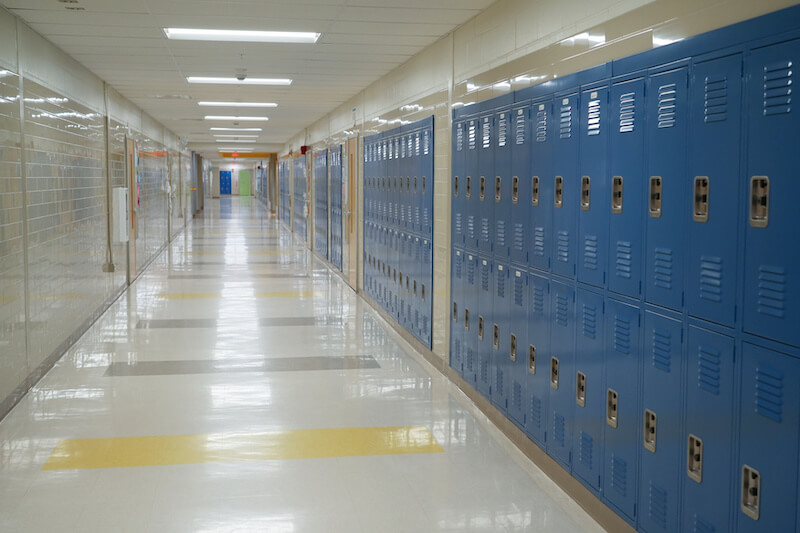 Edmonton students in preschool through grade 12 typically attend Edmonton Public Schools. The Public, Francophone, and Catholic are the three sectors that make up the district.
The Edmonton Public School Board operates the public district, serving more than 100,000 students at over 210 schools. The Le Conseil Scolaire Centre-Nord district runs 19 schools with 3,700 students total, while the Edmonton Catholic School Division serves 43,000 scholars at 96 schools.
After graduating from high school, students can go on to the many technical colleges and universities in town. Popular tech schools include the Northern Alberta Institute of Technology, Norquest College, and Yellowhead Tribal College.
The University of Alberta is the leading public university with six campuses in Edmonton and the surrounding area. Other local universities include Concordia University of Edmonton, MacEwan University, and The King's University.
Ready to Make the Move to Edmonton?
With so much to see, do, and experience in Edmonton, it's clear why this is one of the best places to live in Alberta. Affordable housing, fun outdoor activities, and numerous schools are just a taste of what these households enjoy while living in Alberta's capital city.